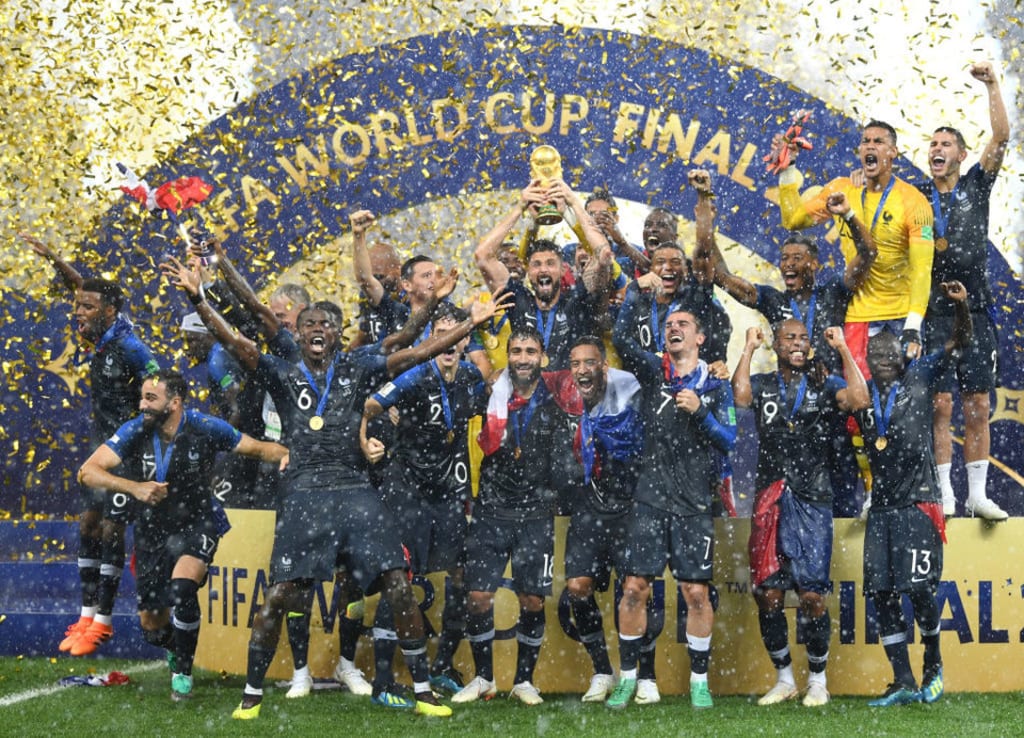 The France National team lifting the cup for the second time in 20 years
Wow... wow... WOW! What an amazing World Cup! I mean they're all amazing, who am I kidding, but this one was one for the books. You saw Croatia make it to the finals for the first time ever, Peru back in the World Cup after a 36 year absence, some bracket busters early on, and a home team that proved they deserved to be in this Cup, regardless of their automatic qualification due to them being the host nation. Let's talk about some of the moments that will make this Cup memorable!
First and foremost, a HUGE congratulations to Les Bleus for winning their second World Cup (first time was in 1998 when the Cup was held in France). They didn't have an easy route to the final, facing Argentina, Uruguay, and Belgium; but they showed game after game that they would not allow another team to deviate them from their goal. Once in the final game, France concluded with a fantastic performance in their 4-2 victory over Croatia (yes, Giroud didn't do much and Lloris gave up an easy goal to Mandzukic, but overall they were fantastique). Outstanding French players, in my opinion, were Kylian Mbappe, the 19-year-old who ended up winning The Best Young Player of the Cup Award, Antoine Griezman, the Atletico Madrid star who won the Europa League earlier this year, and Paul Pogba, which rumor has it might be going to F.C. Barcelona (fingers crossed).
Second, Croatia did amazing as well. The moment the round of 16 bracket was complete and I saw who Croatia would face, I knew they'd make the final. Three straight overtime games saw them reach the final after playing 360 minutes (equal to four games). Who knows if had they been able to end those games in regular time, they would've had a better game against France. Notable players: Luka Modric, Ivan Rakitic, and Ivan Perisic.
Honorable mentions:
The host nation really put on a show! Two wins and a loss in the group stage, upsetting the 2010 World Champions Spain and scoring a goal in overtime against Croatia to go to penalty kicks was incredible to watch. Honestly, Russia did much better than I thought they would.
Belgium competed with arguably their best team in history. They conquered their group with ease (so it seemed). When they faced France in the semi-finals, they had more passes completed, more ball possession, and a much better shot to shot-on-goal ratio, but as we all know, the only thing that matters at the end of a match is how many goals were scored, and Samuel Umtiti's second-half goal sealed Belgium's ticket to the third-place match (which they won). Notable players: Eden Hazard, Kevin de Bruyne, Thomas Meunier and Romelu Lukaku.
Peru's first game against Denmark was one full of excitement, but a missed penalty from Christian Cueva, and a defensive mistake that left Yurary Poulsen wide open, saw them losing their first match. Their next match was against the future world champs, and Peru had chances to score while holding France's attack down; however, some bad luck led to an easy goal for Mbappe, and Peru lost again by one goal and saw the door to the knock out stage close. Their final match was against Australia where they won 2-0. Despite their failure to qualify to the next round, I think Peru was a team that played really well and showed the world that they deserve to be on this stage. Notable Players: Paolo Guerrero, Luis Advincula, and Andre Carrillo.
Japan was in a group with Colombia and Poland, making them (in my opinion) not a favorite to qualify to the knock out phase, but to my surprise- they did. They fought hard against Belgium in the Round of 16, but blew their 2-0 lead at the very end of the match and lost 3-2. Notable players: Shinji Kagawa and Takashi Inui.
More Notable Players:
Yerry Mina (Colombia) is the only center back in the cup to score 3 goals and the only Colombian to score in three games straight.
Javier Mascherano (Argentina) played in the match against France with a cut on his head that wouldn't stop bleeding. I'm surprised they let him play so much time with blood on his face, but even then he wouldn't slow down and showed true grit.
Diego Laxalt (Uruguay) showed heart and drive. Each game was used as a platform for him to show how bad he wanted the win and how devoted to the national team he is. The 25-year-old scored in his first World Cup appearance.
Best Goals:
It's borderline impossible to say which goal was the best. I can't even tell you which is my favorite because of how many amazing ones there were. Denis Cheryshev, the Russian attacker, had a wicked outside foot goal in the opening game against Saudi Arabia. Kolarov (Serbia) and Trippier (England) had very impressive free kicks. Kroos (Germany), Coutinho (Brazil) and Cavani (Uruguay) showed that they too could bend it like Beckham (maybe even better!). Di Maria (Argentina), Inui (Japan), Nacho (Spain), Modric (Croatia), Carrillo (Peru) and Pavard (France) showed off their long-shot accuracy by scoring from outside the box.
Upsets:
Germany losing to both Mexico and South Korea, and going home at the end of the group stage was something that took many people by surprise! That is the third defending champ in a row to go home after the group stage, Italy in 2010 and Spain in 2014.
Despite Russia having an impressive group stage run, Spain was still the favorite in their Round of 16 matchup, which ended in Russia knocking them out in penalty kicks.
It's crazy how fast this World Cup ended, but it definitely left its mark. It was an absolute joy to watch every game, and I truly can't wait until 2022 in Qatar!