A World Cup with no 'Rights'
The uproar against human rights issues in Qatar and the repercussions thereof.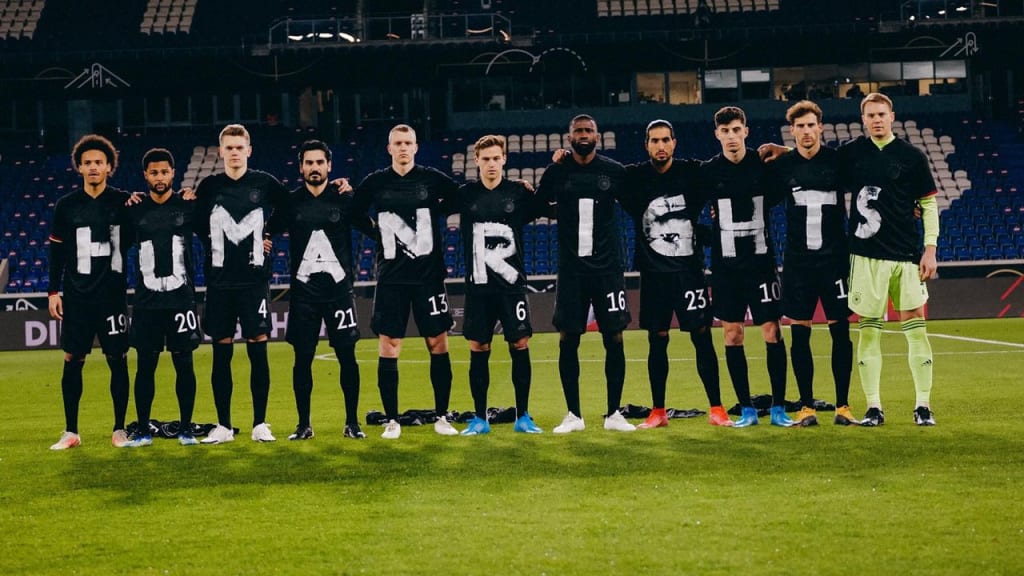 Let's start with how Qatar, a country with less than 3 million population, landed the most prestigious event of the sport with 3.5 billion fans (estimated) all over the world. The world cup host is elected by the FIFA Executive Committee. The hosts of 2018 and 2022 World Cup were decided together in 2011. So, how did Qatar beat other nominees such as England, the USA and Australia, each of which is a much better footballing nation?
Diplomacy - Before the 2010 world cup (which was hosted by South Africa), the Confederation of African Football (CAF) held its annual general meeting in Libya. The CAF was strapped for cash and was facing trouble in preparing for the gala event. Qatar put up the money for the event - They sponsored the congress and in return, they were allowed to present their World Cup bid to the delegates with a vote on FIFA's Executive Committee.
Sepp Blatter - Mohammed Bin Hammen, a former President of Asian Football Confederation from Qatar, was supposed to run for the FIFA Presidential post in the following elections. Two months before the meeting to decide the host countries, he pulled out of the Presidential race and came up with the statement "I will not run against Sepp Blatter. I will be backing him to remain in office for a new mandate. He is my very good friend," One can only speculate what the tainted FIFA President would have done for this 'friend' in return.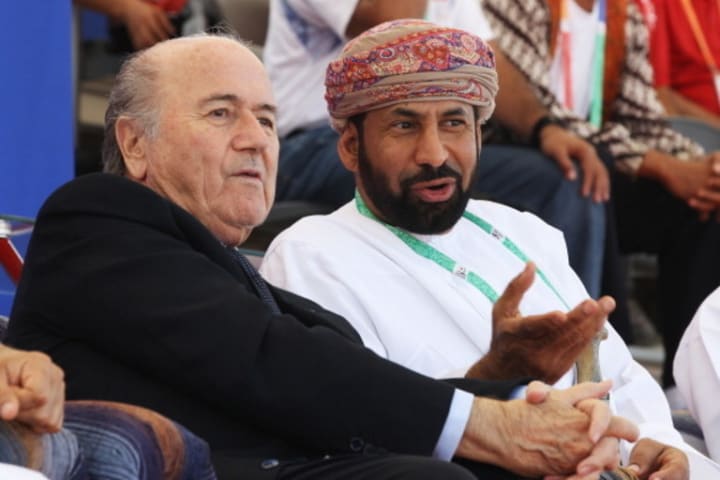 Money - The good old master of men. We don't know exactly how much money Qatar spent on their 2022 World Cup bid, but the estimates amount to slightly less than $200 million in public funds. Any private money that was spent is simply untraceable. Australia, by comparison, spent just $42.7 million on its bid; the United States spent less than $5 million. England, in its 2018 bid, allocated $24 million to the process - an amount that was widely decried for being excessive.
It didn't exactly come off as a surprise when Australia, Japan and South Korea were discarded even before the meeting. And on the final day of the election, Qatar beat the United States 14–8.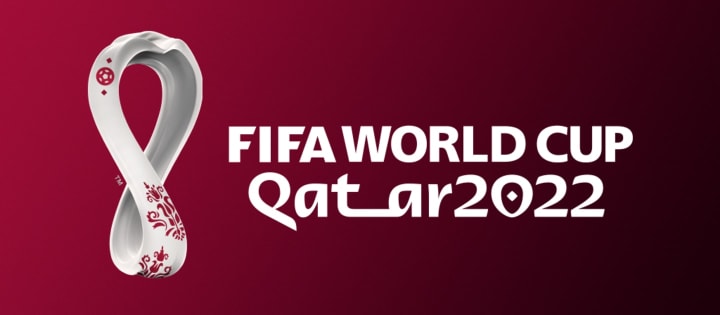 What's the outcry about?
While the shady nature of Qatar's election has since been a topic of controversy, the more resounding topic of dissent recently has been that of Human Rights violation in Qatar. How is Qatar ruled? It's a monarchy. Well pretty much like England then? No. It's a monarchy that is still run like an absolute monarchy and does not exist for fancy Princess Diana stories and Kohinoor jokes. Qatar's Prime Minister is not elected but appointed by their Sheikh, Amir Tamim bin Hamad Al Thani, who exercises full executive control in the country. The constitution provides for hereditary rule by men in the Amir's branch of the Al Thani family.
While human rights issues in the middle east countries, especially the gulf nations have been a contentious issue for a long time, Qatar has been bearing a lot of wrath of late from the human rights organizations such as Human Rights Watch and Amnesty International. So which rights are being talked of particularly?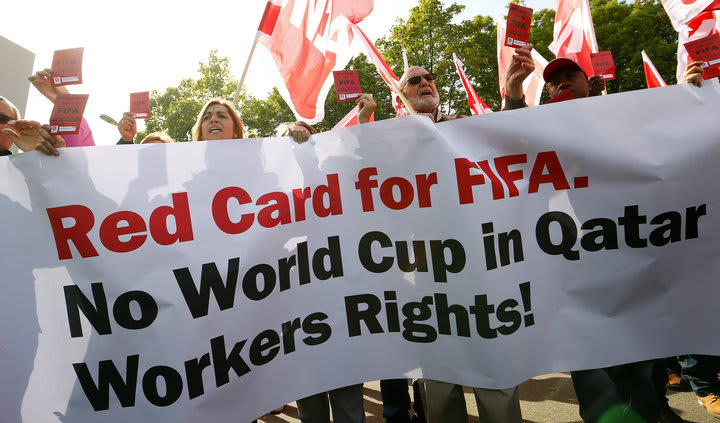 According to the US State Department, expatriate workers from nations throughout Asia and parts of Africa are routinely subjected to forced labour and, in some instances, prostitution. Most of these people voluntarily migrate to Qatar as low-skilled labourers or domestic servants but are subsequently subjected to conditions indicative of involuntary servitude. Some of the more common labour rights violations include beatings, withholding of payment, charging workers for benefits which are nominally the responsibility of the natives, severe restrictions on freedom of movement (such as the confiscation of passports, travel documents, or exit permits), arbitrary detention, threats of legal action, and sexual assault. Many migrant workers arriving for work in Qatar have paid exorbitant fees to recruiters in their home countries - a practice that makes workers highly vulnerable to forced labour once in Qatar.
World Cup Of Shame?
While the construction boom in Qatar started long before the hosting rights for the World Cup, preparing the stadiums and facilities to host an event of this magnitude saw a dramatic rise in construction work, and with it, the number of migrants, forced labour, and henceforth death. The Guardian reported that 6500 migrant workers from India, Pakistan, Nepal, Bangladesh and Sri Lanka had died in Qatar over the decade.
Amnesty International published reports named "A World Cup Of Shame" which detailed that most of the labourers hadn't been paid for 6 months at the time of release. The workers cannot change their jobs, they cannot leave the country neither are they allowed to form groups and unions. This is because of the 'Sponsorship Law' or 'Kafala' which is widely considered as modern day slavery. Under this law, the sponsors have the unilateral power to cancel workers' residency permits, deny workers' ability to change employers and report a worker as "absconded" to police authorities. Basically, pluck them, isolate them and control them.
The Retaliation
Since these reports emerged, some people at the helm of football have raised their voices against it. While theories about certain players and even whole teams boycotting the event have been ringing but nothing is certain as of now. The sternest nation in their opposition to the World Cup in Qatar has been Norway. A group of top Norwegian clubs proposed a boycott of the event by the Norwegian Football Federation. The proposal did not get the majority of support from the delegates. But the players were doing their bit.
In their first World Cup qualifying game, the Norwegian players wore T-shirts with the slogan "Human Rights on and off the pitch" written on them. In another game, they held up a banner that read "Fair Play for Migrant Workers". Denmark's players warmed up for their first home qualifier against Moldova wearing T-shirts that read "Football supports change". Nederlands players also wore a similar shirt before one of their recent games. Sweden's football federation canceled plans for a training camp in Qatar in January after several Swedish clubs expressed concerns about the World Cup host's human rights record. German players stood up shoulder to shoulder before a qualifier wearing shirts printed with individual letters that spelt out "Human Rights". Leon Goretzka said that the players had written the letters themselves on the shirt in order to set an example for the values we want to stand for. FIFA do not allow political statements but they have not penalized these actions.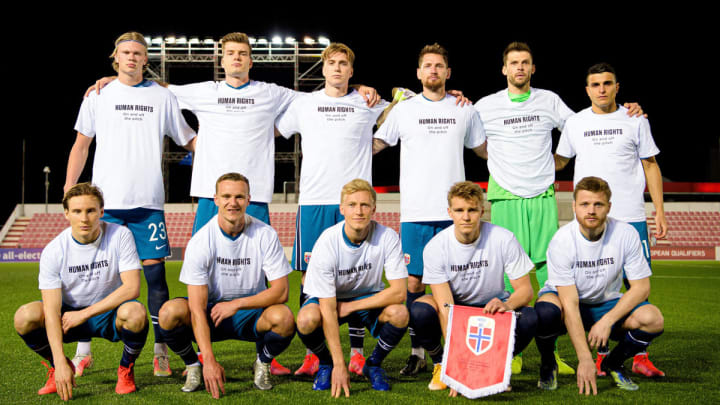 The Response And Changes
These acts have diverted huge attention to this issue and have increased the pressure from human rights organizations on the Qatari administration. Since 2010, some changes have been made to the rules and efforts are being made to improve the condition of migrant workers there. The Qatar Foundation On Combating Human Trafficking(QFCHT) was established and to promote more awareness in this area, the Ritz-Carlton Doha, created the World's largest Cake for the QFCHT Sculpture. Qatari contracting agency Barwa built a residential area for labourers known as Barwa Al Baraha, also called Workers City. Along with 4.25 square metres of living space per person, the residential project provides recreational areas and services for labourers.
British law firm DLA Piper was instructed in 2012 by the President of Qatar Foundation to undertake a review of migrant worker conditions. Following the recommendations made, Qatar Foundation created the Migrant Workers Welfare Charter which applies minimum requirements with respect to the recruitment, living and working conditions, as well as the general treatment of workers engaged in construction and other projects. The mandatory standards will be incorporated into agreements between Qatar Foundation and all its contractors, who are required to comply with the requirements and rules. Contractors and sub-contractors found to be violating the regulations have been blacklisted from future tenders.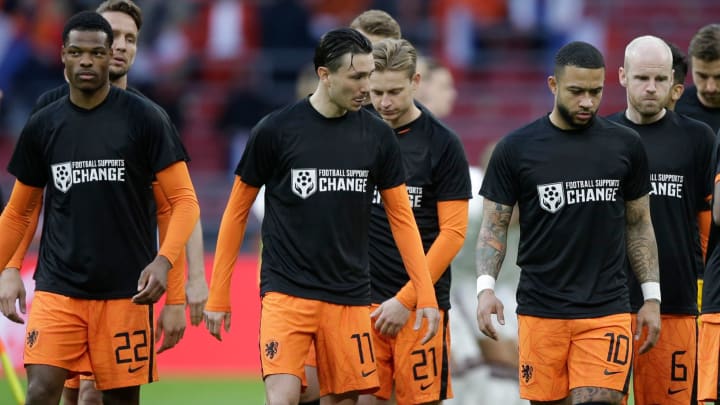 While some of these measures have brought about decent changes in some areas, a lot of them are being done under pressure and as a farce. Amnesty International has revealed that new laws are being prepared which will revert back some of the good work that has been done. So the protests continue. Maybe a major country actually pulling out of the World Cup could bring about a lot of changes in Qatar and the lives of thousands of migrant workers.