A Nation's Redemption. Is Football Finally Coming Home?
First major final since 1966. Southgate and England set to make history. Is football finally coming home?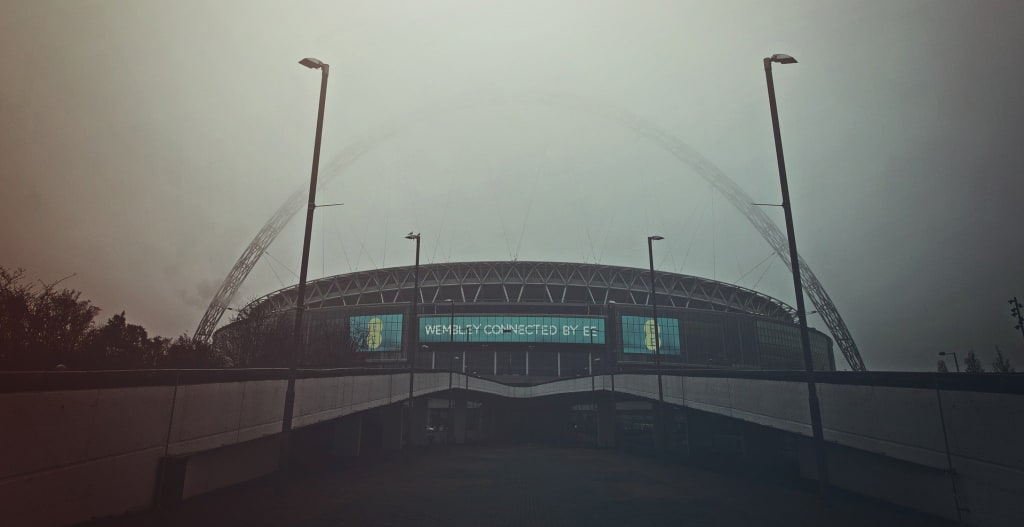 Image by coombesy at Pixabay
It's the summer of '96. England is merely inconvenienced by unreliable weather; the spatter of reluctant rainfall and the sweltering heat of peek-and-you'll-miss-it sunshine. The country is also gripped and consumed by an unexplainable phenomenon that rears its promising head every two years – the unbridled support of the England football team as they enter yet another major football tournament.
The occasion at this present time? The UEFA European Championships of 1996. Or Euro 96 as it's commonly referred to by us locals and football fanatics, permanent or temporary.
It's the 15th of June, and having seen England draw their first group stage match against Turkey seven days previous, many of us were expecting the same old story. An impressive England team dragging their feet and performing to an average level. Something we have grown accustomed to over the years.
The unreliable weather today is actually quite glorious. I'm standing in the local 'rec' (a recreational park with more dirt than grass, a paltry children's play area enclosed in prison-like metal bars, and two rusty goal frames that peak the blazing horizon like lonely, steel skeletons). I close my eyes for a moment and let the warm caress of the sun take me to another place, a place I revel in as a weathered football whistles through the air, dings off said goal frame and lands at my feet with a wet, exhausted thump.
It doesn't sound like much, but this was my summer of '96 outside of those life-changing England matches. Simple and entertaining. And I loved every second of it. With three of my friends, one who has come to collect the football and check I am still in the land of normalcy, another who is chugging warm Cream Soda while cooled by the shadow of the nearby foliage, and a third who is currently MIA, we are anxiously awaiting the second Euro 96 group stage match later that afternoon – a national derby with Scotland, our closest rivals.
Whenever someone asks me about my earliest football memory, this immediately comes to mind. Technically, I started including football as a hobby and pastime in late 1993. Much like the Tik Toks and YouTubes of today, before the Internet was all encompassing, football and sport was considered the norm for teenagers back then. It consumed us, it inspired us, and in our small friendly bubble, we knew it was captivating the whole country too. We just couldn't witness it up close – we were fourteen at this point, the pubs and working men's clubs were off limits. But we knew it was there…
Anyway, where was I? Oh yes. So, the reason I am standing on that football field like a lunatic (both of my friends have become concerned for my welfare at this point) is that it's less than an hour until England face Scotland. I am preparing for the worst, which is a tried and tested feeling for any England fan. After the dubious performance against Turkey, our high hopes were now a little unnerved. Because of this, I decide that we should watch the game together, to provide support in unison, to cheer on the team. Within seconds of proposing this, my friends were onboard. Our amateur antics on this field were relegated to tomorrow – today, we cheer on our boys!
Two hours later, and unnerved has completely flown the nest. But first, some context…
The first half was, at the time, the longest forty-five minutes of my life. Nerves were frayed, those high hopes were slowly climbing down from their aspiring cliff. All of us are breathing heavily, on tenterhooks. Silence is the spoken language. We cannot tempt fate right now. Three empty Pepsi cans sit beside me, and I look at my friends to clear the confusion. One is nursing a bottle of water, the second is still working on his warm Cream Soda, and the third is an empty space on the armchair. Yes, he is still MIA.
The Pepsi damage was all me. I now have rivers of carbonated sugar pumping through my young veins as the roar of a packed Wembley Stadium echoes around the living room. My friends mother does a quick welfare check and drops off some more snacks, but my stomach cannot allow it. Not yet. I actively turned down warm sausage rolls. When you take the path down that choice of insanity, you know the game is paramount.
The second half begins. Hearts are firmly in mouths, scarves and England shirt collars are firmly at nose-level. Brows are sweaty. Hands are on heads. The game is hard to watch, yet you cannot take your eyes off the proceedings. We're with the raucous crowd as they cheer the team on. And on the fifty-third minute, after a textbook Alan Shearer header converts a scintillating Gary Neville cross, the whole country erupted in joy. England are 1-0 up.
But, 1-0 up means absolutely nothing. Not in football, and certainly not during an England game.
But we concede, we let our guards down. Hearts are more relaxed in mouths now, and those taut collars are returning to their normal resting place. But then, Scotland receive a penalty decision in their favour, and that's when being an England fan settles home. Experience shows that England like to squander any and all advantages, and this seemed exactly that to every fan around the country – routine, and normal. 1-0 means absolutely nothing.
And then, the turning point of Euro 96. For me, this next moment is what made football absolutely essential to me from this day forward. I may not be alone in thinking this either, but this next moment is what propelled England from the average performances and the 'what if' barren wasteland to the 'by Jove, I think we can actually do this' oasis of hope. This moment, in many English eyes, made England potential candidates for glory in Euro 96.
David Seaman saved Gary McAllister's penalty. Job done. Thousands didn't watch that penalty, but cheered when it was saved. And within minutes, Paul Gascoigne scored THAT goal to put England 2-0 up. I remember it like it happened yesterday – Seaman goal kick downfield, Sheringham's flick to Darren Anderton, Anderton's lobbed ball over the top. Gascoigne runs on to it, flicks the ball over Colin Hendry's head, and rifles the ball into the net. A piece of majestic football and world-class individual skill from Gazza, as he was fondly known. The dentist chair celebration was controversial, but we didn't care. This is a pinnacle of a goal that will truly stand the test of time in England's best goals montages forever.
The three teenagers in the living room lose their collective minds and knock a sofa over in the process. I assume the whole country roared in unison too, indicated by the deafening cheers that barrelled down the street. Yes, it was THAT loud. And it signalled an uprising of sorts, a collective mentality. England 2. Scotland 0. In that moment, in that score line, a whole country was united. If a window didn't have an England flag hanging out of it following this match, you can bet that was about to change.
This was also the moment where the lyrics of Three Lions, the Euro 96 England anthem composed and performed by comedians David Baddiel and Frank Skinner and rock band The Lightning Seeds, came to prominence. This is when people began actively chanting 'It's Coming Home' or 'Football's Coming Home.' The chant would enter folklore and remain until this very day. As I write this, my Discord has people posting associated memes and reminders in anticipation for the final tonight. That's how synonymous this song has become with the England team.
As the tournament progressed, England seemed to grow in confidence. A 4-1 thrashing of Netherlands followed three days later, with Teddy Sheringham and Alan Shearer netting twice each, the latter taking his tournament tally to four. I actually missed this game because of a family commitment. Remember, I was fourteen, my parents still had some control over my life. I watched the highlights, sure, but I feel this would have been a truly explosive event if watched live. More sofas may have suffered for their cause. Judging by the celebrations in the street afterwards, explosive was a fair assumption to make. England were now in the quarter finals of the tournament, and had it all to play for. Euro 96 was theirs for the taking.
Spain were the next opponents on June 22nd. A goalless draw didn't tell the full story here, in what was an excellent and nail-biting encounter, but it resulted in penalties, and despite the history and legend of England's penalty shootout misdeeds, we won this one comfortably. David Seaman was, once again, the hero here as England won 4-2 at the death. My Pepsi carnage during live games was up to eight at this point. My friend said he would never watch another England game because his blood pressure wasn't worth it. I had to silence myself – what did a fourteen-year-old know about blood pressure? I agreed though, for banter. It would be total lies.
This set up a semi-final barnstormer with Germany. Our MIA friend finally made his presence known for this one. We discovered he'd been on holiday for two weeks and didn't tell us. We laughed it off because mobile phones and Facebook were pipe dreams and the stuff of fiction at this point. Not seeing our friends for weeks on end was normal. We all knew what parents were like. If you saw your friend's bike on the grass at the rec, you knew he was there. If not, you got on with it. Primitive communication. Simple times.
But hindsight is crucial and distorting here. This would be the last time England reached a tournament semi-final until the World Cup of 2018. And, well, Euro 2020. But this one … this semi-final would encapsulate the next twenty-five years of England international football. The result of this contest would be the reason tonight's final has now come full circle. For Gareth Southgate and England fans as a whole. And for me, because I have experienced this entire journey.
And it only took three minutes to get started. Alan Shearer netted his fifth of the tournament to stoke absolute chaos around the country. Those people down the street were at it again. At this point, we had the door open so we could communicate the joy with one another. Football fans are simple folk, a loyal bunch, and unwavering in their commitment. Unfortunately, those flames would be smothered thirteen minutes later by a relatively easy Kuntz tap in, a rare defensive mishap from England in this tournament, but one that has happened countless times before. Remember, 1-0 means absolutely nothing.
These were the only goals in a historic encounter that would go on to watermark England's future endeavours to this very day, and penalties now loomed. Germany, coming out of this game, were England's new bogey team, they became their greatest rivals. Every encounter with them from this tournament would become national news, whether it was in a tournament of a friendly. Despite all of the shenanigans in this match, and the excellent football on display, the match would only be remembered for one thing. Gareth Southgate's penalty shoot-out miss.
Now, before I continue, I have focused on Euro 96 for multiple reasons, but the main one is simple – when Southgate missed that penalty, the initial reaction was one of confusion, one of sorrow and, in some parts, one of hatred. People wondered why he took the penalty to begin with, and judged him for it, and they also wondered why such a crucial kick wasn't left up to a more attacking minded player. This miss also helped construct the myth and legend that England were susceptible to penalty shoot-out losses, and would linger over them for years, until the hoodoo was broken in Russia's World Cup of 2018. Who was England's manager at that point? You guessed it.
Gareth Southgate.
Throughout Euro 96, Southgate was a pivotal part of a solid England team. Many would name other players that excelled in Euro 96, and I will do so now. The team had the unique magic of Paul Gascoigne, the leadership qualities of players like David Seaman, Tony Adams and Paul Ince, the youth of Gary Neville, Steve McManaman, Darren Anderton and Jamie Redknapp, the lethal striking ability of Teddy Sheringham and Alan Shearer. You would be hard pressed to find a better team across the last twenty-five years. But Southgate was always present, a solid part of this England defence. He wasn't shoved in last minute; he was there from the beginning. Look at the results and you will see that he helped this team become relevant and a major prospect. All of that was immediately forgotten when he missed that pivotal penalty. Which is a shame. He deserved better.
As a fan, I was devastated when England lost. I had that sinking despair in the very pit of my stomach, the brooding nausea that threatened to send me from the (now upright) sofa to the floor, the loss of taste for anything edible. In that moment, nothing else matters. The overwhelming fact that you have to wait another two years to do this all again just makes it worse. There's always next time, you say to yourself. I just have to wait. And wait I did.
For twenty-five years.
The World Cup 1998 came. David Beckham was the poster boy for a football generation at this point, another exemplary product of England youth, and beloved by many. In the Round of 16, he was sent off for a second of stupidity against Argentina and reviled by a nation. When we lost, it was somehow his fault. In Euro 2000, we didn't make it past a so-called 'Group of Death' and fell at the first hurdle. In the World Cup 2002, we actually performed well, exacted revenge on Argentina for the '98 fracas, made it to the quarter finals and were eliminated by a 'fluke' Ronaldinho lob that sent a nation to despair and reduced David Seaman to tears in the post-match. The story continued for decades. Same old England, some would say.
We have suffered elimination due to penalty shoot-outs, had players sent off for dubious circumstances during pivotal moments, relied too heavily on promising youth, suffered from terrible tactics from managers who had little to no grasp for the English game. And don't get me started on VAR. The list goes on and on, and many fans will be able to compile an entire Encyclopaedia in relation to this, but this has all evaporated and been relegated to past memory with the resurgence of the England team in 2021. Well, within theory.
You see, as an England fan, we are resigned to the fact that this is just another attempt to seem relevant in the football world. With other European nations collecting honours in major tournaments, and England not doing so since 1966 (I think you may have heard about that one), it seems the wheels are turning and nothing ever changes. Some things remain the same regardless.
But under Gareth Southgate, for the first time since Terry Venables made Euro 96 so compelling, England fans have a reason to feel confident again. And the resurgence, for me, comes with a lot of harsh memories. We're playing well, but people will always criticise the tactics. Hell, we went five games without conceding a goal in the lead up to our first final since 1966, something that has never been done in a European Championship before, and people were still sceptical about our abilities.
We've defended resolutely, played extremely well, passed the ball with poise and confidence, maintained possession for large areas of our games. We've scored when it matters and held the lead. 1-0 means absolutely nothing, but it does when you can play this damn well. And yet, we seem destined to think the worst, to think this is going to end in the next match. But it all changed when we beat Denmark in the semi-final. Southgate will have his day in the sun, you can be sure of it. And I am so glad for him. I felt his pain back in '96. I would love this to come full circle, and revel in his absolute joy and redemption if we put Italy away tonight.
It would be full circle for Southgate. It would also enable me to come full circle from my first major football experience as a teenager. Funny old world, eh?
It's been twenty-five years since I stood in that rec and let the sun beat down on my young face. Now, that face has stubble and a few pockmarks, and shows very few signs of aging. But it is weary and behind it sits a brain that has accumulated more knowledge than that fourteen-year-old boy could ever imagine. And if I knew then what I know now, I wouldn't have felt the despair of all those failed moments through the years. I would know that, in the future at some point, England would be in a tournament final. But without that despair, without the dashed hopes and moments of heartbreak, tonight would not seem as significant. Hope has taken a battering over the decades. And so has my patience. Tonight, hope has a chance to rise above and propel us to glory. And my patience could finally be rewarded.
I'm probably not the only one who thought we would never see a tournament final for England in my lifetime. And tonight, that changes. There will be a (upright) sofa and stacks of Pepsi, and maybe some alcoholic beverages too. A pub and a working men's club is not beyond the scope of possibility, but with a pandemic still looming large, I will forego the public spotlight for the sake of my health. But despite being older and wiser and succumbing to the perils of age (I might use that blood pressure line if results don't go our way), the youthful lad, full of hopes and expectancy is still in here somewhere. And he is ready to embrace this event with gusto. He is ready to lay to rest the last twenty-five years. Let's hope we don't have to wait another twenty-five to do this all again. And maybe, just maybe, 1-0 will actually mean something tonight.
So, is football finally coming home? Yes. Yes, I think it is.
About the Creator
UK Variety Streamer. Horror Author and Fanatic. Avid Gamer. Achievement Hunter. Not necessarily in that order...
Reader insights
Be the first to share your insights about this piece.
Add your insights