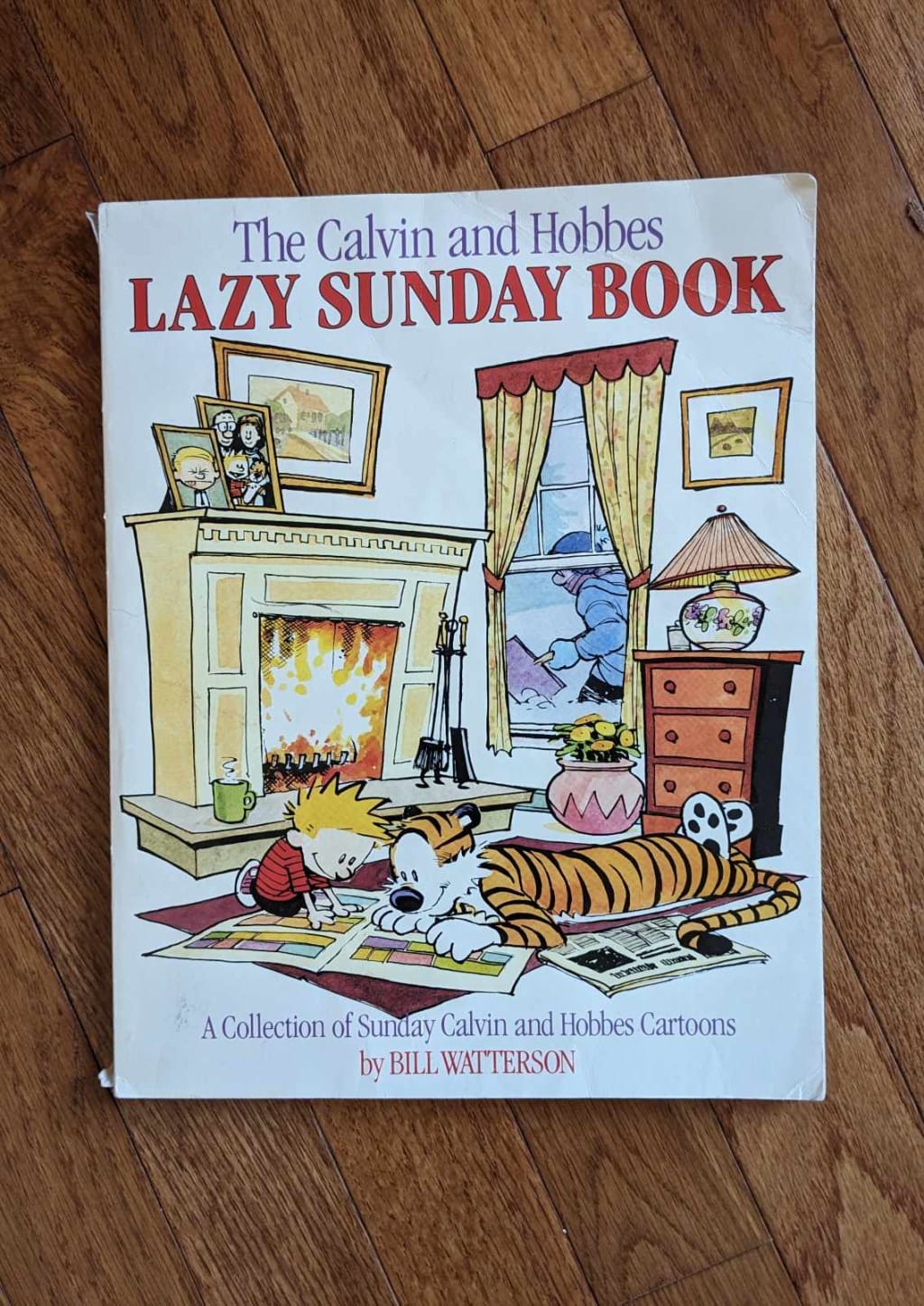 I inherited an interesting gene from my Granddad - a distinct and devout love of newspaper comic strips.
But then again, maybe the influence was less genetic and more intentional.
For as long as he was alive, my my grandfather used to save and show us comic strips from his daily paper. Even when I was just a few months old (and far too young to read) he would send my brother and I special letters in the mail. In these letters, he would meticulously cut out pictures from newspaper comics and collage them together to make a new story - one about our family.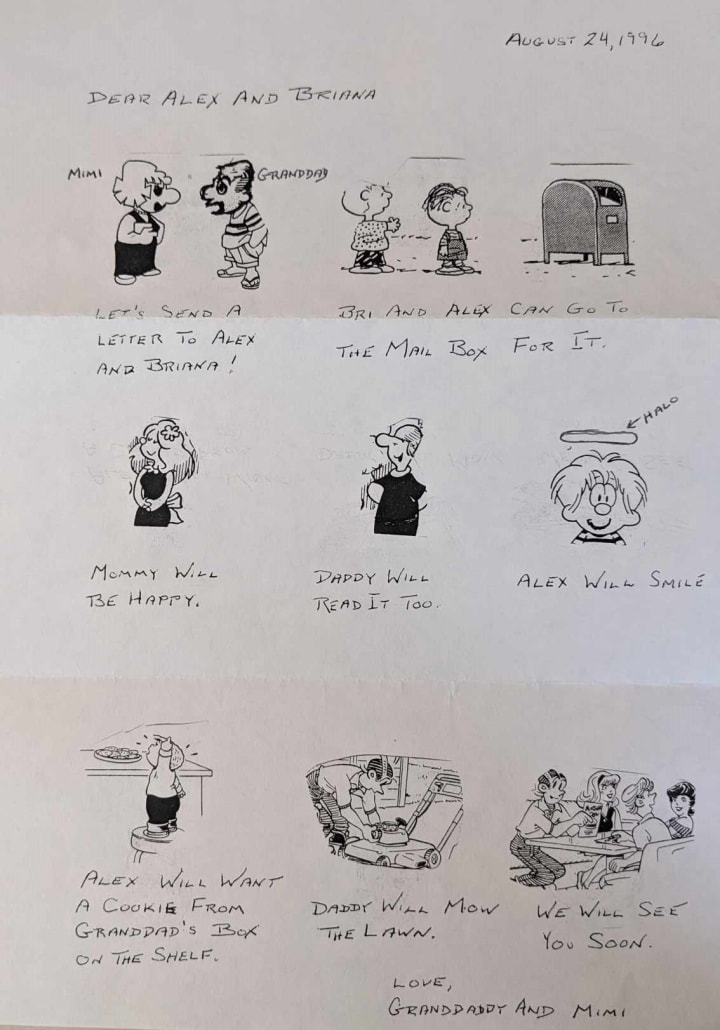 My grandfather passed away many years ago, but even now I still find myself wishing that I could spend more time with him. I want to to talk about life with him, or at the very least, I want sit down at his table again. I'll steal his Sunday paper while he refills his coffee and pretends he hasn't noticed.
I guess that's the funny thing about grief. When you lose someone you love, you never really stop wishing they were still around.
(Even after all these years.)
So, I still find my own special ways to feel close to him. I eat butter pecan ice cream and mix M&Ms in with my peanuts. I keep one of his woodshop creations in my dining room and still feed cheese doodles to the squirrels. And... I still read comics. Particularly, I still read Calvin and Hobbes.
Granddad gifted my family our very first collection of Calvin and Hobbes - so I have him to credit for my enduring love of Bill Watterson's creation. The Authoritative Calvin and Hobbes is now so old and loved that the spine has all but dissolved entirely.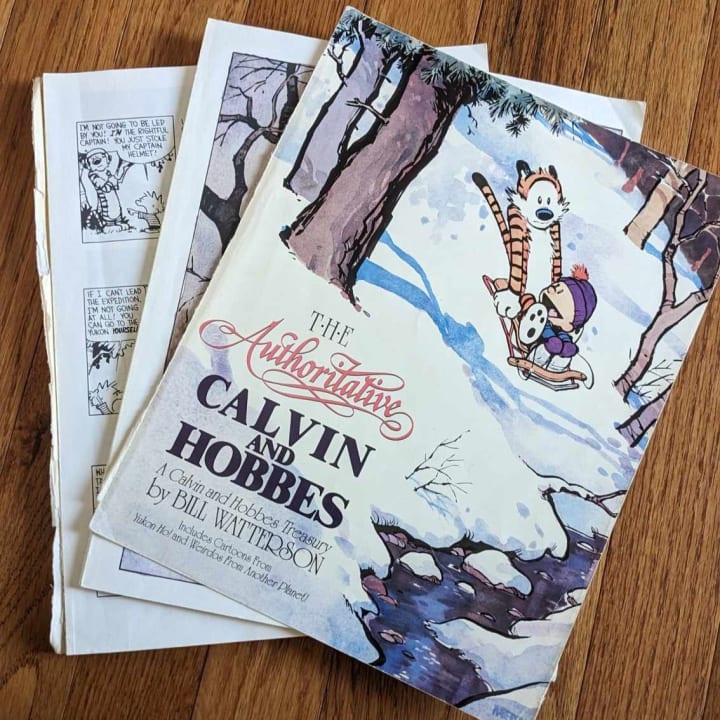 However, I must admit that my favorite of these books is actually, The Calvin and Hobbes Lazy Sunday Book. This book is a special collection of Sunday comics, and fortunately, the spine is only peeling a little bit.
For the unfamiliar, most western newspapers had a special selection of full page, full color comics on Sundays (compared to smaller, black and white weekday comics). The bright colors and full pages of artwork appealed greatly to my child brain - so these were my favorite types of comics.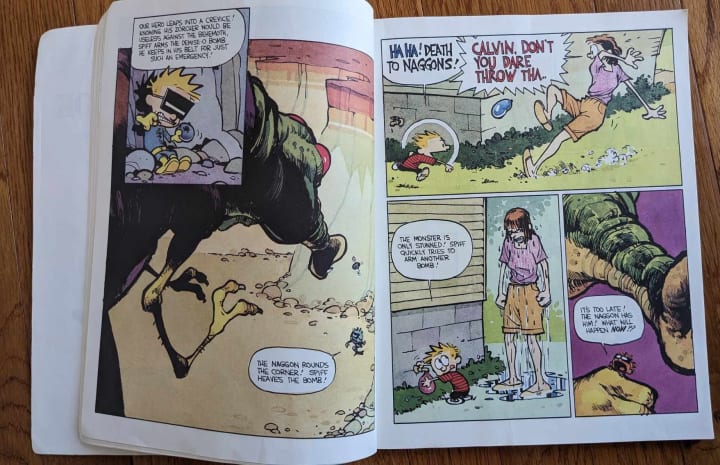 This book is also a big contributor to my interests and hobbies of today: my massive love of comics, eventually expanded into a love of humor, webcomics, and animation.
And, also.... more Calvin and Hobbes.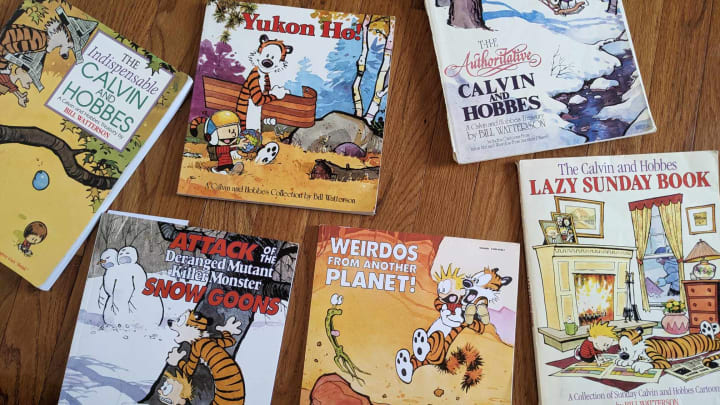 But through all the ups and downs of life, I always find myself reaching back for the Lazy Sunday Book. It is probably the book I've read through more than anything else. I've read it with a flashlight under blankets and I've spilt coffee on it in the morning. What I love most about this book is that it's become a refuge in the form of paper - a world of nostalgia, heart, and childhood wonder. It is a cozy place, no matter where I am.
And best of all, I still feel like I'm sitting at the table with Granddad.
~
Thank you
~
Special acknowledgements to the Vocal creator, ARC, whose 50-word critique inspired me to choose Calvin and Hobbes for the book club challenge. Read his article here:
Reader insights
Be the first to share your insights about this piece.
Add your insights