Do you like reading books that walk the line between surrealist revelry and gritty, embodied horror? Me too.
This list started as a way for me to figure out the five best books I read this year. As I made my selections, I realized that I was actually constructing a different list altogether. Here are some things that all of these books share:
They're well-written
They're written by women
They pass the Bechdel Test
They're gripping, hypnotic reads
And they are really, really fucking weird.
So, without further ado, let's take a look at the five books that took me down a rabbit hole this year. Prepare to be deeply unsettled!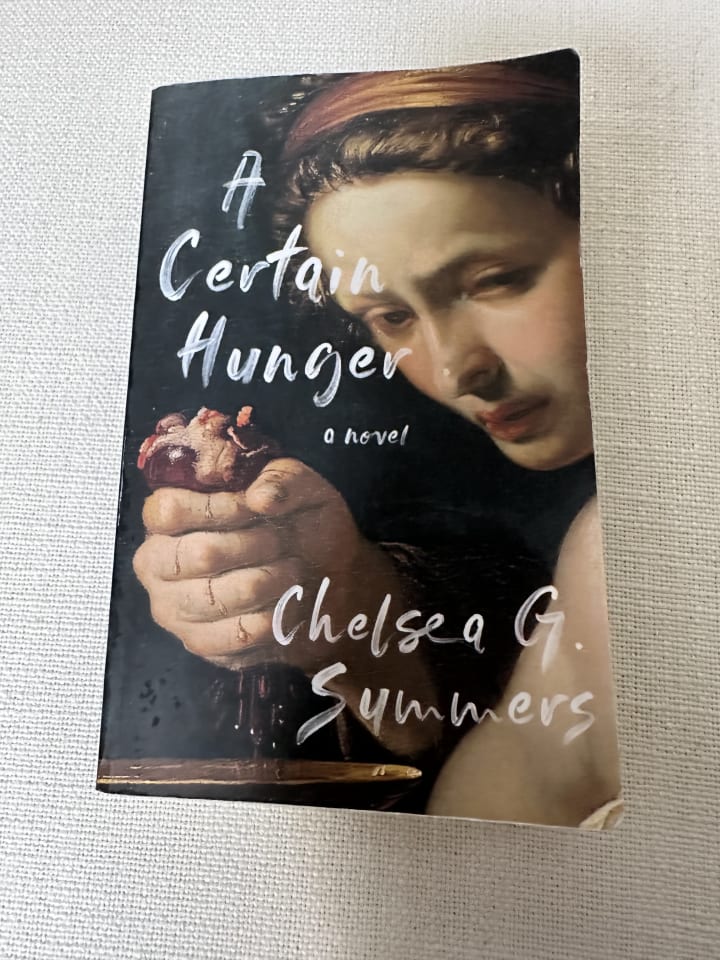 This book spoke to me on three levels: first, I love food. The main character, Dorothy, is a food critic eating many of the finest dishes worldwide, and Summers describes them in mouthwatering detail. Certain phrases stick to my brain like flavors on my tongue. When she writes about the chalky minerality of certain white wines, the puckering acidity of a fresh tomato, or the fatty drippings of a roasted chicken, my mouth waters and my stomach growls - even when I'm not hungry.
Second, I love the exploration of flawed characters. Dorothy is analytical and hedonistic, a wonderful combination that allows Summers to delve into the deepest parts of what it means to love, what it means to have a friend, and the private hungers of a soul that not even a lover can know.
And third, I love books about crime, and Dorothy is also a cannibal.
Summers made beauty disgusting and horror gorgeous. I will probably never stop recommending A Certain Hunger, and also will reread my copy until it falls apart in my hands.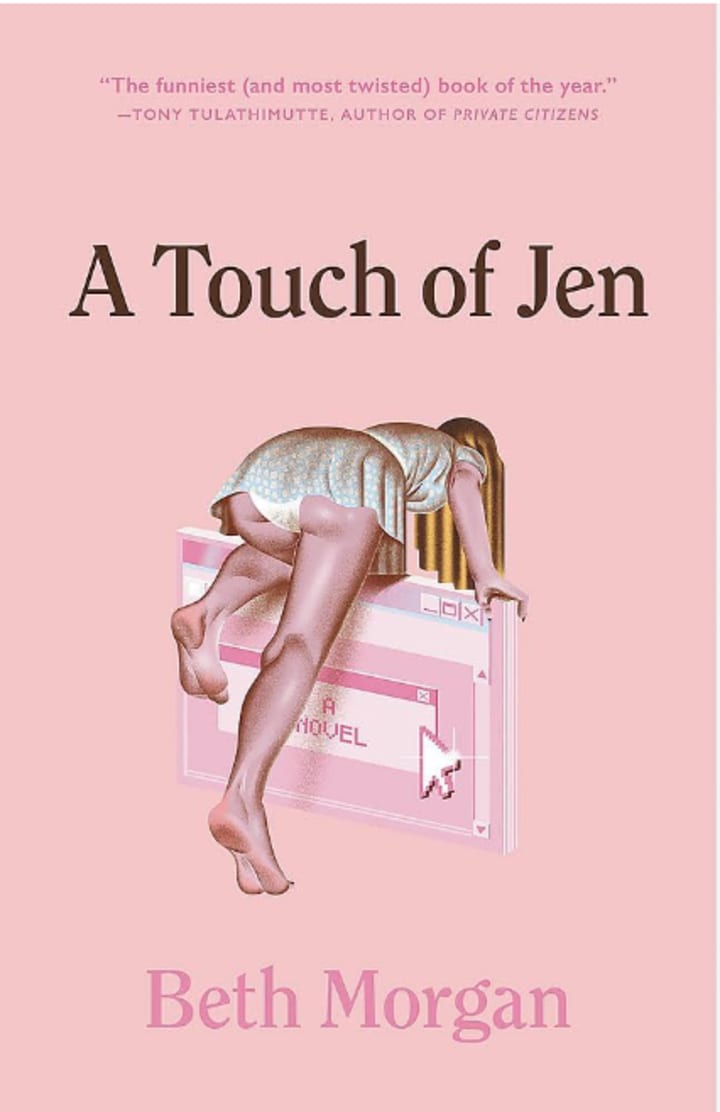 As a Chronically Online Millennial (tm), I've been thinking a lot about parasocial obsession in the last few years. Social media draws a lot of beautiful analogies: Freudian void, supermassive black hole, narcissistic mirror. There is no shortage of literature, academic or creative, that grapples with the consequences of algorithms, filters, and addictive platforms on human development and connection. But "A Touch of Jen" takes those concepts and twists out something profound.
Remy and Alicia are a couple who seize the opportunity to hang out with the object of their obsession: a former coworker of Remy's named Jen. They grapple with the difference between the real Jen and the shared, delusional tulpa they made of her in their minds via Instagram. They deal with Jen's shitty friends, their disappointment in their own lives and bodies, and finally, a supernatural entity that has Remy in its grip.
I love books that help me understand my own experiences. This book helped me grapple with my own unhealthy social media fixations. It also helped me understand the inherent awkwardness I feel in social situations was just that - inherent, universal. Morgan wrote a novel that was just as odd as it was relatable, and I loved reading it.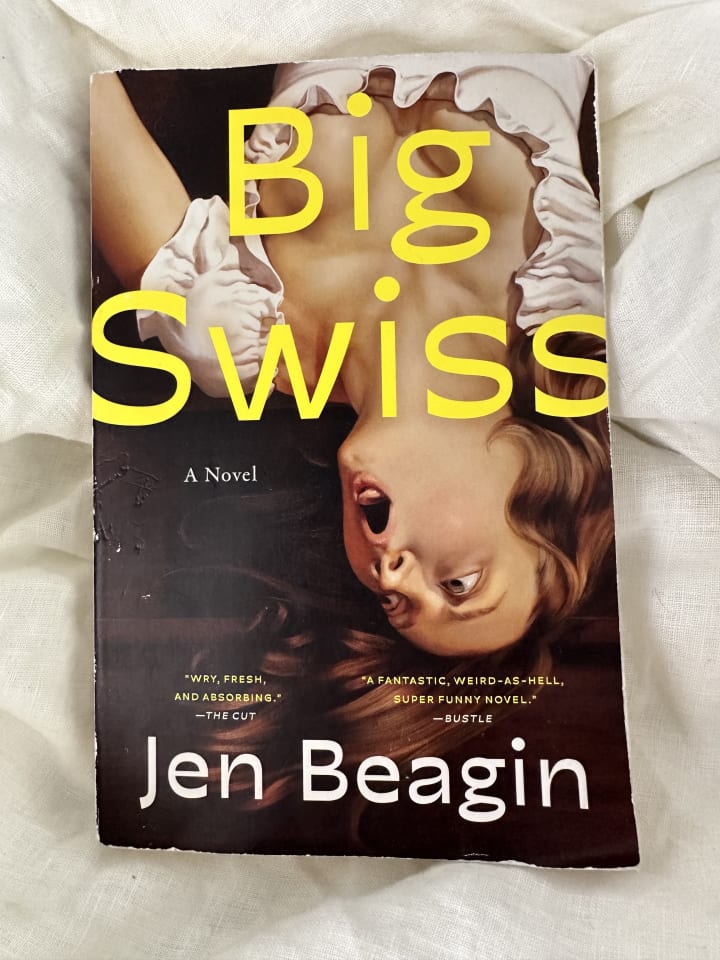 Something is wrong with every person, place, and thing in Jen Beagin's novel "Big Swiss." The main character, Greta, is an older woman with a desire to punish herself for existing, or maybe a desire to not exist at all. She's not sure yet. Greta lives in a beautiful farmhouse with no central heat and a million roommates: bees that live in the walls. The farmhouse sits at the edge of scenic Hudson, NY - a town composed largely of fashionably transplanted city people with horrible thoughts.
Reading this book felt like eavesdropping. Fitting, because the book is essentially an homage to such an intimate, secretive act: Greta is a transcriptionist for a local sex therapist, and thus beholden to all the secrets spilled in his office. She falls in love with a patient, the statuesque Flavia, from her voice alone. After a chance meeting in a dog park, they embark on an affair filled with lies they tell Flavia's husband, lies they tell each other, and lies they tell themselves.
Despite the blood that trickles through this novel's pages (and a plethora of animalistic, kinky sex scenes), the gripping core of this read is the questions Beagin poses about existence, identity, and recovery from trauma.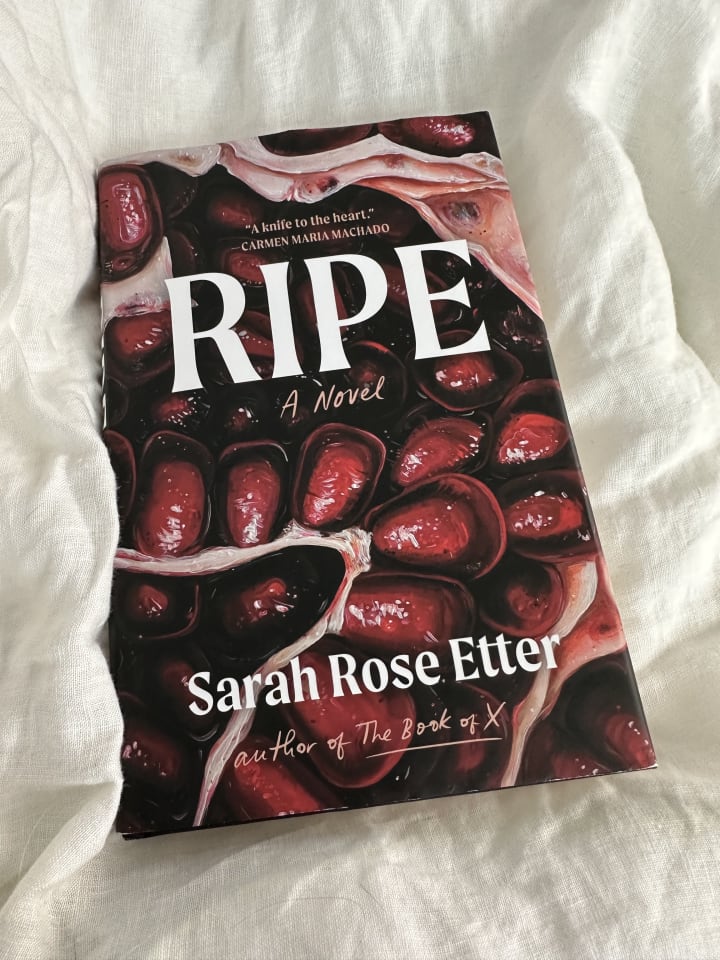 Ok, I'll admit it: I bought this book because of its cover. But once I cracked it open, I found a surrealist world that sucked me in. Most of the book is grounded by harsh realities: shitty bosses, distant parents, the fear of a dwindling bank account when the rent's due. A virus on the horizon, edging closer, that we the reader can do nothing to warn the main character, Cassie, about. But here and there are flashes of magic: a personal black hole that only Cassie can see. Signs and symbols. Rituals that keep the dark away. Cassie's downward spiral is loose at first, before tightening into a dizzying corkscrew as she deals with the consequences of an unplanned pregnancy and the decisions she's made for her career.
"Ripe" was a gripping read. The intense personal tragedies that Cassie recites with a deliciously flat affect are interspersed with diagrams of fruit in sections, definitions of words, and a black hole that grows and grows. It helped to break up the emotional heaviness of this book, which gave me a lot of food for thought regarding how we build our own identities, how we look at our neighbors, and whether death by a thousand paper cuts in our capitalist hellscape is worth living for. It's a heavy read, but worth the effort.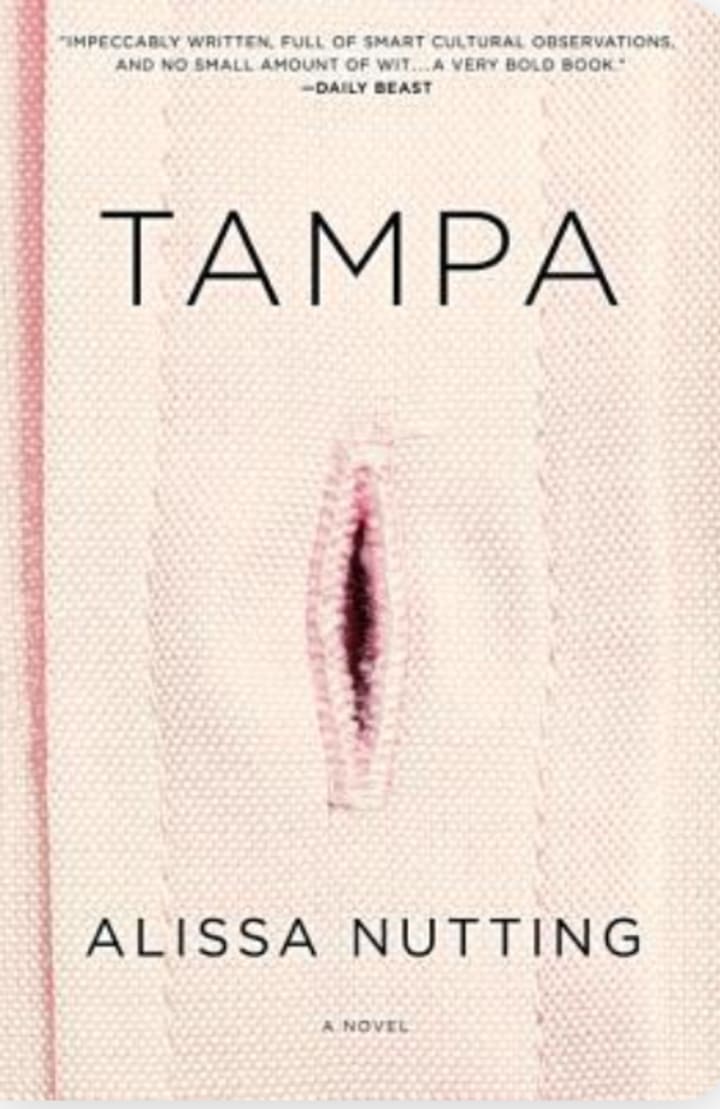 Ok, this one I feel weird about recommending. If you're familiar with its premise - a woman becomes a middle school teacher for the sole purpose of grooming and abusing her students - then you'll understand. It's an icky book, and it made me feel icky to enjoy reading it. Nutting does not hold back from graphic descriptions of pedophilic obsession and practice. She writes with a compelling voice, a frankness that's intriguing, and an appalling amount of detail. But she does it well.
If you can stomach the content, you'll be rewarded with a tense, gripping plot, and a character whose downfall you cheer on as you see it coming. It's a short read, and it's free on Kindle Unlimited as of the publishing of this story, so there's another couple of ticks in the "pro" column.
_________
Well, I hope you found something in this list that you liked, or will like! It wasn't until I completed this list that I realized these books all share one more thing: each of the above authors has unabashedly focused on the performativity of the feminine self, flouted the genteel rules of society and literary critics, and gave me something weird to sink my teeth into.
For so long, men have dominated the "morally gray surrealism" landscape of literature. Vive la femme!
I'm going to be a little quieter on here this month as I dive into NaNoWriMo, but please drop me some book recommendations in the comments for December. Up next on my list is "Bliss Montage" by Ling Ma and "Motherthing" by Ainslie Hogarth.
About the Creator
Pastry chef by day, insomniac writer by night.
Catch me here for spooky stories, crushable poems, and overall weird thoughts.
Or, let me catch you on my website!
Reader insights
Be the first to share your insights about this piece.
Add your insights