The Ghosts of Men
Inspired by Eleanor Antin's 100 Boots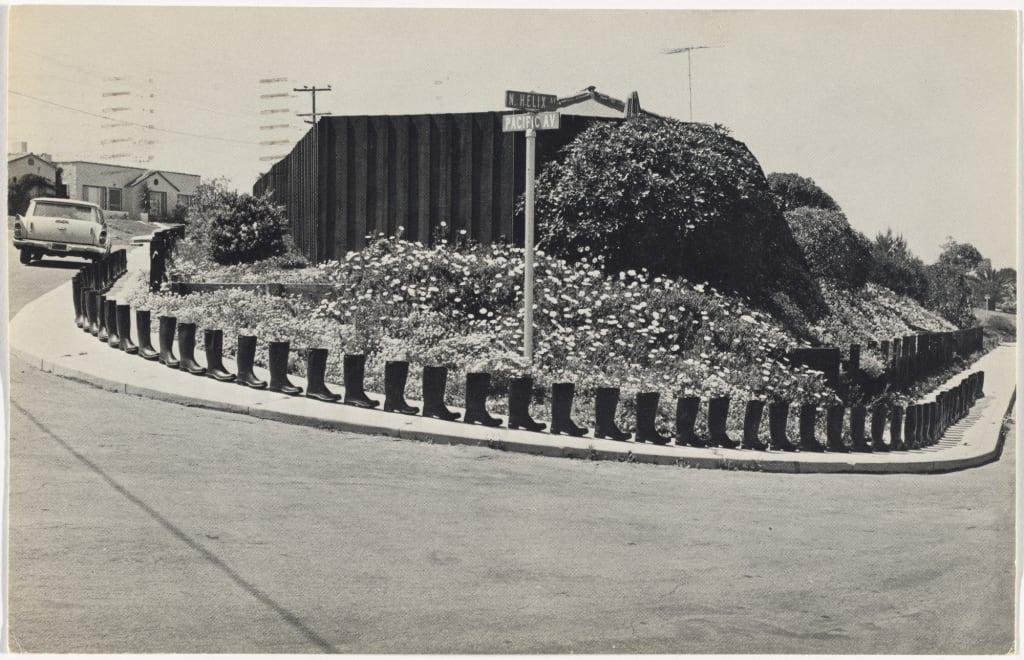 Eleanor Antin. 100 Boots. 1971-73. 51 halftone reproductions (postcard), Each 4 1/2 × 7" (11.4 × 17.8 cm). Transferred from The Museum of Modern Art Library, New York. © 2022 Eleanor Antin
The ghosts of men walk orderly; an army in defeat. They blindly roam the block—round and round they march. Why they've chosen this friendly neighborhood we'll never know. But there they go. Haunting the crisp air. Day in, day out.
What do they want?
What do they need?
If you listen closely, you can hear them cry. Rumor has it that the ghosts of men roam free as far and wide as they can be.
_
There is an old tale of soldiers for days gone by. A fable, if you will, about young men who lost their loves—relationships torn apart by war. Long story short, the ghosts of men roam the streets crying out to the gals who wouldn't wait.
Take Francis, well—Frank, for example. Frank was an apple-faced boy next door who dated the same girl for two years before heading off to war. When he left, with a sweet kiss, Janice gave him a locket with a photo to remember her. Every night, as Frank tried his darndest to fall asleep, he'd hold the locket tight, taking peeks at her prim and proper photo inside. She promised to stay true while he was away. Alas, upon his return home he discovered not only had Janice not stayed true, but she was now someone else's bride-to-be. Sweet Frank, our jolly faced boy, was so broken hearted he reenlisted, only to be sent off to war again. Only now, he didn't have a locket of hope to help him fall asleep at night. Trudging behind his mates in an orderly fashion, Frank longed for his lady love and rued the position he was in that led to her betrayal. At night, without the locket and with a deep need to sleep, he paced the field. He paced the field with nightmares of home. One crisp evening, as Frank wandered the field where they sat prey, an explosion christened the night from beneath his feet. He never saw it coming.
They say that Frank now paces in circles near her home, searching for the lady love he lost. Never to escape the pain.
Frank is one of a hundred men who have lost their loves to war. They all walk silently in their cries.
Bobby befriended Frank during his first enlistment and they remained close, until...until...you know. The landmine incident. He was devastated when Frank passed—he was like a brother, see.
Frank, too, had a lady love back home. And just like Frank, his gal found another. Brenda didn't just break Bobby's heart, she trampled on it and threw it away. She wasn't even going to give back the ring. The ring Bobby had spent months saving up for!
"Whatever happened to old-fashioned tradition," Bobby thought to himself.
"First Frank and now me. What luck."
Now, Bobby didn't pace at night like our friend Frank. No. Bobby was like the town crier. Being somewhat small, Bobby was light on his feet, not in that way, and fast! Bobby-boy spent his days running messages back and forth between squads. He was always on his feet, but he didn't mind. You can't walk a mile in another brother's shoes, he liked to say. Whatever it meant. Take that for what it's worth. Well, one day when Bobby reached a neighboring squad, he quickly found out that they had been sabotaged. He knew for sure when a gun was pointed at his head. But we don't talk about that.
We talk about what a good man and soldier he was. And Brenda? Well, Brenda sure felt sad once it happened. But it was too late.
The point of this is all to say, 100 boots represents 100 men, who left this life too soon.
About the Creator
I am The Memoir Queen...
Writer. Editor. Memoirist. Humorist. Born and raised in the Adirondacks—now living in Orange County, CA. I love nostalgia and have a snarky sense of humor. My writing influences are David Sedaris and Dorothy Parker.
Reader insights
Be the first to share your insights about this piece.
Add your insights