Your lappy is not just limited to CPU...
24 tiny but a very impactful things that you must consider.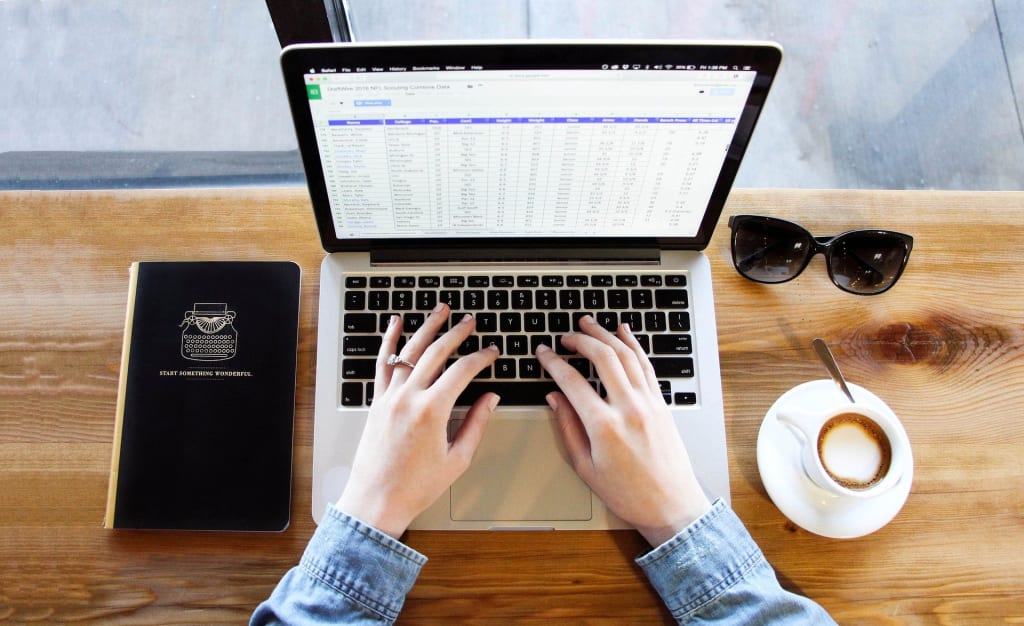 Someone is typing.. (Image credit: Pixabay)
Don't just see the 256GB SSD or Intel Core i7 Processor in the laptop. There are many things that you must see before buying one. In this article, I'm gonna share the 24 of them with you that you must consider before hitting the Buy button on Amazon or Flipkart in India.
1. RAM Channel
What is it? It's nothing but the way the machine uses to communicate with the CPU. In the single-channel RAM, there will be only one way to send and receive or both. In the Double-Channel one, there will be two ways for the same operations. The benefit here in the double-channel is that the data will have more space to move. Hence, it will move faster. So, indirectly, the performance is involved here.
Let's suppose you've one way to go and return, and you've two ways for the same, which one will be fast and more comfortable for you? I believe it's the second one.
Most sellers on Amazon and Flipkart don't mention it in the product description or anywhere else on the item page. Sadly, they don't provide such useful information. To check it, there's one tool called CPU-Z (https://www.cpuid.com/softwares/cpu-z.html). For the new laptop which you're willing to buy, you must rely on external reviews.
If you're in India, you can trust on
Digit.In (https://www.digit.in),
Thanalysis (https://www.thanalysis.com),
TechRadar India (https://www.techradar.com/in), and
PCMag India (https://in.pcmag.com/).
There're also other reviewers like Gadget360, but they don't provide the detailed information. And, if you're gonna buy a second-hand machine, they no need to rely upon any of above. Just install CPU-Z software, and it'll separate the milk and water immediately. Next, the second most important specs you should look at first is the presence of the latest wireless communication devices.
2. The presence of the latest wireless communication devices
The wireless communication can be made by many means like Wi-Fi, Bluetooth, Network SIM, and Infrared. But my interest here falls on Wi-Fi and Bluetooth, as both are the primary requirement for faster and better wireless connectivity. As of 2021, The latest Wi-Fi 6 and a Bluetooth version 5 are in the market. Both are known to be excellent in wireless communication.
In addition to that, also check for the antennas. If you find the laptop with 1x1 Wi-Fi, it means it has one transmitter and one receiver antennas. So, 2x2 will be more advance than 1x1. The traditional Wi-Fi 5 is also known as 802.11ac/a/b/g/n. Unlike RAM Channel, sellers are clearly mentioning it on the product description as well as on the product promotion image.
3. Cinebench R20 Score
Cinebench is a tool which measures the CPU's ability to process the complex tasks and give you the results in the form of scores. The higher the scores, the better the ability. Cinebench gives Single and Multi-Core scores. The single-core score will always be lower than the multi-core one.
The R20 is a Revision 20 - a version of this tool. The current version as of January 2021 is R23 which includes new tasks.
Cinebench calculates the score by performance the complex CPU-intensive tasks to check the CPU performance and the cooling solution. There's also another tool available called Geekbench. But, Geekbench is like Kid, in terms of its working.
At the beginning of this article, I've written one line - "don't just see the Intel Core i7".
Why I've said that?
Laptops, despite having the same processors, reflects different Cinebench scores. It's due to the different internal design, mainly an integrated cooling solution. But, when Mi Notebook 14 Horizon was introduced, it has shown a big jump between the processor and the average Cinebench scores. Despite Intel Core i7-10510U processor, the single-core is just 371 and multi-core is 891. The scores are too less than the Intel Core i5 CPUs.
4. Gaming Benchmarks
Gaming benchmarks refer to the Frames you get per second while playing GPU-intensive PC games. High values are always contributed by better graphics and enough video RAM. In addition to that, the cooling solution and a power supply of the machine also play a vital role. As per the Dell Alienware m15 R2 gaming laptop review by LaptopMag, Thanalysis, and JarrodTech, the FPS were disappointing during battery mode but improved when plugged the laptop in.
5. CrystalDiskMark storage speed test results
CrystalDiskMark is a tool used to measure the storage speed. It analyzes it by considering many factors and give you a detailed result. CyrstalDiskMark 7.0.0 is widely shown in the product review. Actually, version 8.0.0 is the latest one. CystalDiskMark shows the reading and writing speed in technical parameters such as SEQ1M Q8T1, SEQ1M Q1T1, RND4K Q32T16, and RND4K Q1T1. All the technical terms have a different meaning.
So, you have to look at SEQ1M Q8T1. It tells the speed information recording while reading or writing the 1 Mebibyte block size data with a total of 8 tasks in sequence on thread 1. It represents the read and writes speeds of the large files. Here, the large files are nothing but your movies, large Zip or any compressed file, and like.
6. Thermal management
Thermal management isn't limited to the CPU and GPU temperatures. It also includes exterior temperature. During the stress tasks, the processor has a thermal paste and a fan to cool it down. But, the keyboard and palm rest also gets heated that shouldn't. Most probably during video editing or mobile programming, you gonna feel the heat.
So, both shouldn't exceed 30 degrees Celsius.
7. Screen Colour Gamut
Screen colour gamut decides how colourful the laptop's display. It involves SRGB, AdobeRGB, DCI-P3, and NTSC. The values that you need is different for different kind of uses. Professional photo and video editors need a colourful screen, so, AdobeRGB, DCI-P3, and NTSC must be possibly higher. SRGB doesn't make any sense for professionals as it's common in laptops and doesn't have a direct influence on the colour accuracy.
For Programmers, the average values are fine. They don't need much colourful one. For students, the average also gets the job done.
SRGB spectrum consists of 16.8M colours. It's Standard Red, Green, and Blue values, which range from 0 to 255 and create many colours. AdobeRGB is a standard developed by Adobe Systems. It has 40% more colour than SRGB. Both are used in photo editing. NTSC is a standard which was developed very first. It was primarily used for television, later being used for video editing.
You can measure it using Spyder 5 PRO.
8. Contrast ratio
Contrast ratio will decide the capability of the display to identify the different colours of the same range. For the general uses like typing, programming, it doesn't matter. However, it should be at least 1000:1 for gaming laptops.
Laptops with IPS panel have less contrast ratio than VA panel at the sacrifice of viewing angles. Mostly, budget laptops are coming with the minimum value. It also refers to how darkest post the laptop's display is capable to produce. VA (Wide viewing angles) panels have highest of it, hence, they are most recommended for competitive gamers. But, for the uses other than gaming, the value around 1000:1 is acceptable.
9. Display nits
The display nits are related to the brightness of the display. Don't think that you always will be using the laptop in the room. Outdoor work sometimes let us feel to stick there. So, the laptop's display must be bright enough to see the content at maximum brightness in the direct sunlight without pain in the eyes. For that, the laptop should have at least 300 nits display at 100% of screen brightness. No problem if you get a higher one. But, think twice before purchasing the one with below-value.
10. Display Panel
Laptops have mostly three types of panels, IPS, TN, and VA. All the panels have their pros and cons. Before getting into what's better for you, I'll give you brief information about each one.
IPS is the acronym of In-Plane Switching. IPS panels give very good viewing angles and have high colour reproduction capabilities. The colour reproduction is nothing but the measurement of the colour gamut.
TN is the acronym of Twisted Nematic. TN panel has more cons than pros. It gives bad viewing quality in the vertical axis. Also, it has no wide viewing angles. If you go beyond 140 degrees, you'll start noticing reduced picture quality. In addition to that, it has below-average colour reproduction and doesn't support 24-bit colours.
VA is the acronym of Vertical Alignment. It gives a very high contrast ratio but comes with a very low response time.
IPS panels are mostly recommended for all kind of uses. Nowadays, many manufacturers have started to produce higher contrast IPS panel. TN panels are strongly not recommended for programmers since they may need to use the display in vertical alignment which will cause a problem. And last, I will not recommend TN panels for any laptop. Still, you find it many Dell and HP laptops.
11. CPU Clock Speed
CPU Clock speed is the number of cycles the processor receive and interpret per second. It basically decides the CPU's ability. For example, 2.4GHz CPU at its max value will retrieve and interpret 2.4 billion instructions per second. So, the higher clock speed CPU will directly contribute to better performance. And, that's why gamers mostly overclock their CPU.
The base value that I recommend is 2.0 for programmers and normal users. For Gaming, go with a minimum of 2.5GHz one. Always look at the base speed. Many times I've found that sellers on Amazon India, Flipkart, and Newegg, written the maximum possible CPU clock speed as a base. Here I've one tip for you. Don't believe, If you found the value near to and above 4. Again, always trust external reviews for the purchase of a new laptop. For the second-hand one, you can use CPU-Z as I've said earlier.
12. Touchpad
The touchpad of the laptop must be at least 4.1-inch wide. It should be smooth, responsive, and accurate if you're buying a budget laptop like one under Rs 60,000. Second, It's better if it has a glass surface. Mostly, laptops with budget price come with a plastic touchpad. Third and the most important, it should support Windows Precision drivers. Fourth, it's better if it clicks down anywhere. If it doesn't then, it must have two integrated buttons, not a separate buttons like Lenovo's ThinkPad series. And the last one, it should be bent beyond the limit when pressed for to register the click.
Now, you may have a question that how to identify 4.1-inch size? Well, the touchpad with little longer than the space bar is of the recommended size. Why I'm focusing on the precision-enabled touchpad? It's because you don't need to install 3rd party drivers. And, precision touchpad handles the data differently than the normal one.
13. Tactile feedback and 1.5mm key travel
The keyboard must be giving consistent tactile feedback. LaptopMag, PCMag, Thanalysis, and Techradar recommends at least 1.5mm of key travel for the good tactile feedback. However, there are other premium laptops like Dell XPS 13-inch, which gives only 1.1mm of key travel still, typing is very good on it.
It's sad that for the sake of slimness in the laptop, manufacturers are sacrificing the minimum distance the key must travel. And, that's why mechanical keyboards are extremely popular.
14. Noise emission
It depends on the usage of the laptop. If you're doing gaming all-the-day, you will definitely gonna experience the fans' noise emission. Apart from gaming laptops, most budget laptops come with an only single fan, which produces around 33dB of noise at idle usage, and depending on the internals design and BIOS settings, the level goes up. But, it should not exceed 46dB during heavy use.
How to identify it? Just rely on the external reviewers.
15. Placement of 3.5mm audio/combo jack
While reviewing the laptops, I've found that the front corners of the left and right sides of base always conflicts with the knees. And, the placement of this port is going to make the same. In Apple Macbook, it's placed on the back corners which noway touch your knees. It's not a major problem unless you're not dealing on the short-desk.
16. Uses of the Type-C port
USB Type-C shouldn't be used only for data transfer. It should support power delivery. In addition to that, it's recommended if it does support external graphics. For budget-laptops, I don't think you should expect more than data transfer and power delivery.
Furthermore, thunderbolt-3 port makes different, always. Because Gen-2 port gonna transfer the data at 10Gbps whereas the thunderbolt-3 port allows transferring at 40Gbps speed, which is huge. Thunderbolt-4 port is also in the market today, but you won't get it in the new machines.
17. Display resolution
Display resolution directly controls the amount of picture you will be able to see on the screen. We've up to 4K resolution available for the laptop screen. For an external monitor, up to 8K is present. But, FHD (1980 x 1080) resolution is ideal and what we recommend to get optimized battery life. It's a myth that 15.6-inch with HD resolution will show more content than 13-inch FHD one. For better understanding, look at the picture below. It's directly from the LaptopMag.
A comparison of the display size with a resolution. (Image Source: Thanalysis)
18. Weight distribution across the hinge
In other words, my mean is whether the laptop opens with just one finger without a single movement of the base. If yes, it shows the evenly distributed weight across the hinge. You'll find that all apple laptops open with just one finger whereas many Dell and HP laptops lift up the base with a display.
The uneven distribution is what caused by some uneven placement of internals.
19. Air intake vents
The presence of air intake vents is recommended on the back cover of the laptop. But it should be useful. You'll be surprised to know that many laptops doesn't react in terms of temperature change when the cooling pad is used during the stress test. That looks bit weird. I mean it feels why the manufacturer has placed them unintentionally. The plain base would be better just like Apple Macbooks. To check whether the air intake vents are useful or not always relies on external product reviews. Because neither seller nor a manufacturer will provide you with that kind of information. Also, tools like CPU-Z are unable to do so.
20. Camera and microphone
The camera and microphone must be placed at the top bezel. And, both should be integrated into the laptop. Mi in its Notebook 14 giving them as a separate bundle, which is pretty awkward. The camera must be average, at least good for video conference. You won't get the same quality HD camera that you get in the smartphone. Furthermore, don't buy the laptop which has bottom placement. Because it may catch the hair of your nose :).
The microphone must be average, at least it should be capable to clearly record your voice outdoor. Our goal here regarding the camera and a microphone is to meet the minimum quality standard for video conference.
21. Weight with the accessories
Don't just focus on the laptop's weight alone. It needs a charger too. So, try to get the machine with 1.8 kg weight or below. Because the charging accessories will be at least 200 grams heavy which will land the weight to nearly 2 kilograms. I consider this aspect because I travel a lot. And, I found it's a little bit problematic when you carry a laptop, a laptop charger, a headphone, a camera, a drone, and other things.
22. Display lid material
The material of the display lid must be aluminium. Aluminium is a low-weight metal and gives a very high strength to fight against the flex that may happen when you're opening up the laptop. The plastic lid is also capable of handling so, but, I recommend aluminium here. I don't recommend magnesium lid since it contributes to the weight.
23. Fingerprints and no colour change
After heavy use, the palm rest and maybe some of the keys will look a little bit oily. The fingerprints must be easily get removed otherwise it will little bit take down the look of the machine. In addition to that, make sure there is no colour change on the white surface of a laptop If you're gonna buy a white version one. The Dell Alienware m15 R2 gaming laptop's white version looks a bit yellowish at some parts of the surface. And it's also hard to remove. Hence, check it twice.
24. Speakers
Speakers are of the laptop must be clear, should have a little to no bass. And, it should be at least 80dB average loud or at least enough to fill your room. I'm placing them at last because I don't think they will be useful after you buy a wireless or a wired headphone.