WordPress Site Migration: Most Common Errors
Using WordPress Website Entails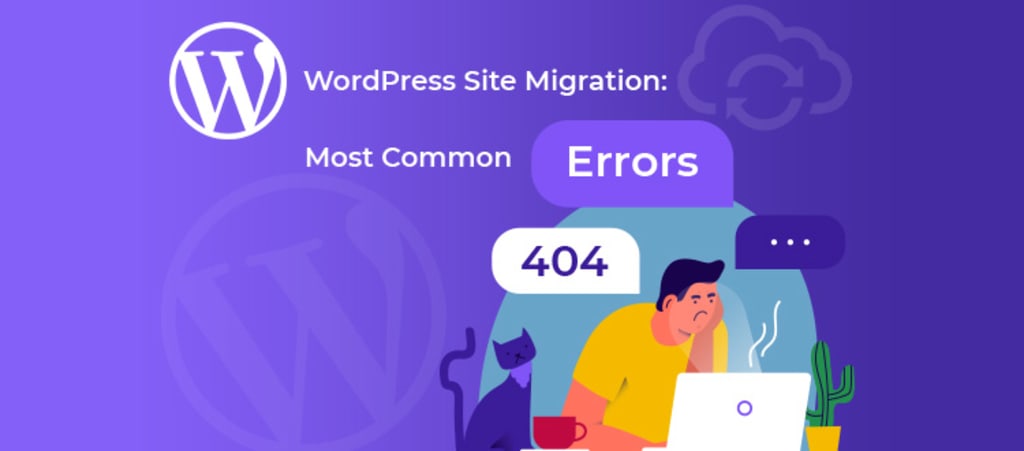 WordPress Site Migration: Most Common Errors
In the current era, there are several platforms or frameworks available globally you can choose to build a website for your business. WordPress website development is one of them and the most trusted CMS among others. Because it provides countless plugins, a vast developer community and scalability to add new features and SEO practises.
Nevertheless, if you are having one and looking for WordPress site migration, you can do it by yourself or can hire a WordPress web development company to do the honour.
However, it seems easier to migrate WordPress but doing so there are huge chances you may encounter several errors and issues during the process. No matter, you are migrating to a new hosting, a new domain name or to an HTTPs address. Given below are a few of the errors and issues you will face and have to fix them.
Data Loss:
Complete data loss or losing some of all files can be one of the major issues while migrating a WordPress website. You can get rid of such data loss issues by having a backup of your site before proceeding its migration. Several hosting providers offer the facility of backing up your data automatically. But if it is not the case, you can use one of the WordPress plugins, dedicated to creating a backup of your site. Some of the popular names are UpdraftPlus, Duplicator and WP-DB-Backup. The WP-DB-Backup offers the facility of creating a database backup only. So before using this WordPress plugin make sure that it performs the task of backing up website data automatically.
Other than this, you can also create a backup of your website and database manually. Just find the public_html file in the file manager on the host website's home folder then compress it or zip it. Further, proceed with its saving on your hard drive or on the server. Now you can export your database at the phpMyAdmin and transfer it and store at the place you wanted to.
phpMyAdmin Timeout while Importing/Exporting Database:
If your website has an online presence for a while, there are huge chances that it may be heavier with a lot of data files. So several times you may encounter issues of phpMyAdmin time out while importing/exporting databases. It is easy to resolve such issues just by running wp import command in WP-CLI.
It is an open-source, free to use tool that can be installed easily. If you are short in time with installation and learning WP-CLI, you can use another option named SSH commands. It also provides the facility of exporting and importing databases.
If this option is not working out with your case, you can contact WordPress website development company for the migration of your WordPress site.
Issue of SSL Certificates:
SSL certificates are mandatory for an eCommerce website, if you are having one, you may face such SSL certificates issues while migrating your website. Most common of them is the error of NET::ERR_CERT_INVALID that occurs when you forget to change domain name in the certificate.
Every domain name has an SSL certificate, if you make any changes to them, it won't work properly and you have to fix the problem by reinstalling the certificate manually.
Other issues you may encounter with SSL certificates are of mixed content errors which majorly occurs due to some of the URLs still pointing out to the HTTP version of the website. The only way to rectify such problems is searching for such HTTPs URLs and replacing them with the new ones manually or using plugins like SSL Insecure Content Fixer.
Problem Establishing Connection to a Database:
It is one of the issues you may face while WordPress site migration. But there are several ways possible to resolve this issue. First of all, have a look at wp-config.php file. Since we are likely to make typo errors several times in database name or database username that creates problems connecting websites with the database.
If you don't find such a mistake, you need to visit www.yourdomain.com/wp-admin. You will see an error page with a message that your website is required to be repaired. It is the issue that prevents your website from connecting with the database.
This issue is easy to resolve, the only thing you need to do is, define ('WP_ALLOW_REPAIR', true) in the wp-admin.php.
Now visit www.yourdomain.com/wp-admin/maint/repair.php. The process will fix your website connectivity issue with the database.
Once the issue is resolved, don't forget to delete the string, define('WP_ALLOW_REPAIR', true) from the wp-admin.php.
If all the suggested methods don't work your way, the last option is to make contact with WordPress website development company for support.
Downtime During Migration:
While migrating your WordPress website you may face a significant downtime issue. It could be annoying to the visitors when they need it the most.
Basically, downtime occurs when the transfer of website files takes place to a new web host, but the URLs redirect visitors to the old hosting. While there is nothing and they get a 404 error.
For a better migration or testing of a website on a new host, you can utilize an internal address provided from many hosts which ensure constant uptime.
If the option is not provided, you can redirect visitors to the same old host just by changing the host files on your computer. The website will properly work on the computer and let the visitors access it.
You can redirect your visitors to the new host, once the migration process has completed successfully.
Conclusion:
So these are some of the common errors which occur while WordPress site migration. By following the given measures you can fix these errors easily. If still not being able to resolve issues, you can take support by browsing the WordPress Stack Exchange or consult a WordPress website development company for your WordPress site migration task. I hope this blog will help to come out of these problems/issues while migrating to WordPress websites.