Why NFTs are the Future?
The NFTs will play an important role in the growth of the metaverse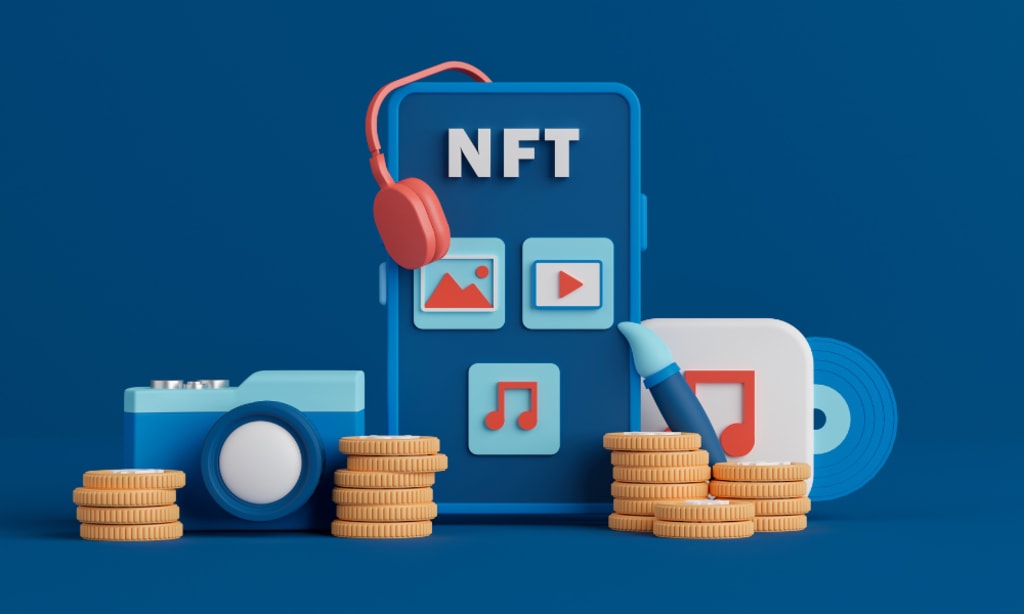 Non-fungible tokens (NFTs) are immutable digital assets that reflect works of art, musical compositions, and other real-world artefacts that reside on a blockchain. The market for non-fiat currencies is resilient and dynamic, increasing the number of NFT users and transactions.
The NFT collection is based on community, culture, and practicality and is an outstanding example of how innovation occurs. NFTs have a great deal of potential, which enables investors to actively devise strategies for maximizing returns. NFT developers are building more interesting utilities. Some travel and entertainment companies, for instance, sell tickets using NFTs. This eliminates the need for customer service in the interim.
NTFs will play a significant role in the growth of the metaverse. According to estimates, the emerging digital ecosystem will generate a trillion dollars in annual revenue in the coming years, which indicates that NFTs will become a crucial component of the digital world.
The evolution of NFTs and the metaverse will increase the complexity of their attempts to simulate reality. Before the creation of basic infrastructure, the digital ecosystem aims to construct virtual worlds in which people can actualize infrastructure using an avatar through virtual and augmented reality.
The evolution of NFTs, blockchains, and cryptocurrencies will increase transparency and employment opportunities. NFTs are becoming increasingly popular in a variety of industries and professions.
Traditional investors were quick to disregard cryptocurrencies and NFTs upon their introduction. However, people's perspectives are evolving. It is anticipated that our lives will grow more virtual, with remote working, virtual meetings, online purchasing, and digital items becoming more prevalent. In the future, we will purchase not only virtual games but also conduct real estate and stock transactions in the virtual world. Most items will be converted into NTF tokens, which may be purchased with cryptocurrency. NFTs would fit well into the virtual realm of video games, allowing players to purchase unique game components.
NFTs have allowed artists to sell digital originals directly to consumers and play a significant part in digital property, tradeable game assets, digital communities,  and the ownership of metaverse assets. NFTs will play a major part in online communities, events, and the acquisition of video game assets, digital identities, and assets.
Blockchains, particularly the Ethereum blockchain, are the primary enablers of non-fungible tokens (NFTs). The blockchain will be essential for ensuring the security of the current system against hackers. Therefore, all types of online transactions will be secure and unaffected by third parties. This will be part of an effort to transform the current centralized (Web 2.0) system into a decentralized one (Web 3.0). Individuals will operate autonomously, without having to rely on an intermediate, as a result of decentralization.
NFTs will also play a significant role in distinguishing authentic from counterfeit goods. This also applies to academic credential verification. No one can counterfeit academic credentials, making it easy for hiring managers to validate authentic documents. All certifications will be effortlessly checked.
Various products will be scrutinized in the same manner. Numerous individuals mimic authentic goods and sell fakes with impunity. Therefore, it will be simpler to determine whether sellers are legitimate.
NFTs will increase artists' independence, enabling them to develop and sell products without lengthy procedures. Even after completing graduate school, students will not be required to wait for employment and will be able to create digital goods or interact in freelancing independently. This will also decrease unemployment rates throughout the world.
In addition, these digital assets will play a role in the metaverse, promoting digital identity, item authentication, AI NFTs, the monetization of personal health data, business, a secure transaction platform, true win-win technology, smart contracts, the sale of artwork, tickets, events, virtual worlds, and digital commerce.
Through NFTs, artists will have greater influence over their work, independent of corporate forces or intermediaries. These artists may interact with buyers and sell their work to them directly. NFTs will grant ownership or access to unusual goods. These digital assets can significantly resolve insurance industry difficulties and eliminate all types of fraud. Additionally, they would permit producers and artists to own their material and data.
The future of NFTs appears to be bright. NFTs had a market size of around $41 billion in 2021, catching up to the market for traditional art. Youth, freelancers, and artists will profit immensely from the expansion of NTFs. Buying and selling items will become considerably simpler.
NFTs will revolutionize the game. In order to make this forecast a reality, many tactics and investors must be implemented. Numerous individuals in the healthcare industry, as well as architects, designers, educators, and other fields, would profit immensely from the coming technology. Instead of depending on textbook theory, students will acquire knowledge through hands-on experience.
Students must be taught about the destiny of the digital world in schools. Future game-changing digital technologies like the metaverse, non-fungible tokens, blockchain, and other modern technologies should be taught to our children.
About the Creator
Greetings, I'm Abdul Majid. I'm a writer living in Pakistan. I am working in tech journalism as a writer, editor and reviewer for over 4 years. I have reviewed many products ranging from smartphones, laptops, tablets to PC accessories.
Reader insights
Be the first to share your insights about this piece.
Add your insights