What to Look for in an Outsourcing Partner?
If these expectations are not fulfilled by your outsourcing partner, the aim of developing successful processes will be violated.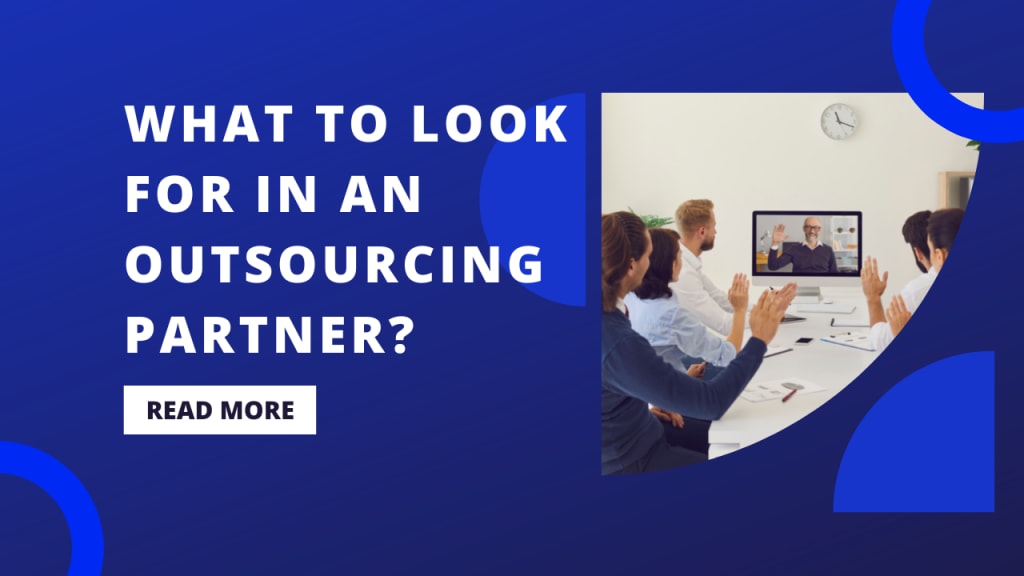 Whether you work for a big behemoth or an SME, you and your in-house staff already have a lot to do. IT outsourcing is becoming the norm in the society we live in. Major corporations throughout the world are hiring more people and outsourcing work faster than ever. Outsourcing is what propels globalization as we know it today, whether it's to introduce new locally produced goods, stay competitive, or reduce rising expenses.
Businesses that outsource crucial core services can greatly increase their production and efficiency when done properly with a trustworthy partner. More critically, companies will start taking action to ensure company continuity in the case of unanticipated events that might disrupt daily operations.
However, some business entrepreneurs claim that it is in our entrepreneurial DNA and find it difficult to let go.
Making the decision to include outsourcing in your plan is a simple no-brainer because it is a terrific way to finish chores and expand your organization. To reap all of these advantages, you must also evaluate a number of things before making a final selection. Factors that, if ignored, can lead to failures, lost time, and higher expenditures.
While the process of selecting the correct outsourcing partner, whether from a developing nation like Bangladesh or any other country, is usually always the same, it's critical that you don't rush into things owing to the unprecedented surge in IT outsourcing.
Following these best practices will not only assist you in finding the ideal outsourcing partner but will also assist you in gaining a competitive edge.
Selecting the best outsourcing company is not a challenging process!
All you need to do is conduct research, speak with individuals in your field, and, most importantly, rate suppliers based on their deliveries rather than what they claim.
The following are the top five considerations when handing over your company's operations to a third-party vendor:
Subject Matter Expertise: After you've narrowed down your list of suppliers, start by carefully examining the kinds of abilities and knowledge each one possesses. The goal is to select a partner that is confident in their ability to produce on time and who is willing to take your needs into account, even if they are made late. It's a good idea to speak with the technical lead assigned to your project if you are outsourcing a technical function to learn more about their contributions.
Approach to Business: When looking for an outsourcing partner for a long-term project, you need to go beyond what they can do to grasp their business outlook. Even if a service provider has the most up-to-date technological stack, tools, and knowledge, you should examine if it would be damaging in the long run if it provides terrible customer service.
Reputation: It's true that many reputable suppliers may lack the marketing resources necessary to spread the word about themselves, but you can tell a lot about a company's reputation by asking its customers. Through social networks, website testimonials, and other modern channels, it is much simpler to learn how clients feel about a certain seller. You may easily decide how and where to outsource your business after looking into the reputation of the company.
Data Security: You can never be too careful when it comes to outsourcing your data security. You will share sensitive information, such as your and your customers' details, at various phases of a project. Therefore, you must take all necessary precautions to guarantee that no breach may occur that could put your data in danger. Make sure the vendor is informed of your privacy and intellectual property rights and requires it to undertake a nondisclosure agreement to abide by the guidelines established by your policies.
Budget adherence: Never skip on a solution's overall dependability or quality in order to save money. That should be the first outsourcing rule of thumb, and you can be sure that following it will yield greater results in the long run. Avoid working with suppliers whose service contracts are unclear and contain hidden fees; instead, determine if the vendor will effectively use the funds you have allocated for the job. It's more important than you would think to choose which vendor to contact depending on the kind and scope of your request.
Whether you're outsourcing a portion of a project or the full development cycle, the most crucial factor is selecting the correct company for the job.
Let's take a closer look at one of the most recognized industries, that is mobile game development, and how your business may collaborate with an outsourcing game development firm.
Cross-Platform Development - For games that are available on a variety of platforms, improved earnings, and global uptake are always noticeable. It's important to create devices that work with either Android or iOS while developing mobile games. Web-based platforms are also suitable for gamers who want to take advantage of the convenience of a desktop or laptop PC. Even if it's merely a potential future scenario, your developer must have the adaptability to design a game that can be played on multiple platforms and operate the same. A game that performs well and reacts quickly on a Galaxy Tab S3 ought to be as impressive on an iPad Pro. This requires skilled planning ahead of time and is expensive to retrofit after the fact.
Quality Control - Every mobile game has experienced a few bugs at some point in time. A professional game development outsourcing business may put the completed product through many levels of quality control and testing to smooth out any bugs before it is launched. These may include difficulties with gameplay balance and network connectivity, particularly in online multiplayer.
Security flaws and bugs: Nobody likes to see their creations compromised by cheaters and hackers or defective by flaws. A competent outsourced game development firm has a qualified quality assurance lab on staff that is equipped with all the most recent tools. Work closely with your game developers to secure the payment methods and client databases from cybercrime activities on all levels if you have any future intentions for paid downloaded content. This is especially true for in-app purchases that are already built in, like game credits or buyable things.
Continued Service: Finishing the job after a launch is only half the battle. You may continue working with your development team to make more changes to the game, such as fixes or whole expansions. Your servers will be looked after by a maintenance crew, who will also handle any necessary technical concerns. As was mentioned, additional services like customer feedback, moderation, and marketing are all essential to a lucrative game.
Choosing the right outsourcing partner
An ideal outsourcing partner will assist in comprehending business requirements and offer solutions that are in line with both long-term and short-term objectives. A few of the programming languages that BJIT is proficient in include C++, Java, Android, and iOS game creation. To assist players in better immersing themselves in the gaming experience, the visual designers assigned to the project will work with you to develop an attractive design process and UI-friendly interfaces.
BJIT is well-equipped with the most recent game development tools, including those for mobile game creation, game design, and game testing. These tools will be helpful throughout the game production process. Better quality items will result from updated hardware and talented game creators.
BJIT is committed to making your ideas a reality.
Endnote
It might be challenging to find a reputable service provider. You may significantly add value to your ongoing projects while increasing company efficiency and cutting expenses by carefully selecting your outsourcing partner. Always remember to collaborate with people who are ready to share your goals and risks, since more commitment may lead to a successful collaboration that can outperform solo endeavors and help both of you achieve personal achievement.
Set up a free consultation with BJIT right away.
Reader insights
Be the first to share your insights about this piece.
Add your insights