What I Think Would Make Vocal.Media Better
Adding a Section Where Judges Explain Why They Favored Certain Stories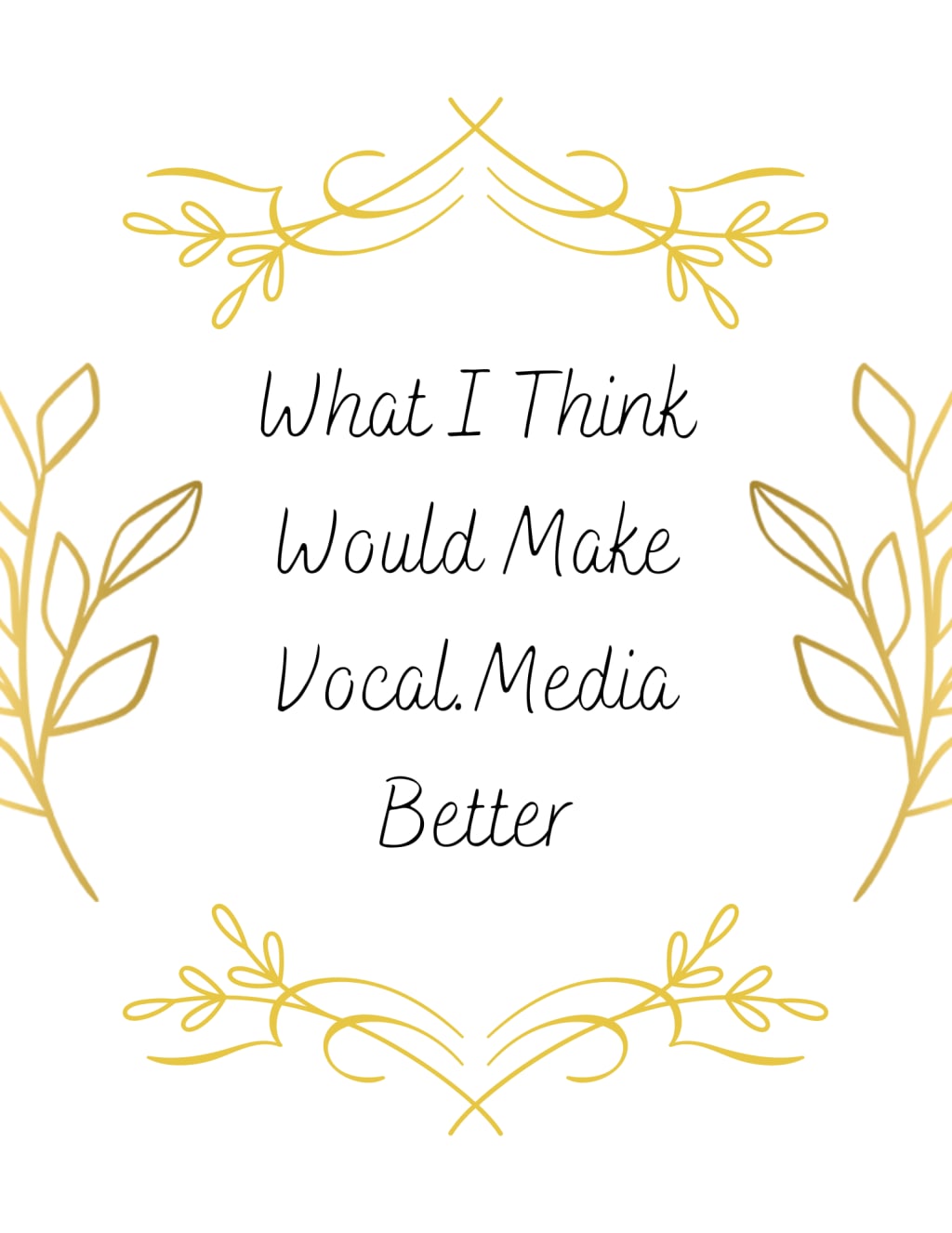 What Would Make Vocal.Media Challenges Better?
I wish on Vocal.Media challenges that judges would write stories about the winners. I would like a section from judges called: "This Is Why We Loved This Story." Occasionally, I read the challenge winner stories, and I'm impressed. I get why the person won. I'm in awe of them. I want to leave that person a comment of congratulations... and I have more to say than "congratulations."
Sometimes I try to read the challenge winner stories, and I notice too many story and grammar issues... and I end up losing interest in the story. I stop reading it because it feels like a waste of time. For me, the entry might have come off like what I'd consider a "C-" story that a college freshman wrote for their short story class.
Though the content of a story is more important than lower-order concerns like grammar, there are definitely certain rules if broken that cause me to distrust the authority of the writer. I'll also think to myself—surely, there were better stories than this.
I think if judges had a "This Is Why We Loved This Story" section it would help people in the community to know what actually pleased the hearts of the judges. What did they see that made the story special? Why was it the judges' favorite? What was the exact sentence that let them know the story was great?
You can turn the comments off on these posts if you're worried it will stir up disgruntled writers. Granted, I would hope judge explanation stories would soothe the woes of disgruntled writers.
Building Trust and Clarity
Adding a section where judges explain their choices would actually help me to have faith in Vocal.Media. I would know they're diligent about selecting a story, and they want me to understand why it was an important story. I'm fairly certain Vocal.Media wants to build trust in its community. They've written content before about how stories are selected for prizes and top stories.
Now I want specific stories from the staff in regards to challenge winners. I want to know what made it work for you. Was it a particular concept that came off fresh? Was it really funny to you? Did it make you cry? Was the language intoxicating?
Taskmaster
Vocal.Media reminds me somewhat of the British show Taskmaster. If you haven't heard of this show, you should find clips of it on YouTube right now. In fact, I'll put a clip right here:
The premise is very simple: five comedians are given the same task, there is an umpire to help guide them through the task, and there is a judge who decides which comedian did the task the best.
The tasks are usually ridiculous: who can get an egg up the highest without breaking it; who can impress a small town mayor the most; who can make the most satisfying sound; who can best recreate a video game in real life; who can move a boulder the farthest within an hour?
Vocal.Media is similar, but the focus is on writing tasks. Of course, the comedy show has far zanier tasks and there is a budget to help the comedians pull off their hilarious ideas.
In Taskmaster, there is time spent to explain who won the challenge. They'll also spend time to make fun of those who cheated. I think Vocal.Media writers would benefit from hearing from the judges more. Tell us why a story won because sometimes it isn't obvious. I honestly believe stories will get better and better on this platform when writers know how to please the judges.
Vocal.Media, of course, isn't always about trying to please the judges. There is a great deal of joy in writing content that isn't meant for challenges. Sometimes people can really showcase their writing merits when they don't have a suggested premise before them.
We likely don't need an explanation for an entire anthology of winners. I think it will suffice people's interests if there was information about 1st and 2nd place winners. Sure, a quick sentence about runners-up would be nice too. I think this would also be great for the winners. If I won a challenge, I would definitely want to know what was it that made it shine... that way I could replicate my success.
Telling us more about why you love certain stories will help writers to get on the right track. Your explanations could also put a spotlight on the winners, which they deserve.
Lastly, telling us more about what you consider the best could let people know if Vocal.Media challenges are a good fit for them.
About the Creator
Freelance writer. Undergrad in Digital Film and Mass Media. Master's in English Creative Writing. Spent six years working as a journalist. Owns one dog and two cats.
Reader insights
Nice work
Very well written. Keep up the good work!
Top insights
Eye opening

Niche topic & fresh perspectives

Heartfelt and relatable

The story invoked strong personal emotions

On-point and relevant

Writing reflected the title & theme
Compelling and original writing

Creative use of language & vocab

Easy to read and follow

Well-structured & engaging content

Expert insights and opinions

Arguments were carefully researched and presented
Add your insights