What are The Top Five Hacking Techniques?
The Top Five Hacking Techniques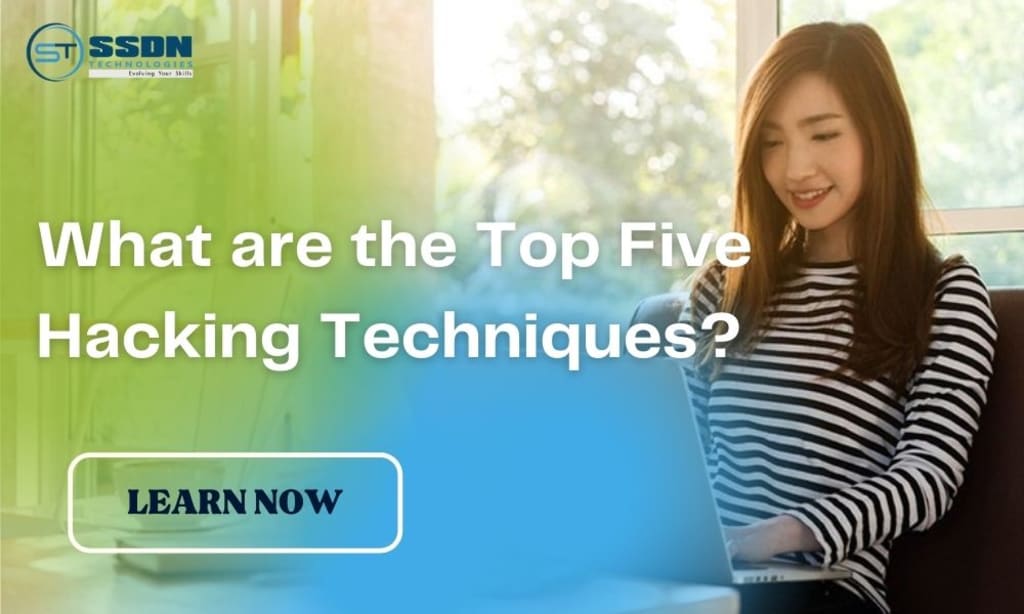 Hacking techniques are the most common techniques that hackers use to hack your system or network. Hackers generally use malicious activities to create vulnerabilities or threats to your company's system or network. Hacking techniques used by hackers are ever-evolving. It's not that every time the same type of threat will attack your system. Hackers always update their ways of attacking the system.
Hackers usually do these things for two things: either data from your business or money. Data is equally important as it helps them uncover good cash. According to a report, most businesses, somewhere around 43% of small business owners, faced malware attacks and faced serious consequences because of the compromised data.
All it takes to be a victim of such attacks is a mere click by you or your employee on any innocent-looking link in an email. Many times, you may click any link to download a malicious program that could affect your system in a drastic way. As a defender against such attacks or activities, you should be aware of the most common hacking techniques that hackers may employ.
Top 5 Hacking Methods
Here are the top five hacking techniques that you should be aware of:
Phishing: It is the most commonly used hacking technique to target your emails or text messaging apps. Such messages or emails usually contain an important message from a source that you trust. Such messages often ask you to click on a link or download some attachment. During a phishing attack, you may get a message specifying that someone is logging into your website and that you should update your payment information. Such messages or emails often ask you to confirm your personal information or even send you a fake invoice to prove that they are genuine. Also, such emails offer you free stuff to lure you into sharing your details to avail of the offer.
To protect yourself, you should never click on the link unless you have applied for something. Also, always check the validity of the email before you click on the link or download anything. Always check the sender's email address to confirm that the email was sent by the official company or not.
Malware injecting devices: Cybercriminals are employing yet another method to gain access to your system or network. They have been using hardware to enter your computer. You've probably heard of infected USB sticks that can give hackers remote access to your system. As soon as you plug an unknown USB stick into your computer; you are in the middle of the risk associated with hacking. In addition to infected USB sticks, hackers use infected USB cables or mouse cords to gain access to your work or personal device. To avoid this, become aware of malware-infected methods and think twice before inserting unknown drives or USB sticks into your system.
Missing security patches: Security tools used in the system often become outdated with time. Also, the hacking landscape is advancing, which has created the need to update the security tools. There are many users who often ignore the update notifications that often appear on their screens. It's not that only security patches need to be updated. A few software applications also ask for timely update avoidance, which often opens the doors to vulnerabilities. Thus, you should never ignore such notifications and always keep the anti-virus and applications updated.
Cracking passwords: Hackers usually use a common practice called keylogging to enter your computer. Through a social engineering attack, you often end up downloading software that may record your key notes, thereby saving the username and passwords that might be used later to open your system. This is a form of spyware. Hackers also use certain kinds of password cracking programs wherein they can run letter and character combinations to guess the passwords in a matter of minutes. To prevent such a malware attack, you can use a password management tool that can secure your company's credentials. Such tools will help you to create lengthy and tough passwords that are hard to crack.
Distributed denial-of-service (DDoS): this technique is targeted to take down the website of the owner, which leads to no work or distribution of services via that particular website. DoS attacks are meant to target the website and flood the targeted server with large amounts of traffic. The amount is quite large, and it disturbs or hangs the server, which crashes later, and the website can't respond in the manner it should be. To prevent such attacks, a cloud protection service is advised to prevent the website from going down.
To Learn in details about Ethical Hacking take ethical hacking training in delhi
Generally, hacks happen due to human error. You should educate yourself and your team about common errors and how you can prevent them. Thus, follow the hacking techniques above and attempt the necessary measures to prevent them at the most.
About the Creator
SSDN Technologies assists you to fulfil your career aspirations. Being India's top IT Training company brand and a partner to the world's top tech platforms like Microsoft, Citrix, EC - Council, IBM, VMware and Nasscom.
Reader insights
Be the first to share your insights about this piece.
Add your insights