What Are The Pros And Cons Of Outsourcing Mobile App Development?
The Pros And Cons Of Outsourcing Mobile App Development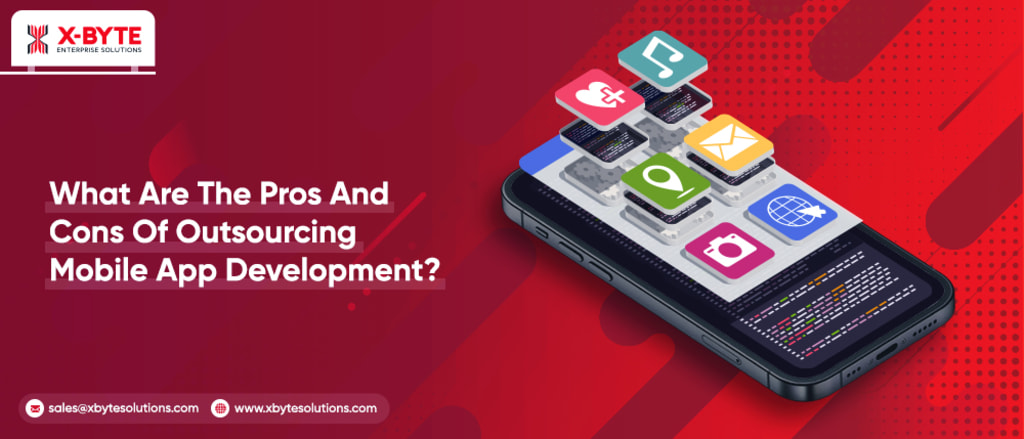 A lot of companies are offering mobile app development services to help businesses engage their audience. Having an app for a brand has become a necessity. So, a lot of businesses are considering out sourcing Android app development solutions to different companies from different locations.
Now to build an app you need an expert android app development company. Hence, businesses look for cost-effective services for which they may consider outsourcing mobile app development. This is where mobile app outsourcing firms come into the picture. Many businesses hire offshore app development services to benefit from the expertise of the international market at an affordable cost. Outsourcing can be a good idea still one should weigh the pros and cons of mobile app development. This blog will help you understand the pros and cons related to outsourcing your mobile app development
Pros of Outsourcing A Mobile App Development Company
1. Cost-effective
Most businesses outsource app development to save money. Certainly, finding development services at an affordable cost is amongst the main benefits of working with offshore app development crew.
Today, it is easy for businesses to search for professionals offering cost-effective and quality services. Also, outsourcing cuts down the overall development costs. Hence, you can save money on app development costs.
If you own an in-house team, you need to pay them monthly salaries irrespective of the workload. When you choose to outsource your project, you get the liberty to hire a team of talented developers to work on your project dedicatedly.
2. Saves time
Most offshore companies work round the clock to deliver their projects within a stipulated time. You can let the development team know about the deadline to be met for your project. You will get the project delivered on time thereby saving your time.
3. Added Experience
When it comes to an in-house team, they may lack experience and knowledge in a particular technology. It may affect the delivery of business solutions or the experience that your business needs.
In such cases, you will have to invest time in looking for added talents to meet your project needs. But, mobile application outsourcing offers added experience & knowledge to attain business goals.
4. Array Of Fresh Talents Available
When you plan to outsource development, you get to explore IT companies on a large scale. You get an array of top app development companies with multiple talents available. This helps you select a company having expertise in your business niche.
You can also check the portfolio of the company to know about different verticals they have worked in for their clients. It will help you know if the agency can offer suitable solutions for your industry.
5. Invest Time In Core Business
The in-house team of most companies is overloaded with different projects so the companies head towards outsourcing. When you outsource your project to outsourcing services, they take care of the development processes. It helps you save time and invest time in other tasks related to your core business. You can give more time to content, marketing, and other tasks that contribute to your business's success.
By outsourcing mobile app development you get ample time to perform other necessary tasks and remain active in your business domain.
Cons of Outsourcing A Mobile App Development Company
1. Expectation May Contradict
As the work is carried out remotely in outsourcing mobile app development through email, mobile, etc, there are chances of missing out on vital instructions. This can result in contradiction in expectations from both sides and can affect the end product delivery.
2. Cultural Difference
When you collaborate with an outsourcing company from a different zone and culture, it may lead to miscommunication due to cultural differences like customs, beliefs, and working patterns. All these factors can result in misconceptions and confusion. It can be difficult to conclude mutually.
3. Different Time Zone
One of the main drawbacks related to outsourcing is the difference in time zones. It becomes difficult to match and manage the schedule while remaining indifferent time zones. You may find it inconvenient to connect to an agency of your choice in different zones.
4. Security Risk
When it comes to the security of your confidential business data or customers' data, it is quite risky to rely on an offshore IT agency. Data protection is the main concern when an unknown team of developers is working on your project.
5. Project Management Is Tricky
Well, after assigning your project to outsourcing services, it is not easy to manage your project. At times, you do not get complete control over how the project is progressing. Also, the agency you outsource may not abide by the similar standards you feel are important for your business reputation. It can affect the quality as well.
How To Outsource Wisely?
After weighing the pros and cons of mobile app development make sure you take the right decision. If you want to outsource your project then ensure that you consider the following tips
Understand your requirements
Select your outsource partner wisely
Understand legal standards
Refer to reliable resources for outsourcing
Wrap up
Try to go through the pros and cons of mobile app development services so that it becomes easy for you to make a decision. Also, searching for effective outsourcing services can help you get high-quality services at an affordable cost. It is important to know the tips to higher reliable outsourcing agencies for profitable collaboration.
If you are looking for a reliable mobile app development company get in touch with X-Byte Enterprise Solutionsto get a perfect app. We follow the best development practices and latest trends to meet your expectations.
| Read Original Blog Here How To Hire A Dedicated Development Team? (xbytesolutions.com)
| Contact us: +18322517311
| Email us: [email protected]
apps
About the author
X-Byte Enterprise Solutions is a progressive technology company aiming to enrich businesses, startups, and enterprises with cutting-edge development and technology services.
Reader insights
Be the first to share your insights about this piece.
Add your insights