What are the benefits of Video Interview AI Software?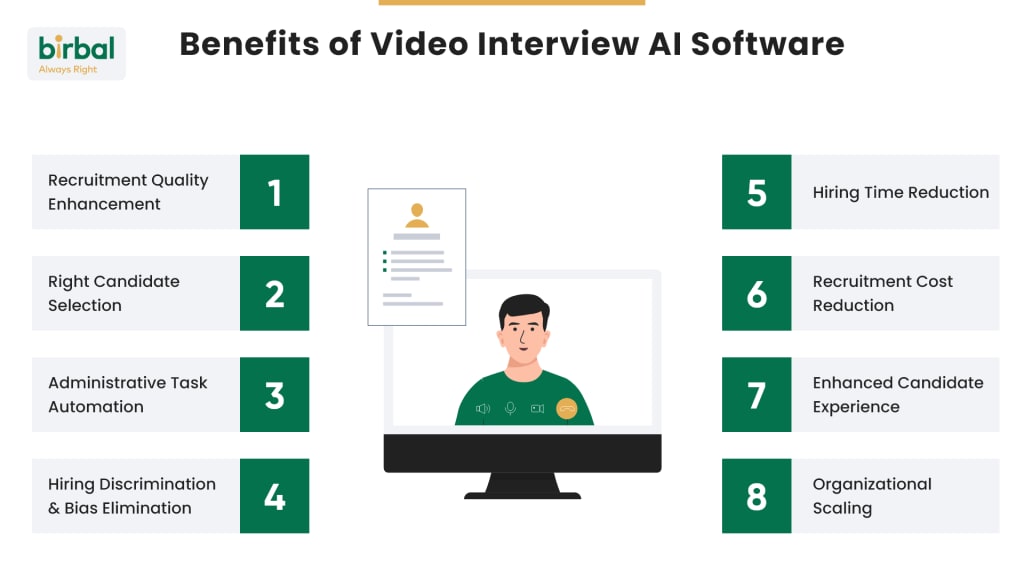 The difference made in the recruitment sector after implementing AI for interviews is heavily reflected in its benefits. So the following list includes some of the major benefits that organizations have come across after using AI video interview software.
1. Recruitment Quality Enhancement
AI based interview software helps recruiters to grow a buzz about a new job opening. Using clear and attractive JD templates, recruiters can improve the number of quality candidates applying for the opening. Moreover, recruiters can access a wider talent pool from across the globe using job posting advertisements. However, job ads might not create a lasting impression.
Therefore, AI interview software provides recruiters with suggestions for writing an engaging job ad or it often writes an ad on their behalf. Moreover, AI chatbots guide applicants to apply and screening processes. Hence, recruiters can reach quality candidates faster using video interview AI platforms.
2. Right Candidate Selection
Another major benefit of an AI interview platform includes the ability to screen candidates' resumes based on given data. This data may include skills and knowledge requirements, experience, and other necessities for the job role. Hence, using ML algorithms, an AI based interview system shortlists candidates' resumes without further human interference.
3. Administrative Task Automation
A recruitment process is a long and tedious process, involving immense time-consuming processes. AI robotic interview software automates major steps in the recruitment process including interview scheduling, resume sifting, interviewing and candidate shortlisting.
Moreover, AI video interview software collaborates the features of ATS and CRM to enable recruiters to track candidates and manage applicants efficiently. Hence, AI robot interview software helps recruiters to optimize the recruitment process without getting burdened up.
4. Hiring Discrimination and Bias Elimination
We human beings have an unconscious bias which we pick up in every stage of growth. This often shows up during interviewing and it can result in the elimination of a fitting candidate. Machines, on the other hand, simply select and reject candidates based on the information we provide them. ML algorithms simply pick up the capability, confidence, and enthusiasm of candidates for the best selection.
5. Hiring Time Reduction
Companies are willing to invest grandly only to hire the best at a much faster pace. With automation at the forefront, AI helps to reduce the time consumed behind major administrative tasks behind a hiring process. Chatbots and automation can help to save recruiters' productive time by 60%.
6. Recruitment Cost Reduction
As said in the introduction, organizations spend a lot of money in search of the best talent for their requirements. According to Accenture, a bad hire can cost up to 5x of that person's annual salary. Hence, recruiters need to make sure that they select and train the right person at the end. AI can turn the luck in your favor.
Interview with AI follows an effective hiring funnel that ensures the shortlisting of candidates in every step with consideration to several factors. Plus, an AI job interview enables HRs to save on training, bonus, and other costs. Hence, an interview with AI provides a great ROI and opportunity for savings.
7. Enhanced Candidate Experience
Video interview AI tools open up a path to great candidate experience. AI chatbots can provide faster and accurate information to candidates' queries. Moreover, AI allows easy professional profile linking such that candidates can easily go about the process without much hassle.
Furthermore, interviews with an AI system allows candidates the option to preview and edit their answers for creating a better experience. Lastly, candidates get their interview feedback within a stipulated time along with their performance reports and recommendations. So that's how an AI interview provides a great experience to both recruiters as well as candidates.
8. Organizational Scaling
With better experience comes greater fame. Enhanced candidate experience is said to gradually increase your brand name. So with much of the benefits that AI interviews provide candidates with, it can surely increase the chances to empower your brand's game!
So why wait? Implement Birbal today to invest in the right talent for your requirements with automation and accuracy! Contact us today to get a free trial.
About the Creator
Hi, I am Ashika working as a react native developer. If you are searching for a react native development agency USA you can contact us and we will provide the services.
Reader insights
Be the first to share your insights about this piece.
Add your insights