What Are Some of the Best Places to Buy Vinyl Banners in Canada?
Are you looking for vinyl banners in Canada? This story is for you.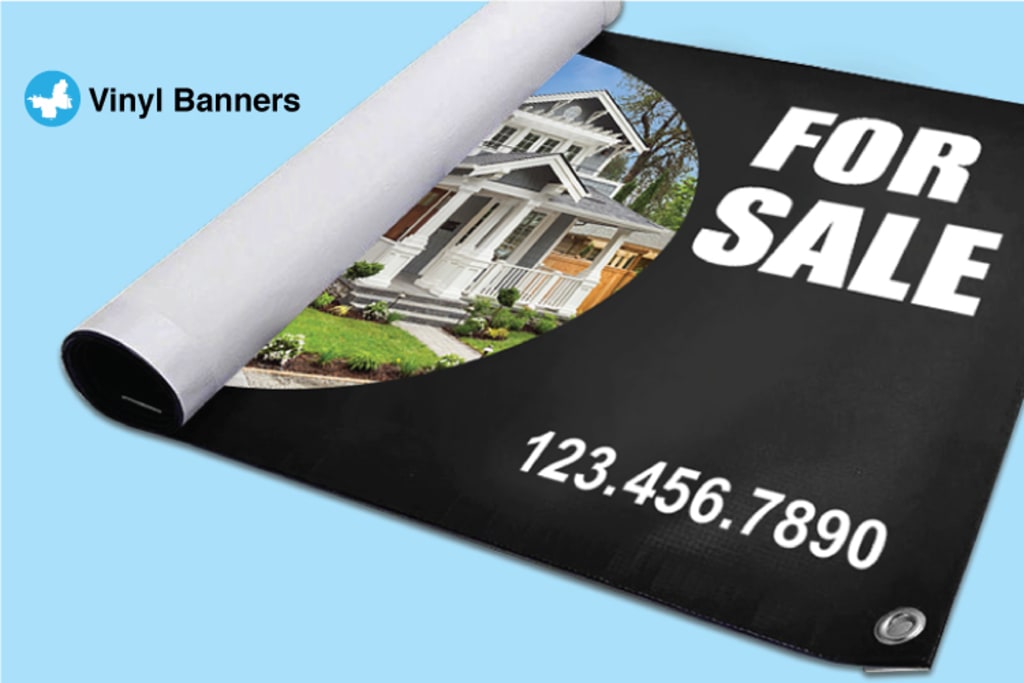 Real Estate Vinyl Banners
The world is going toward getting things done more practically. Online services are more than ever under the spotlight. These real estate printing websites come with the promise to fulfill everything you have in your mind about your banners. Some websites such as Agent Print, Vista Print, Butterfly Graphics and Printing, Banner Buzz, and Local Print have gotten positive customer reviews. So, why not take a more thorough look at them and see what they have to offer?
Vinyl Banners have always been the popular choice for promoting and advertising purposes. This cost-effective option often catches the eyes of passersby. The prospects will increase in no time, and their effectiveness is proven. However, where can we find the best offers that present us with the best quality available? We could seek the answer to this question in the experiences of the users and customers of these companies. In our searches, we came across the following websites.
Features that Make a Vinyl Banner a Catch
First things first, what is quality when it comes to vinyl products? The definition of quality can differ depending on the product we are inspecting. Any installer should be able to set up vinyl products and especially banners. Therefore, they need to be lightweight. Also, they need to last a long time. Another factor is the quality of printing itself. The colors need to be bright and distinguishable. The mentioned websites have been using high-quality materials that are lightweight and can last in harsher weather conditions.
Agent Print
First on Canada's top printing businesses list is Agent Print. This website has affordable and high-quality offers from which to choose. The options are all listed to make the decision-making process even faster. Around 30 companies are currently working with Agent Print. Among them are famous companies such as REMAX, Zolo, Homelife, and many more. This website's specialty is in the real-estate printing business. So, if you are looking to expand your real estate business prospect using real estate vinyl banners, this is the recommended place.
Designing Options on Agent Print
Regarding the designs, you could upload your own if you have one. Or hire a designer to do it for you. Overall, their service seems satisfactory according to their users. The banners have the hemming and grommets included. If a stand is necessary, it comes on the purchase, as well. The website seems to have a good selection of vinyl banners for pre-made designs, too.
The website of this real estate printing supplier has two modes of categorization based on the products and their business associates. This assortment makes the searching process a lot faster for the customers. Therefore, it is safe to say the website is user-friendly and easy to use.
Top features include:
Specialty in the real estate business
Reputable business associates
Designing options
Complete installation kit
High-quality offers
Cost friendly
Scheduled turnaround time
Vista Print
Another reputable business in printing services is VistaPrint. They offer a load of pre-designed banners for different occasions and your convenience. Or you could use online designing tools that will let you do some basic alterations on the templates. This way, you will have your custom-made banners. Already have your design? Just upload it, and it will be good to go. There are also various size offers that can fit anywhere you plan to hang these banners. The color is fade resistant making these offers very reasonable. This website is a professional one that does not let expectations down. The collection of their products appears at the top of their website, with each having subcategories for easier searching.
Top features:
Reputable business
Pre Designed banners
Different size offers
Butterfly Graphics and Printing
The next on Canada's top printing business list is Butterfly Graphics and Printing. They offer a 24-hour turnaround time which sounds extraordinary. The quality of the material they use is considerably good. Plus, all the necessary equipment for hanging these wholesale vinyl banners comes in every purchase. This kit makes putting these banners up a lot easier. This growing business is getting better each day with newer features. If you have your design, feel free to upload it or let the designers do the job for you.
Top features:
Quick turnaround time
High quality offers
Designing options
Banner Buzz
This website has a good collection of vinyl products, including banners. They claim to have nine different dimensions to choose from based on your space. If you are lucky, you could save 20% on your first purchase. But if you are looking for the best quality materials, it could cost you considerably more. There are predesigned banners to choose from for different occasions. Or you could upload your design. Hiring a designer is also made possible.
Top features:
Different size offers
Chance of getting a discount
costing more based on the order
Local Print
Local Print's website is user-friendly, and the process of ordering is easy. The multiple options will make it easier for you to make up your mind. Even if you know very little about these products, you can get the best offers. The website offers services for all businesses. But there is a specific category that allows you to shop by industry. This category on its own will make ordering a lot easier for the listed businesses.
The various sizes can be suitable for almost any space. The necessary grommets and hemming usually come in with every banner purchase. This way, you will not need to worry about how to hang these banners in the end.
Designing Options on Local Print
The website allows the customers to upload their designs. Still, if you do not have one yet, it is ok. You could let the experts in this company do the job of designing for you based on your business and desires. The turnaround time is also a tricky matter when it comes to online ordering. Here, you have the option of seeing the calendar and placing your order for a specific schedule. Based on the services they offer, the prices seem reasonable and affordable, as well.
Top features:
User-friendly website
Various size options
Complete installation kit
Designing options
Scheduled turnaround time