Want To Do Your Own Makeup On Your Wedding Day? Here's A Step-By-Step Guide
Makeup At Home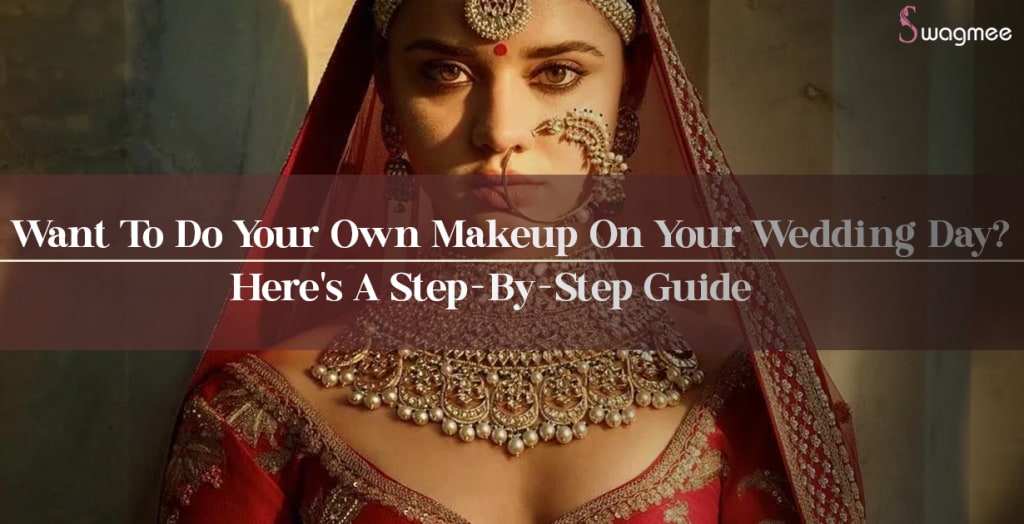 As your wedding day approaches, you may be considering doing your own makeup at home instead of going to a salon. It's a great idea if you want to save some money or prefer the comfort of your own home. However, doing different types of bridal makeup at home requires some preparation and practice. In this step-by-step guide, we'll take you through the process of doing your bridal makeup at home.
Step 1: Prep Your Skin
The first step in any makeup routine is to prep your skin. Start by cleansing your face with a gentle cleanser and toner. Apply a moisturiser to hydrate your skin, and let it soak in for a few minutes. Apply a primer to create a smooth surface for your foundation to stick to. You can also use a face mask or a facial steamer to get a deep cleanse and hydrate your skin.
Step 2: Apply Foundation
Choose a foundation that matches your skin tone and apply it evenly all over your face. Use a beauty blender or a brush to blend it out, making sure there are no harsh lines or patches. Apply concealer under your eyes and on any blemishes or dark spots.
Step 3: Add Some Colour
Next, add some colour to your face with blush, bronzer, and highlighter. Apply blush to the apples of your cheeks and blend it out. Use a bronzer to contour your cheekbones and jawline, and add a touch of highlighter to the high points of your face.
Step 4: Define Your Eyes
For your eyes, start with a neutral eyeshadow colour on your lid and blend it out. Then, apply a darker shade to your crease to define your eyes. Use an eyeliner pencil or liquid liner to create a winged or cat-eye look, and apply mascara to your lashes.
Step 5: Finish with Lips
For your lips, choose a shade that complements your skin tone and dress. Apply a lip liner to define your lips, and then fill them in with lipstick. Finish with a lip gloss for a touch of shine.
Bridal Treatment at Home
Before the wedding day, it's essential to take care of your skin to ensure a flawless makeup application. Here are some treatments you can do at home to get your skin wedding-ready.
Exfoliate: Exfoliate your skin once a week to get rid of dead skin cells and promote cell renewal. You can use a physical exfoliant like a scrub or a chemical exfoliant like a peel.
Hydrate: Hydrate your skin from the inside out by drinking plenty of water and eating foods that are high in water content, like fruits and vegetables.
Face Masks: Use a face mask once a week to give your skin a boost of hydration, nutrients, and antioxidants. You can choose from sheet masks, clay masks, or DIY masks using ingredients from your kitchen.
Skin Care at Home
In addition to pre bridal treatment, here are some skin care tips you can follow at home to get glowing skin on your wedding day.
Cleanse: Cleanse your skin twice a day to remove dirt, oil, and makeup. Use a gentle cleanser that doesn't strip your skin of its natural oils.
Moisturise: Moisturise your skin daily to keep it hydrated and plump. Choose a moisturiser that suits your skin type and contains ingredients like hyaluronic acid and ceramides.
Sun Protection: Protect your skin from the sun's harmful UV rays by wearing sunscreen every day. Choose a broad-spectrum sunscreen with an SPF of at least 30.
Salon at Home
If you want to pamper yourself before the wedding day but don't have time to go to a salon, there are many options for creating a salon experience in the comfort of your own home. Here are some tips for having a successful salon at home:
Here are some tips for creating a salon experience at home:
1. Create a relaxing atmosphere: Before you start your beauty routine, make sure to set the mood by dimming the lights, lighting some candles, and playing some soothing music.
2. Get your tools ready: Gather all the tools and products you will need for your beauty routine, such as a face mask, nail polish, and hair styling tools.
3. Start with a face mask: Apply a face mask that suits your skin type and leave it on for the recommended time. This will help you relax and give your skin a healthy glow.
4. Give yourself a manicure and pedicure: Soak your hands and feet in warm water to soften the skin, then trim and file your nails. Apply a coat of nail polish for a finished look.
5. Style your hair: Use your favorite hair styling tools to create a salon-worthy hairstyle. Don't forget to use heat protectant to prevent damage to your hair.
6. Take a bubble bath: Fill up the tub with warm water and add some bubble bath or bath salts. Soak in the tub for 20-30 minutes to relax and unwind.
7. Finish with a massage: After your bath, give yourself a gentle massage using a moisturizing lotion. This will help you feel relaxed and pampered.
Remember, the key to creating a salon experience at home is to take your time and enjoy the process. Have fun and pamper yourself before your big day! Book pre wedding grooming for brides and grooms. Enjoy the services comfortably in your homes.
Reader insights
Be the first to share your insights about this piece.
Add your insights