Top tips to build a successful eLearning website
Create a Powerful eLearning Portal With These Effective Tips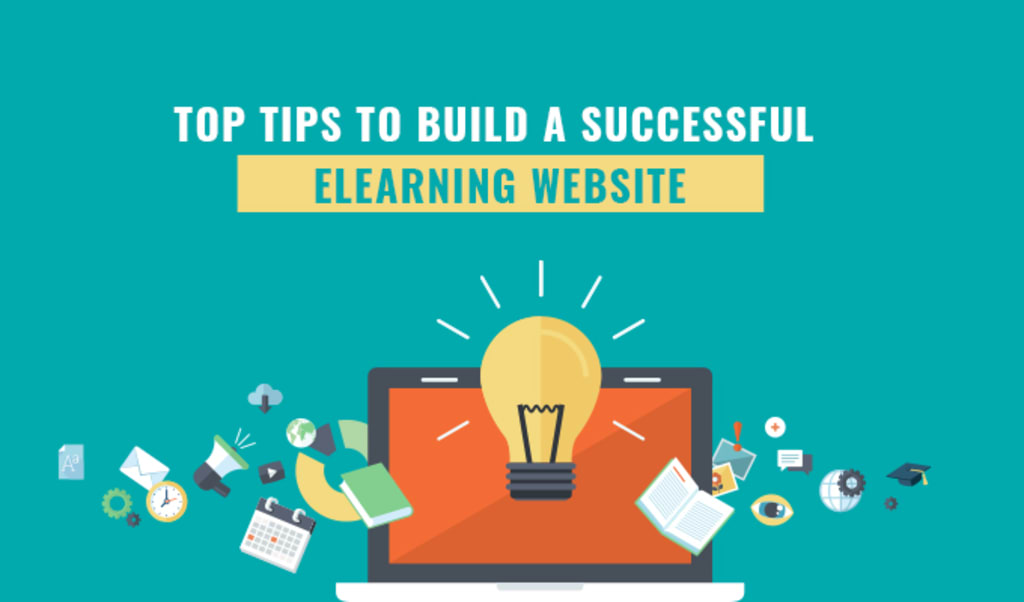 All thanks to our mobile device and internet connection that we can easily access a huge amount of information. From food delivery to the stock market, we go online for almost everything. The Internet is a never-ending book, and everything is within reach, even education. And to make it more concise and to the point, eLearning platforms have come into existence. The survey says that the e-learning market is expected to exceed $243 billion by 2022. With that being said, it has become important to explore more about eLearning platforms.
There are mainly three types of eLearning portals - online learning platforms, e-learning marketplace, and e-learning web conference software. Let's understand the differences between these types of sites:
Online learning platforms
These websites follow the principle of "be your own teacher". These platforms provide content remotely. Students can study independently at their own pace while keeping track of their progress. The content appears in the form of videos, blogs, PDFs, etc.
E-learning marketplace-
These platforms track personalized teacher experience through online classrooms, allowing students to choose courses and teachers according to their needs. Gamification, quizzes, and progress tracking are some ways to participate in this type of eLearning platform.
E-learning web conference software:
These platforms are used to facilitate online learning in large groups. People need to connect to interact with other students. These platforms are very popular among universities and similar institutions that hope to attract a large number of people.
Considering the eLearning trends in the market, there are many reasons to invest in an eLearning platform. However, you need to ensure that you're following the best practices while building your eLearning portal. Here are some experts tips for the web design and development of your eLearning portal:
1. Find and look at your audience:
Before you design your website for e-Learning you ought to investigate your target audience. Think regarding what your area of interest is and lift the questions:
Who do you want to target?
How can you enhance your abilities and understanding of customers coming to your platform?
How will you assist them to engage on your platform?
What demographics will you be teaching?
What are the best things you can teach your customers?
Once you have got the answers to these questions, you'll be able to make a road map that supports your requirements and needs. And these answers will help you define your target audience correctly.
2. Create excellent UX
UX and Ui also contribute to the success of your website. The efficiency of the navigation feature helps visitors to move on the website on their desired part. And they get what are they looking for on your website easily, there are high chances to take courses.
Thoughtful design and useful content are important components of the website building process but sometimes website still fails to engage its audience. Therefore, create a convenient user experience that simplifies the user journey on your website. Provide clear instructions for sign-up on your eLearning portals, log-in page, and build up a profile. Provide a dashboard to track learnings. Not just this, you can provide personalized reminders and notifications that can stay your user updated about the courses they are opting for.
3. Ease Of Loading:
The UI/UX design affects the ease of loading time of the website. User leaves website if it does not load faster because they have many other options available online. Therefore, you need to be very careful about the design elements and ensure that they are not affecting the loading time of your website. If your website has large-sized images, then you can compress them for faster loading time.
4. Collaboration features:
Peer-to-peer communication, collaboration functions, team assignment, and sharing functions can help you expand your user base and strengthen connections. Many educational programs involve teamwork, and others can achieve many goals by socializing the course.
If you are planning for the eLearning portals, collaborating with government organizations and big companies to launch new courses specific to that institute can be beneficial. This will help you attract more audiences to your platform and expand your user base. The collaboration not only drives more traffic but also improves your revenue.
5. Multi-language approach:
If your platform is international, you should adopt a multilingual approach. It is more convenient for people to speak their mother tongue. Providing the ability to switch between languages ​​can make the platform beyond expectations. This helps to expand the customer base and make it more flexible for them. You can convey your web design and development team for approaching the feature of Multi-language in your portal.
6. Monetization and payment features:
When developing an e-learning website business, the monetization strategy is one of the most important things to consider. There are many different ways to increase your return on e-learning investment, from paid subscriptions, in-app advertising to selling physical products. This step requires some serious business analysis and market research that you should not miss. It is important to find the correct monetization model, payment method, and processing technology for your customer.
7. Get Feedback And Ratings:
You have good content, good teachers, and a good eLearning portal; however, you might still encounter problems attracting more customers. In this case, your previous student feedback can help you solve the root cause of the problem. Information about how students and teachers actually interact and what facilities you provide to your students should be conveyed to the audience. All these steps can help you improve the e-learning space. Besides, you can provide them with a demo class to help them make a decision.
Conclusion
eLearning platforms are the new classrooms and future of the education system. There are many eLearning platforms such as Udemy popular among people for their courses. If you are one of those, who are looking forward to launching an eLearning portal, then the above tips should help you build a successful eLearning website. Auxesis Infotech is a renowned web design company that can offer you a streamlined eLearning website with the latest trends and features.
how to
About the author
Auxesis Infotech is counted to be one of the best and renowned e-commerce development service providers in the world having years of experience and expertise in providing top-notch quality services.
Reader insights
Be the first to share your insights about this piece.
Add your insights