Top 6 Internet Service Providers by Cable Agency
Cable Agency brought you a list to find the suitable ISPs in your area.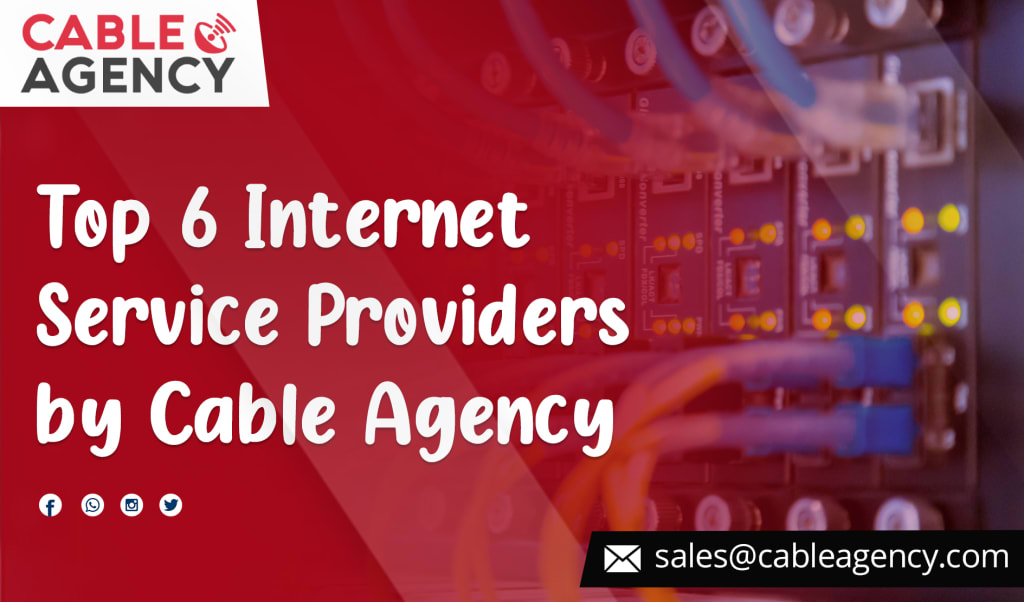 Modern Internet consumers have plenty of options to choose their desired Internet service provider. Each one of them has a different technology, Internet speed, and packages. It is then up to the client to check their Internet needs and select the most suitable ISP.
Cable Agency, being one of the leading telecommunication services, today brings a list of top 6 Internet, TV, and phone services in all areas. They all are kings in different domains. For instance, some of them offer cable services, while others provide satellite services, fiber optic, DSL, and more.
Here's the list of all promising and well-performing ISPs. Let us get through them one by one.
Suitable Internet Service Provider
1. Xfinity
Being one of the largest Internet service providers, Xfinity offers its services in more than forty states in America. Its consumers can enjoy cable TV, Internet, phone, and wireless services and not just for residential use but also for the business community.
Its Internet speed ranges up from 25 to 2,000 Mbps. Moreover, its no-contract policy is also a blessing for many. For the same reason, the monthly packages of Xfinity are slightly higher than other Internet service providers.
2. AT&T Internet
AT&T Internet services are one of the most popular brands in the history of the U.S. This company offers high-speed Internet in more than twenty-one states overall.
Consumers can enjoy not only the DSL Internet but also the wireless connection and fiber optic. The browsing speed is up to 940 Mbps. Moreover, users can save many bucks when they bundle up different products.
3. Spectrum
One of the most popular ISPs, Spectrum has secured its position in Cable Agency's top ten list of service providers. The service availability is in forty-one states and caters to almost twenty-nine million customers all around America.
This telecommunication service offers a wide variety of broadband and fiber optic packages for residential and business use. There is no data usage restriction, and the speed goes up to 940 Mbps easily.
4. CenturyLink
Currently providing Internet services to almost 50 million consumers, CenturyLink secures its name in the Cable Agency list of popular ISPs. The company offers services to all fifty states. Moreover, nearly ten million people have access to its fiber-optic Internet services.
Its packages are quite affordable; especially its price-for-life package is everyone's favorite. The general speed is up to 100 Mbps. However, it also offers speed up to 940 Mbps for a bit higher monthly price than the regular one.
5. Verizon FiOS
This company is the pioneer Internet service provider in providing fiber Internet services to residential consumers. Its service restrictions apply to the majority of areas and are available in only ten states. The speed goes up to 904 Mbps.
6. Frontier
Frontier offers Internet, TV, and Phone services in almost twenty-nine states. If you are looking for the most affordable options, Cable Agency thinks that Frontier is the best option. Consumers can easily download or upload without any data limitation and at an affordable price.
Conclusion
The names in the Cable Agency list must be well familiar with most of the people, and truth be told, they satisfy almost America's Internet surfing needs. So, if you are looking to upgrade your regular connection or thinking about getting a new one, this list can help you make a wise choice.
For further assistance, you can enter your zip code at Cable Agency's website to check the service availability and compare plans and prices to choose the right package. Our customer support representative can further guide you about the process, and with an easy installation process, you can enjoy a complete home or business entertainment package.

cableagency
Cable Agency offers a multitude of options for TV, the Internet, and phone. A variety of quality channels are showcased in customer-friendly packages speak to the consumer directly about the stories they love.
See all posts by cableagency →