Top 10 features that you should have in your next laptop
Technology is advancing so quickly that to stay updated with it is a bit difficult. Some features last for long but they also became outdated after a certain period. So, one need to change your laptop and move to your next laptop with the new features.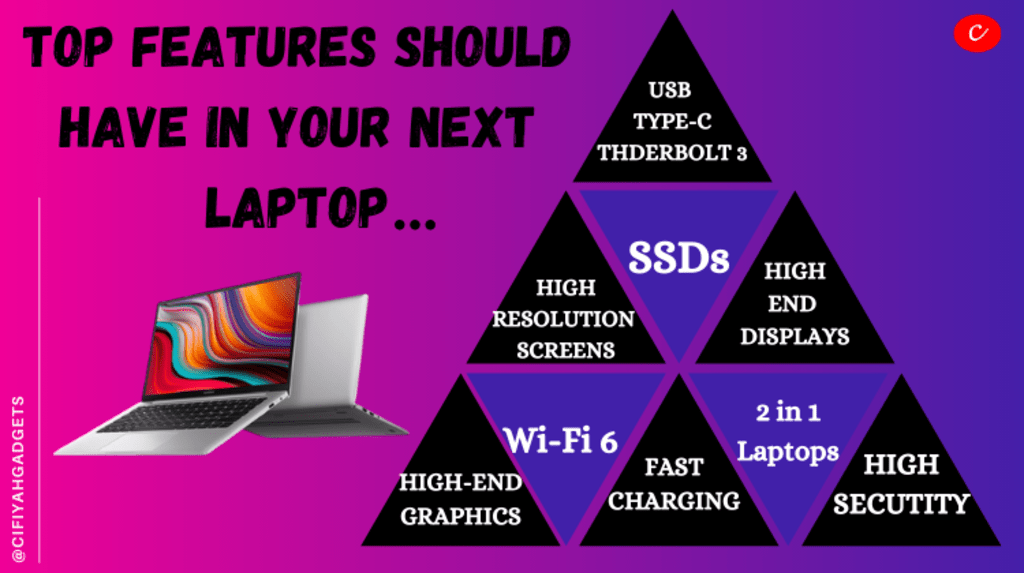 You do not need to upgrade of your device is just one- or two-year-old as spending close to 1 lac for just a little more speed will not worth it, so you should continue with your laptop. But in last three years there are many and huge changes in the technology. With new design and desktop like performance, high resolution screen and many more that your old laptop can match.
Let us see the top features that are very new which you should have in your new laptop. The top ten features are: -
1. USB type-C/ thunderbolt ports
2. High resolution screens
3. High-end displays (OLED)
4. SSDs
5. High-end graphics
6. 2 in 1 laptop.
7. High security (fingerprint scanner)
8. Wi-Fi 6
9. Thin bezel screens
10. Fast charging.
USB type-c / thunderbolt ports
Transferring file with these ports is lighting fast thunderbolt 3 is faster than the USB type-c. In thunderbolt you can transfer data a 40 Gbps while in type-c 20Gbps is the maximum. The type-c cables are reversible so don't need to worry about the position. You can transfer data as well as charge with a single cable.
High resolution screens
Later the screen resolution was of full HD but now the laptops come with 4k resolution which will provide you great screen and easy scrolling though webpages.
High-end displays
Laptops screen fell it shady or it does not have that brightness that your mobile. Its because of the display that your mobile has, and your phone does not. The latest laptops come with OLED display which will provide you better clarity and graphics to your screen.
SSDs
The generation of HDDs are gone as they don't offer that kind of speed that SSDs provides. These are 400 percent faster than the HDDs. The SSDs increase your booting speed makes all your application to launch faster and run smoothly.
Graphics
NVidia has launched there latest 30 series cars and are soon going to hit in the laptops. Laptops comes with 20 series the previous ones. And are also kind of latest still are powerful enough.
2 in 1 laptop
The 2 in 1 laptop have increased the productivity of a laptop it is best for business purpose and design also looks phenomenal. It can convert into a tablet which kind of looks cool. There are basically two types fold 180 degree backwards or the keyboard detaches.
High security
The laptops nowadays come with face lock and fingerprint scanner for more secure look. With one touch on your fingerprint scanner, you can open your laptop.
Wi-Fi 6
The Wi-Fi 6 is the latest Wi-Fi version and is 30% faster than the 5th version and the max transfer rate recorded of the Wi-Fi 6 is 1320Mbps. For a low latency and high-speed internet, you must have it.
Thin bezel screen
The screen looks bulky when the side part is like a box that covers the display so with thin bezel the screen looks much better and sleek. There is laptop with 89 percent screen to body ratio.
Fast charging laptops
Like the phones the laptops also now comes with fast charging adaptors to charge it in just an hour as you are not stuck with a power cable attached to it. As you need to carry the laptop.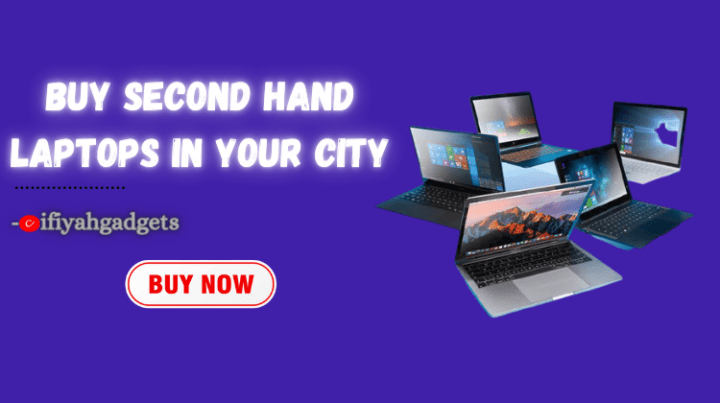 Laptop with al these features will obviously priced high and not everyone can afford so one can go for second hand laptops. Yes, second hand in spite of being second hand products you can find almost every features mentioned above.
So, where to find such kind of amazing deals? Just visit the classified site Cifiyah here you will find the latest model second hand laptops at affordable prices. If you want to sell your old laptop so that you can buy a new one, you can also sell old laptop by posting free ads here and get genuine buyers for your product. Get all types of latest gadgets here at Cifiyah.
Buy and sell according to your city, if you are in Mumbai then you can find the best second hand laptops in Mumbai at Cifiyah. If you are in Bangalore, then buy second hand laptop in Bangalore at very cheap price. Go check out the latest deals.