Things To Keep In Mind When Buying The Right Truly Wireless Earbuds.
Truly Wireless Earbuds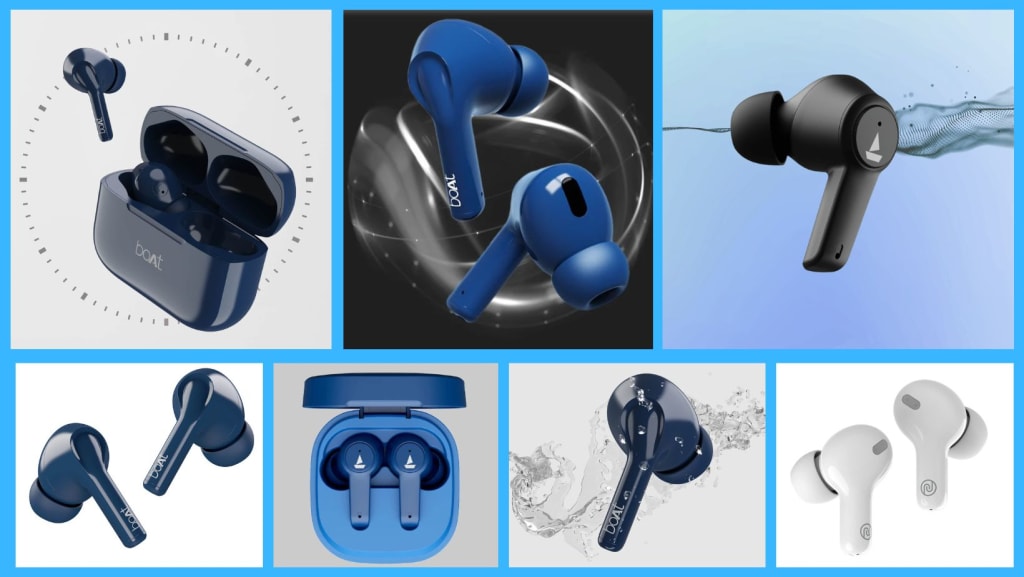 Truly Wireless Earbuds
Size & Comfort
First of all, you want something that fits! As there is no wire involved in true wireless earbuds, it is very important that you get the earbuds that stick in your ears without causing any pain or discomfort. Look for nice ergonomically designed earphones that snug inside your ears, creating a good seal. We understand that you do not want to keep on reaching out to your ears every now and then to just stop them from falling.
Sound Quality
You are going to use your earbuds for listening to music or watching videos or to make calls. In either scenario, sound quality becomes very much important. You want your music to sound like it is supposed to sound. Hence, have a look at the driver unit and the codec. 6mm drivers are known to be decent but if elements like instrument isolation and richer sound matter to you, look for at least 10mm drivers on each end of the earbuds.
Additionally, if your primary use of earbuds is going to be calling, then look for earbuds that also support ANC. This will make sure that you get to make disturbance free calls. This feature is also helpful in cutting the outside clutter, especially when you are in a noisy environment but want to immerse yourself in your favourite tune.
Connectivity
As you know that your earbuds pair with your device over bluetooth, it is important to look at the bluetooth version they support. As we are sure that you do not want to experience lag during your favourite song, go for the ones that support the latest versions.
Bluetooth 5.0 is fast becoming the standard of this technology, and many manufacturers have started offering a low latency mode. Low latency is important if you watch a lot of videos or play online games.
Some bluetooth earbuds even support Insta Pairing feature. This means that the moment you open the lid of the case, they will connect to your device.
Battery And Charging Case
This is one issue that many earbuds face. The small size of the earbuds does not allow them to house big batteries. But guess what, they come with their own charing (cum carry) case.
So, it is important to not just check the playtime of your earbuds but also have a look at the battery capacity of the charging case. Another interesting thing that we will like to bring to your notice is that many earbuds now support fast charging. Meaning that they take the least possible amount of time to offer the best playback time. This means that you won't have to wait for long for your earphones to get charged.
Features, Gestures And Controls
Another thing that makes bluetooth controls look smart and futuristic is the controls that they offer. The controls can either be touch or press based but you can manage your calls, adjust the volume and take care of your playlist by simply moving your hand to your ears. Many earbuds even support voice assistants.
Now that you have some idea about what to look for in your next purchase of wireless earbuds, allow us to introduce you to some of the best earbuds that you will fall in love with:
Airdopes 161
Sleek, stylish and superbly designed to offer you an enjoyable listening experience! The 10mm drivers pump out boAt's signature sound that is loud, clear and crisp. The bass is tuned for a thumping experience that transcends you to another world.
The quick touch response allows you to take charge of your listening experience with ease. They support IPX5 water and dust resistance rating. This means that feel free to use them even when it is drizzling! They offer a massive playback of up to 17H and also support fast charge. With these, you can enjoy up to 180 mins of charge with just 10 mins of charge.
Airdopes 411 ANC
Get ready to listen to your favorite tunes in peace with these true wireless earbuds. Powered by Active Noise Cancellation technology, they offer an immersive listening experience that is disturbance free. The EnX technology offers a smooth calling experience. The 10mm drivers offer immersive sound that leaves you wanting for more. They support bluetooth V5.2 and Insta Wake N Pair technology that ensures that you waste no time while connecting to your device.
The seamless touch controls add convenience to your listening experience. They offer a playtime of up to 17.5H. They also support ASAp fast charge technology. Just plug them in for 10 mins and get up to 60 mins of blissful music.
Noise Air Buds+
Experience music like never before with these earbuds. They come powered with 6m driver and support insta charge technology. They offer exceptional fit that makes all-day usage easy and comfortable. The bluetooth vV5.2 ensures steady and lag-free connectivity. They offer a playtime of up to 20H.