There's Something About WordPress: Important Information
Ever wondered what WordPress is exactly? Heard the name but not really understood what it was? Well now I'm going to shed some light on the name, explaining exactly what it is and some of its benefits!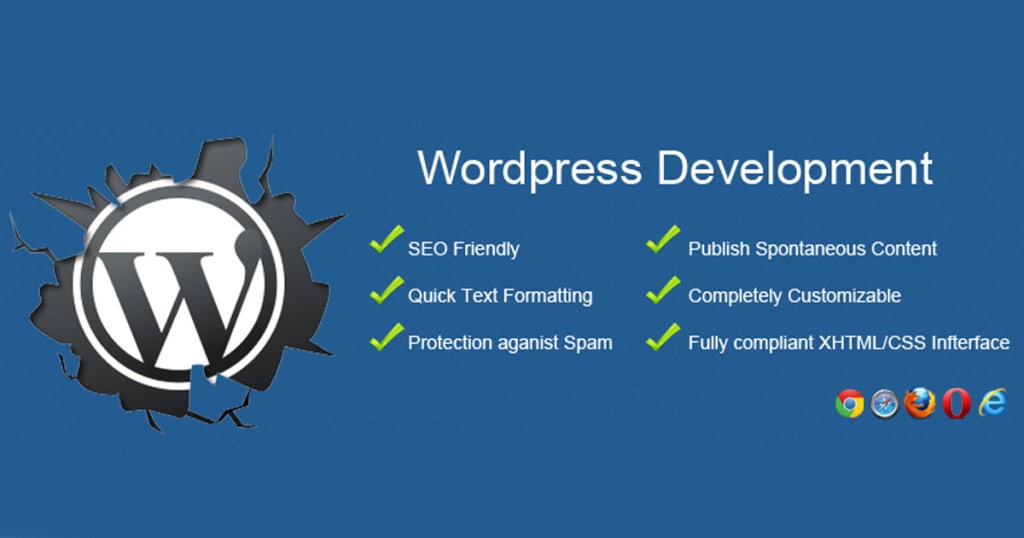 Explains some of the core features of WordPress
What is WordPress?
WordPress is a website platform designed, coded, and updated by a group of world class coders, developers, and programmers essentially pooling all their own knowledge into a platform for everyone to build on to create their very own websites with little to no HTML, PHP, or CSS3 knowledge. Which means it is a platform for beginners as well as professionals.
Ultimately, you can customise it any way you see fit, have access to millions of free themes as well as premium theme, millions of plugins at your disposal to make your website that much more powerful, and access to tutorials, documentation, and other resources. Oh, and did I mention that over 28 percent of all the websites online today run off of WordPress? That's a MASSIVE number! That's millions and millions! The best part is, WordPress is an open source platform, meaning it is free! Awesome, right?
Where do I get a WordPress from?
Well, this presents a few options to choose from:
Your hosting account allows a one click install or script which enables you to install and run it easily.
FTP file system upload via FileZilla after obtaining the latest files available via the WordPress website.
Having your hosting provider set this up for you (usually costs a little)
By hiring a web designer like myself to install/upload and do this for you before building your website.
The file you need usually comes in a .Zip format, so you may need WinZip or something similar if you wish to extract the main WordPress file from it. Newer OS systems can choose to open with file explorer instead.
So what are the core features?
There are A LOT of amazing features for WordPress! Picking just a few wouldn't be enough to explain the full potential of WordPress at all!
Here are some of the features that stand out:
Simplicity: WordPress is built to allow you to publish pages/content quickly and get your content out there faster.
Flexibility: WordPress allows you the ability to design and build any website you want, whether you're looking to build a blog, magazine, store front, portfolio, and so on! You name it, you can make it. The access you get to millions of themes, meaning your website can become beautifully crafted via the use of a theme, plugins to make them more powerful, and you can even edit these and make them more...you!
Publish with Ease: Know how Microsoft Word works? Able to use a keyboard? Then you already pass the masterclass on publishing content with WordPress! Create your content, add images/videos, and then click publish. Simple as that!
Publishing Tools: WordPress makes it easy to manage your content. Either publishing posts, seeing your previous page revisions, editing pages, adding pages, changes images as easy as 1, 2, 3.
User Management: Allowing users to sign up to your website via a shop or magazine site or even a blog? Password protect pages, set them to public or private, set user roles or levels such as admin, subscriber, customer, blogger, guest blogger, and admin.
Media Management: Manage you images/videos with ease via the media section of WordPress. Allowing you to upload new images, get from a URL or use existing media already uploaded. You can also crop, brighten, or re-scale your images via the media section.
Full Standards Compliance: Every piece of WordPress generated code is in full compliance with the standards set by the W3C, meaning you website will work for today's browsers and even on tomorrow's browsers. Your website is always there—now and in the future!
Easy Theme System: WordPress comes with a few default themes installed, but if you don't like them, that's OK. As with the theme directory, you have thousands or millions of themes to choose from.
Extend with Plugins: Plugins can make your website more powerful, more responsive, more user friendly, and make life so much easier for you if you have no programming knowledge or coding skills. Plugins do it all for you! From a complete E-Commerce plugin, Contact Form plugin, and even PayPal! Millions of plugins are available. You can even produce your own plugin if you have developer skills.
Built-in Comments: Your website is your little piece of the internet. If you decide you want to engage with customers, friends, acquaintances through it, then it comes packed with comment features, blog plugins, forum plugins so you can add to it and moderate it.
Search Engine Optimized: WordPress is fine tuned for SEO purposes from the get go. If you wish to fine tune this beat, then there are plugins that allow further SEO features and control options.
Multilingual: WordPress comes available in over 70 different languages, not just English. Having your website in another language is not a problem at all.
Easy Installation and Upgrades: Using FTP to install WordPress is pretty straight forward. If you're not comfortable with the FTP option, then some web hosts offer one click installs or scripts to install it quickly and easily.
Freedom: WordPress is licensed under the GPL which was created to protect your freedoms. You are free to use WordPress in any way you choose: install it, use it, modify it, distribute it. Software freedom is the foundation that WordPress is built on.
Developer Features that enable you to really get under the hood and tune that beast to whatever shape, colour, or specifications you fancy! Make something amazing or make something with potential!
Plugin System: The WordPress APIs make it easy for you to create plugins to extend WordPress. With thousands of hooks at your disposal to create your plugin, it's easy as pie if you have the knowledge! They even have a repository for you to store your plugin!
Theme System: Take advantage of the WordPress API and create beautiful child themes from scratch! Build it your way and design it however which way you want!
Custom Content Types: WordPress comes with standard content types, but for more flexibility you can choose to add a few lines of code to create your own post types, taxonomies, and metadata. Take WordPress in any direction you want.
No matter where you are in the WordPress journey—starts or end—there will always be something new to explore, something different to try, new plugins to use, and pages to adapt, meaning that once you go WordPress, you never go back! Joomla has nothing on it, in my opinion!
I like the sound of it, but what can I do with it?
Look up. You see the blue sky above you? (sorry if its cloudy or raining where you are, I don't mean to rub it in!) Well, that blue sky is your limit!
What I mean is, you can do anything from a simple blog all the way to an enterprise website which has worldwide reach! Have an online shop, portfolio, accommodation website, business management website—you name it, you can built it on WordPress! There is a reason that more than 28 percent of the websites in the world use WordPress...
If you're a developer or an aspiring developer, then this is one platform where you can make your mark and create something wonderful and amazing by creating a child theme and customizing it however you want, adding extra sections, ad portals, navigation menu options, and the list goes on! You name it, you can customise it.
Do you recommend WordPress?
Yes, I highly recommend it. In fact, it's the main platform I build on. Unless clients of mine opt for a HTML website, then I'll build it on WordPress. I love the customizability of the platform itself as well as knowing it is mobile friendly, SEO friendly, and with the simple fact that Google LOVES WordPress websites, it is my main choice! Having so many tools under your belt is amazing. It sets you up to have every possible weapon a person would need in their arsenal to build an amazing, interactive, and responsive mobile-friendly website.
Not to mention the powerful admin control panel you get which has many items in the standard menu when you first install WordPress, and the more plugins you add the more items you get to play with and make your website that little bit more powerful.
product review
I currently run my own web design business with services such as domain names, hosting, SEO, maintenance, business directory etc over on my website www.wilde-enterprises.info