The Revolutionary App Pictory is Text into Video !!!!!
Pictory is Bringing Your Words to Life with Cutting-Edge AI Technology
The Revolutionary App Pictory: Text into Video
Pictory is a new, cutting-edge app that uses artificial intelligence to create videos from text. It is a game changer in the world of video production, offering an easy, quick and affordable way to create high-quality videos. In this article, we will take a deep dive into the world of Pictory, answering some of the frequently asked questions about this innovative app.
Save 20% on Pictory.ai PLUS Get Your Free YouTube Course (Offer Ends Feb 19th)
What kind of videos is Pictory good for?
Pictory is perfect for social media videos, or any videos that you need to create with a high frequency. The app provides you with the ability to create videos quickly and easily, making it ideal for fast-paced work environments. Additionally, Pictory can be used to create explainer videos or short video ads, although for high-stakes videos, you may need to consider hiring a video production agency.
How long does it take to create a Pictory video?
In the beginning, as you get familiar with the software, it may take you about an hour to create a video. However, as you get more comfortable using the app, this time will be reduced to around 15 minutes. Most of the time will be spent searching for the best visuals to use in your video, as Pictory provides a vast library of over 3 million visuals and hundreds of music tracks to choose from.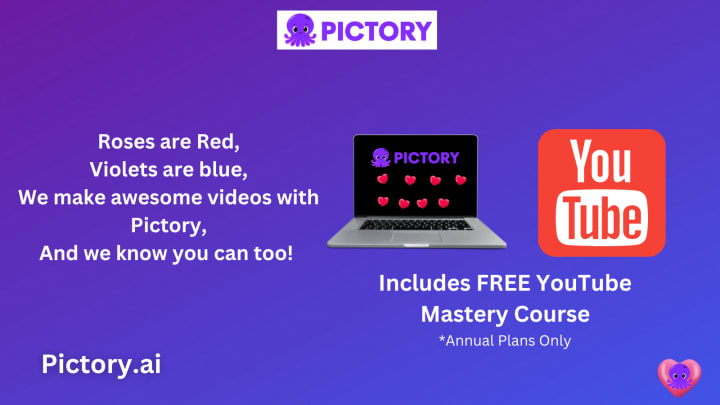 Do I have to pay royalties to use the visuals or music provided by Pictory?
No, Pictory has already licensed its collection of visuals and music tracks for use in your videos. This means that you don't have to worry about paying royalties or any other fees, as the license covers all your needs.
What is the ideal length for a video for social media?
Ideal social media videos are under one minute in length. For video ads, it's recommended that you keep the videos under 15 seconds in length. This ensures that the video is short, snappy and attention-grabbing, making it more likely that people will watch it to the end.
What kind of articles can I use to create a video?
Pictory only accepts articles that are published in HTML format. This means that PDF, Word or Google docs are not currently supported. If you have a blog or news article that you'd like to turn into a video, simply copy and paste it into the app and you're good to go.
Can I edit the text on the storyboard page?
Yes, you can easily edit the text on the storyboard page by clicking on the textbox for a specific scene. Additionally, you can edit the text from the left panel, which provides you with the text for each scene in a single location.
Can I move the text on a scene?
Yes, you can easily move the text on a scene by clicking and dragging the textbox to your desired location. However, please note that certain themes may disallow certain text box locations. If you're unable to place a textbox in the desired location, consider changing the theme you have selected and trying again.
How can I change the font size and color of my text?
You can change the font size and color of the text by using the preset themes, or by adjusting your brand settings. To adjust your brand settings, simply visit the "Intro Style" section on the "Adjusting Brand Settings" page. Alternatively, you can double-click the textbox and change the font and color of the text directly.
Can I record and upload my own voiceover?
Pictory provides the ability to record or upload your own voiceovers. Simply click on the "Add Audio" button on a specific scene and you can record your own voice.
Save 20% on Pictory.ai PLUS Get Your Free YouTube Course (Offer Ends Feb 19th)
Artificial intelligence has revolutionized the way we create and share content. With the rise of social media, there has been an increase in demand for video content, and tools like Pictory have made it easier for everyone to create visually appealing and engaging videos. By turning text into video, Pictory takes advantage of the power of AI to make video creation accessible to everyone, regardless of their experience level. With features like the ability to generate videos from text, upload custom audio and visuals, and share directly to social media channels, Pictory provides a one-stop solution for all your video content needs.
Save 20% on Pictory.ai PLUS Get Your Free YouTube Course (Offer Ends Feb 19th)
With Pictory, social media marketing has never been easier. The ability to generate videos in a matter of minutes, combined with the ease of sharing them directly to your social media channels, makes it an ideal tool for businesses and individuals looking to engage with their audience. With an increasing emphasis on video content, Pictory provides an opportunity to stand out and make a big impact with your audience. Whether you're looking to create explainer videos, short video ads, or just share a message with your followers, Pictory is a powerful tool that you can use to achieve your goals. So why wait? Sign up for Pictory today and start creating the videos that you've always wanted to make.
About the Creator
Digi Trends is your go-to for all things crypto, fintech, and electronics. Our mission is to inform you on these growing industry's. The world is changing and we don't want you to get left behind. Stay informed and get educated with us!
Reader insights
Be the first to share your insights about this piece.
Add your insights