The Most Important Social Media For Every Creator
It's the free decentralized version of Tweeter. My coin is $3 worth already.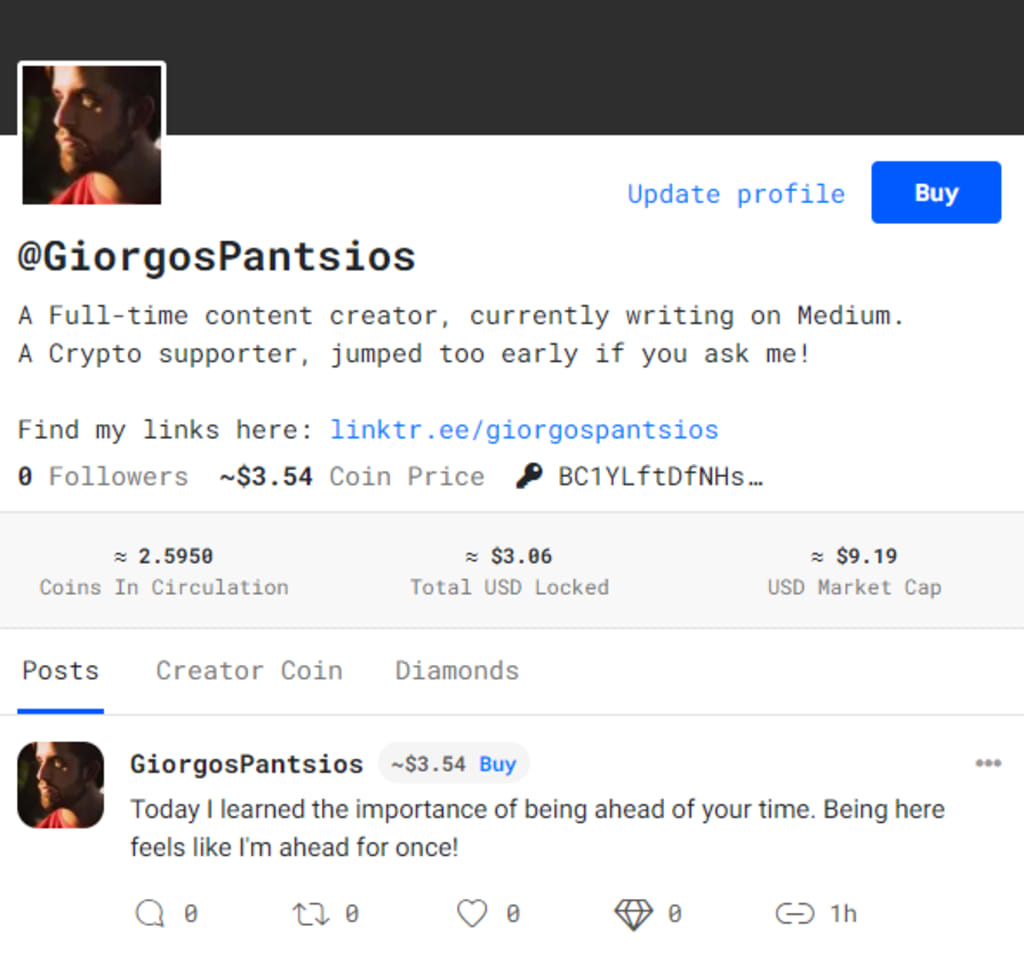 Screenshot by the author
This will be a quick one. I'm so excited to talk about our opportunity to earn more by spending nothing!
Okay, today I stumbled upon this social media site, claiming to be the decentralized version of Twitter. With Binance's NFT Marketplace coming in June, we have one more place to use as creators. That's BitClout.
What is BitClout?
BitClout is the decentralized version of Tweeter.
BitClout is revolutionary for the fact that fans are rewarded for supporting their favorite person. It's social media where supporting someone means investing in them. And investing in them means that you are increasing their value. This in return increases your investment value and both you and the creator win.
Your investment is bound to go to new heights if you help the person you like. And if the person you like does things right, they will benefit you in advance as well. Imagine getting a coin that reflects your real value.
Be early and win the hearts of everyone
It's a primitive social media site. It's still early.
But, it doesn't cost anything. In fact, it only returns money for now.
I've made $2 already, and my coin is still young and cheap. Investing in me means you can earn x10 your money in a couple of days. People are scouting for newcomers. If they see that the said newcomer is of the highest quality, they might invest big time.
For me, all it takes is to share every thought I have, be active, and have my article links usually "tweeted" on the platform.
Literally, it takes zero effort to do that.
I have tons of plans coming up. I need to take advantage of the platform in unique ways and get the most out of it. Every other social media that I have can be used for me to promote this work of mine.
You can join me and follow me at the link below.
What do you need to get started?
An account in BitClout means you are creating a BitClout Wallet. This wallet belongs in the Bitcoin ecosystem.
The only thing that you need more than a BitClout account is a Bitcoin wallet to send your profits if you want to later swap them in your local currency. I have Binance as well, to send the Bitcoins I'll earn there. Then, I can swap them with fiat (euros in my case) and enjoy my earnings.
Instead, I will use my excess earnings to create a marketing strategy for my brand.
Sharing is caring, both for me and you. This time, I love the place I'm in because I can offer my supporters more for their love.
I can show them that the value they created for me is beneficial for them too.
BitClout Cares for Us
You earn the bare minimum to support someone when you create an account on BitClout. That's more than enough to getting started with the platform.
Investing in newcomers (like me, duh), can ROI way more than let's say investing in someone worth 20k.
I wrote a story about how others write about the tons of money they make repeatedly.
Now, we have the chance to help each other actively. We are small, but we are bigger together.
Closing Thoughts
I didn't want to go in-depth with this. I wanted to show you fast enough that we have a new place to take advantage of.
I'm a firm believer that we are heading into a decentralized era. Having a decentralized social media account is a must.
In BitClout, we can create the most out of a community. A community of giving and taking. It takes 0 effort to create an account there.
If you feel like you learned something and want to support me for it, make sure to follow me and own my coin. I'm bound to make it worth it for you!
Crypto is here to stay. Are you ready to make the most out of it?
Originally posted on Medium