The Loss of the Stats Zone App is Bad News for Soccer Analysts
FourFourTwo magazine has chosen not to renew the soccer stats app for the 2017–18 season. What does this mean for soccer analysts, both amateur and professional?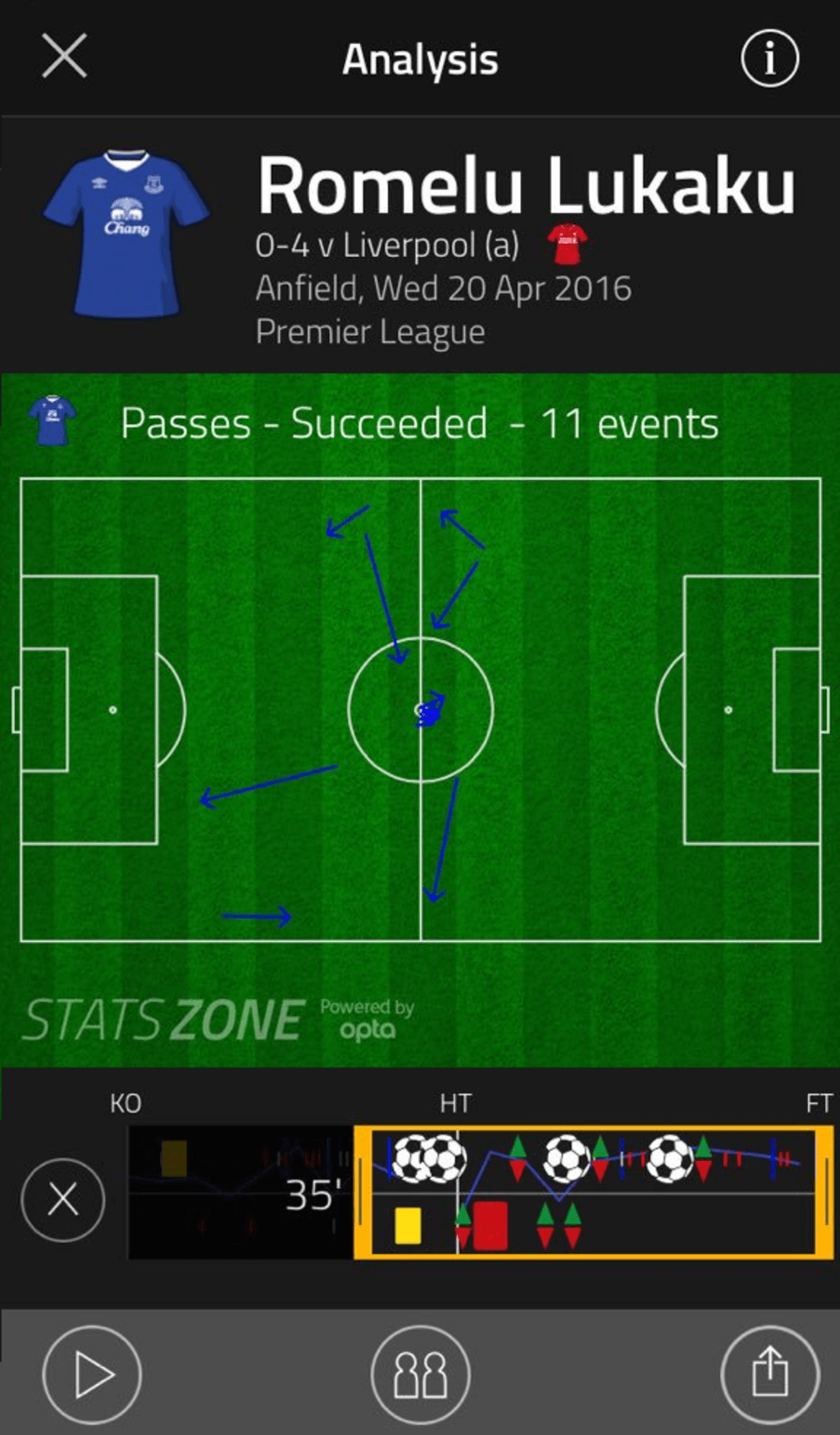 There was sad news today for the soccer stats community. Stats Zone is no more after Four Four Two chose not to renew it for the forthcoming 2017–18 season.
The app's creator, Colm McMullan, is looking to keep it alive though, so if there's any well meaning rich people reading this, you could make a lot of soccer nerds like myself very happy indeed.
Seriously though, this is a massive loss for soccer analysis. It seems that every few years we lose a great source of in-depth soccer data. The Guardian's chalkboards, EPLIndex.com, and Stats Zone were all beloved by soccer analysts (both amateur and professional) and all have now gone.
The first and third of those were due to commercial decisions by media outlets, and ultimately whilst thousands of people loved the chalkboards and Stats Zone app, they won't have brought in much money (though people sharing images from them was at least free advertising).
Whilst I will miss Stats Zone, and its absence will make my career choice of writing about football stats undoubtedly harder, it also paints a bleak picture for newcomers to the football analysis field. Anyone who wants to see some in-depth data for free, and have a play around with it, is now going to find that a lot harder.
WhoScored.com isn't too bad, but for starters, it doesn't carry clear-cut chances, final third passing, defensive errors or anything much for goalkeepers. Squawka.com does at least have something on the latter two stats, but their site is so bogged down in advertisements that I find it nigh on impossible to use. Their figures also tend to differ from those on StatsZone and WhoScored (who agreed whenever I checked) so I've always been sceptical of using Squawka's information.
Information on attacking third passes and clear-cut chances is available in Sky Sports' Score Centre app, but I don't know how their final third passes are calculated. Let's use the Bolton 2-3 Leeds match from last weekend as a case study. WhoScored list passes with a 'target zone' of the final third, and give the tally as 191-146 in Bolton's favour. When I check the attacking third passes on the Score Centre app, the figures are given as 88 (accurate) out of 162 (total) for the home team and 88/120 for the away side.
So which is it? I have no idea. And this is where Stats Zone was so brilliant. You could see on a pitch map where the passes were and how they were counted. You might not have agreed with some of their definitions, but at least everything was clear.
Perhaps most importantly, they had stats for both teams and players, and in the same format. For each player or team in a match, you could access 77 (SEVENTY-SEVEN #videprinter) pieces of information, and that's before you get to a player's pass combinations with their colleagues, of which there's potentially 13 to and 13 from. All of the information that Stats Zone provided probably is out there, but as I've shown here, it will be spread across multiple sources.
Perhaps 2017-18 will be the season where the InfoGol app will come into its own? They don't have too much info beyond possession and shots, but they do at least have expected goals figures in their app. It's obviously based on their model, but then as everyone has their own model anyway, why not put faith in theirs? I suspect I will be doing so this season.
Expected goals (or 'xG' for short) is certainly destined for the mainstream. Today, the BBC has an article about it, which includes video clips of shots with multiple choice options for you to guess what the xG is for them. Try it, it's fun! But perhaps the most interesting line on the page is the last one:
Watch Match of the Day for more on expected goals, starting this Saturday at 22:30 BST on BBC One.
Oooh! I for one can't wait to see Alan Shearer's bemused expression as he tries to understand xG before dismissing it entirely. But that certainly suggests that MOTD will be using expected goals this season, and Sky Sports have dabbled with including xG on graphics too.
We have reached a point where expected goals is becoming mainstream at the exact same time that it becomes increasingly difficult for amateurs to dabble in it. Coincidence? Almost certainly, but as a professional stat enthusiast, the loss of Stats Zone is hugely disappointing and damaging. Let's hope it rises from the ashes soon.