The Fundamentals of Blogging and Website Development
So, we now know that content is king........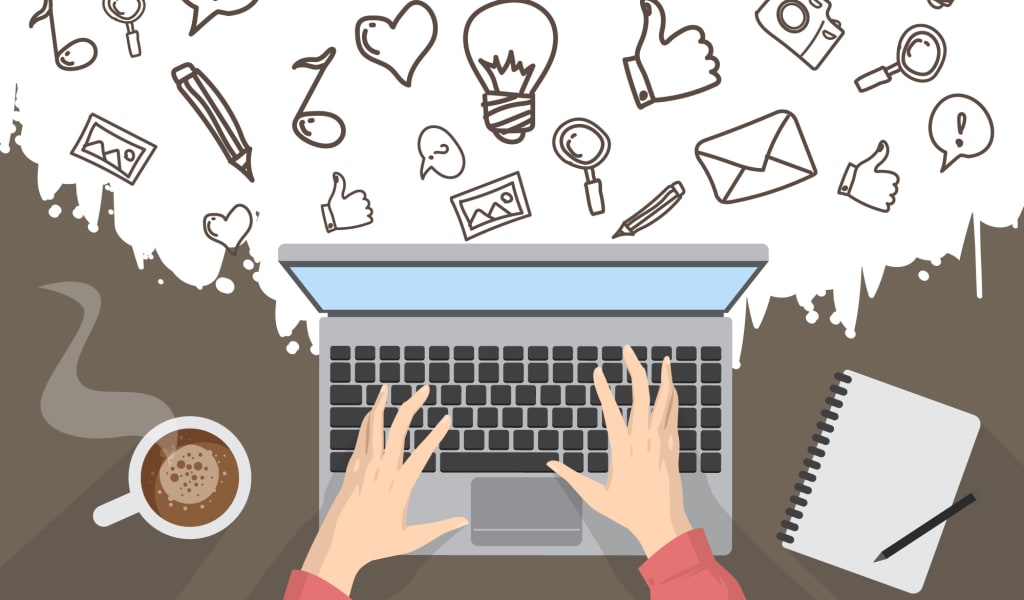 So, we now know that content is king. Of course, because we're establishing our own blogs (remember, blogs is short slang for "Weblogs," which is their "real" name), the majority of our content will be "unique" and "original." However, because we are only human and cannot "invent" more and more content, we will occasionally copy information from other websites. That's fantastic. There's no problem with it until you decide that "copying" and/or "linking" is just preferable than authoring.
Allow me to clarify something. If your major business is to provide people with links to other locations where they may obtain knowledge, or if you are a repository where people come to receive links since you have already done all the research, that is OK. Because what you lose in terms of content, you'll make up for in terms of "eyeballs" and "hits." Keep in mind that good search engine listings are just that. MORE HITS — MORE EYEBALLS — MORE VISITORS. And content isn't the only factor that a search engine considers. By a long shot, no.
This is an important factor to remember. Every strategy we'll discuss, from content to email to lists to whatever, (hee, my least favorite word in the English language jumps in — Whatever — check my blog piece on that term), has only one purpose in mind. To steadily boost and expand the number of visitors to your website. To ensure that you have a growing "fan" club that is "motivated" to return because of the service you provide. As a result, please distinguish between the final aim and the techniques. Content (discussed in our first article)is a strategy for attaining a high ranking on a search engine, with the purpose of attracting people to visit and utilize your website or blog, as well as creating a "buzz" about it. (This will be discussed much later in our series.)
Let us return to the subject of substance for a moment. We're discussing something that all authors are aware of and are familiar with. Text, phrases, and words Text that is unique.
So, in order to stay on our reasonably rational route, we'll now focus on the "text" and what it must include. This leads us to the topic of "keywords."This leads us to the topic of "keywords." Let us define keywords more precisely before describing what they are and their relevance (or absolute invalidity and worthlessness) these days (and this is up for discussion).
If you have a website that sells hair and beauty products, you'll want to promote your products by producing articles about them. Obviously, writing about the differences between different dishwasher models will have nothing to do with the "subject matter" and content of your website. As a result, you'll write articles about hair products. You'll create articles about how to take care of your hair, how to colour it, how to get rid of split ends, how often to shampoo, and so on.
"Hair Is Not Forever" is the name of our magical hair website, which can be found at www.hairisnotforever.com. (Please don't click that link since I have no idea if such a site exists!) However, for the time being, this is our website, and we will maintain it as we go. hairisnotforever has a blog as well. This blog will be called "SilkyFairHair," and it will be hosted on blogger.com under the name of the proprietor, who is appropriately titled Mr. Nor Hair. As a result, we currently have:
1. Hair Forever website
2. SilkyFairHair Blog
These names, as well as the URLs, are crucial (URL stands for Universal Resource Locater). So remember these as we go through these articles, especially when I come to the one about how important it is to find the appropriate name.
Mr. Nor Hair and his wife, Mrs. Purple Hair, collaborate on projects. They build the site, gather all of the essential items to sell anything on it, write a couple of hair-related articles, and then sit back and wait for customers to pound on their "virtual" door. "Boker Tov," as we say in Hebrew (which literally means "Good Morning"), or "Knock. Knock," as you say in English. Hello there! "Has anyone returned?"
Okay, the Hair couple is familiar with keywords. As a result, they write pieces in which the term "hair" appears in every phrase (or balding). Hair, on the other hand, is the name of the game. They make sure their material is original, and once they've produced two HTML pages of hair articles, carefully positioned around the adverts for hair products by their cousin the graphic artist (who is bald), they think they're done!
Woah! By a long shot, no! This is when it becomes gloomy for the inexperienced and uncommitted.
Let's start with the "keyword" problem.
Keywords function similarly to indexes or, if you prefer, categories. A keyword is anything that a search engine will look for and evaluate (in today's world) to use as one of the criteria for listing your website.
The terms we're talking about can be found in two separate places. The first on the site's page header.
in the area designated for "meta" tags We'll talk about meta tags in another post, but for now, let's just note that these are the keywords that most search engines (and their "bots") look for.
This is an example of a meta tag for keywords on our site:
Again, we will explore these keywords and meta tags in our article(s) on meta tags, but for now, assume that these are some of the terms that will be in the meta tag.
The keywords tag was crucial when search engine technology initially became popular and meta tags were created. The terms in the meta tag led search engines to believe that was what the site was about, so they placed it under those keywords.This was quickly noticed, and humans, being the cunning creatures that they are, began listing keywords that had nothing to do with their websites in order to increase traffic. (Keep in mind that the final result is everything: Hits & Eyeballs.)
As a result, pornographic sites, using this as yet another "fool the engine" tactic, would include keywords like "hair," "technology," and "technology" in their meta tags, as well as a harmless name, and voila, more traffic.
So, in the never-ending war, Search Engines figured it out and took action.According to their algorithms, the relevance of keywords in meta tags is low, unless the content on the site truly matches the keywords. Of course, this was insufficient, as pornographic websites will surround their content with "genuine" content. I'll offer you a real-life example that is both amusing and serious.
My bio, which is picked up by search engines, may be found in one of my blog entries.I got an email from an old love the other day that said, "I freaked out." I looked up Ted Gross Writer on Google, and you're linked to a tushy website!" So I Google it, and there it is, in like the fifth position: "Ted Gross's Unofficial Bio — The Real Version by Tushy," and of course I click and am directed to another site (no url here because I do not want to publicize that site for obvious reasons) where I find a porn site that ripped off MY profile from all of the content on the internet to use around their porn advertisements. UGH! But you can see how resourceful individuals can be!
Now, let's see what occurs in actuality, not in theory.
Two possibilities:
You have keywords in your meta tag (which is a good thing!) The small Search Engine "bot" (a software program whose job it is to go around the Internet, never sleeps or eats, and gets into all those porn sites too!) comes to our hairisnotforever site and reads the keywords on the page. The bot then takes a screenshot of the site page. The computers then take control and match the meta tags' keywords to the text and other content on your site. (Keep in mind that Search Engines do not "see"; they are not visual (males, not Search Engines!) Unless you utilize the alt tag, graphics will not be considered.) As time passes, the algorithms get more complex, searching for information, keywords, phrases, and so on. (Keep in mind the original material!)
Because your meta tag has no keywords, the engine will just look at your content.So our happy pair decides to use the term "hair" at least three times in each statement. NO! Don't make that mistake. A Search Engine will punish you if you overuse a keyword. It should be used regularly, but not excessively.When you search for hair products on Google using the term "balding," the Search Engine recognizes the phrase and, depending on a million factors, determines what rank hairisnotforever will have for that precise keyword and feeds it to you.So our pair decides to see what happens. We'll also offer mascara, and they'll include an image and the phrase mascara in their keywords, despite the fact that there's no content for it. If somebody searches for "mascara,"