The 10 Best Online Shopping Sites for Cheap tech products
One of the greatest things about online shopping is that it's very easy to find electronic goods cheaply.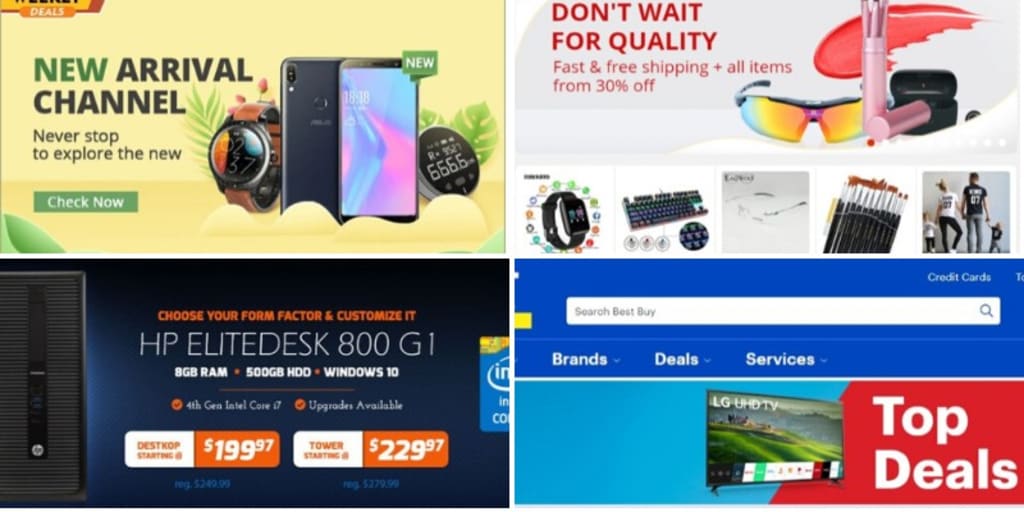 Source: Google.com
The plethora of e-commerce websites that sell electronic goods is a godsend for anyone who is looking for a new computer, gaming console, smartphone, or any other kind of electronic device and gadget.
1.AliExpress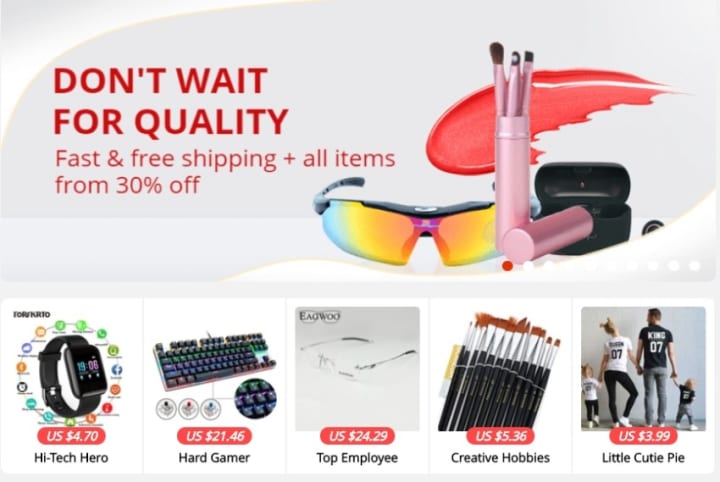 As one of the biggest online retail groups in China and the world, Alibaba owns and runs Aliexpress, and positions it as a portal where anyone from anywhere in the world can buy items from thousands of small sellers in China, Singapore, and elsewhere.
Whether you need large bulk orders of beads for jewelry making, sports shoes, or just about any kind of consumer electronics that you can think of, Aliexpress is a fantastic and easy e-commerce experience.
2.TechBargains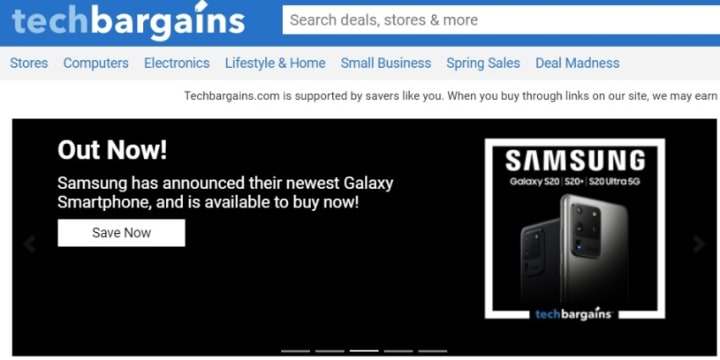 Here are often flash sales and bargains online but they can be difficult to find unless you're monitoring every single site.
Due to the wide range of products available from big sellers and small, it can be tough to stay on top of the best prices.
This is because flash sales come and can be gone before you get to them. TechBargains changes all of this.
If you're looking for computers and other consumer electronics, TechBargains does all of the hard work of monitoring a wide variety of online retailers so that you don't have to.
It takes the pain out of the buying process and allows you to get the best prices at any time of day or night.
3. SlickDeals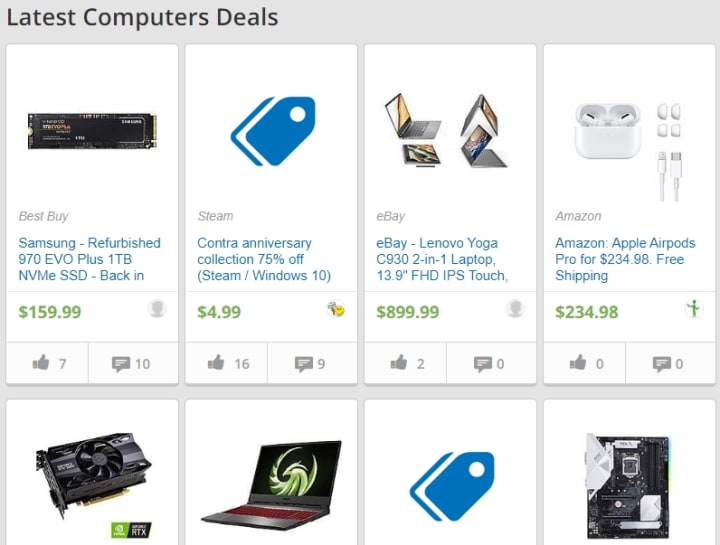 If you love a good deal — and who doesn't? — SlickDeals is a great website. Who has the time to wade through hundreds of deals online from a wide variety of sellers?
SlickDeals does all of the hard work of finding those great deals and coupons and aggregating them in a passionate community.
Once the deals are found, an enthusiastic community goes about rating them and choosing only the absolute best deals available.
This means that SlickDeals becomes a highly curated website for the best deals and online shopping coupons. It's a fantastic way to save time and money without having to do all of the research.
4. BestBuy Top Deals Section

If you love a good deal every day and want to save money on open-box and clearance items, then BestBuy is well worth a look.
BestBuy is a well-known, attractive site that offers price matching and good deals on consumer electronics. It even offers its own credit system so that you can get ten percent back on purchases.
5. GearBest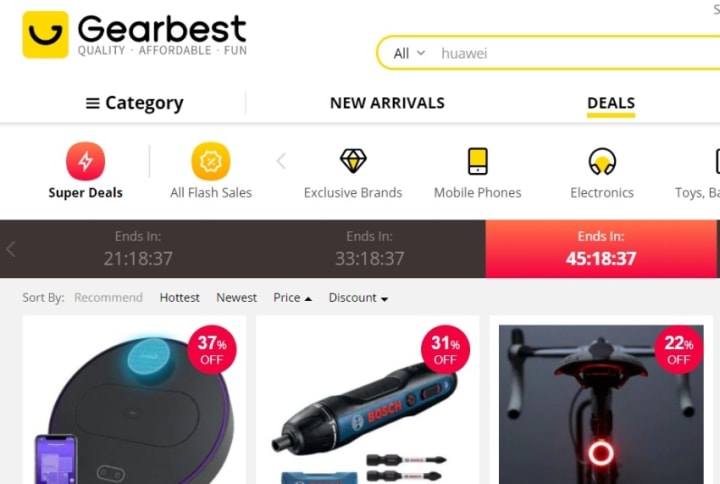 Gearbest may be based in China but it prioritizes cross-border communication and package delivery so that other nations can take advantage of top-quality goods.
Given the huge size of China's manufacturing system, retailers such as Gearbest are necessary to provide an interface between Chinese manufacturing and the rest of the world.
All suppliers on Gearbest are checked, inspected, and tested. Suppliers even undergo spot checks to ensure that they are maintaining the high standards that Western audiences expect of their consumer electronics.
6. Walmart
If you're concerned about online shopping safety and want to buy from a long-established and reputable dealer, then Walmart really cannot be beaten. There have been many newcomers but Walmart is a giant in the e-commerce space and offers a wide variety of consumer electronic goods, including cell phones.
The Walmart website is attractive, as you'd expect from such a long-time player in the market, and easy to navigate. Best of all, you can feel safe in the knowledge that you're buying from a reputable brand and can rely on good customer service and fast shipping within the U.S.
7. B&H
B&H video offers just about every electronic you can think of at very good prices (although their main market focus initially was on photography).
Their self-chosen best deals (Deals Zone) save you about 100 dollars average off electronics like a compact desktop, camera lenses, photo equipment etc.
The prices aren't dirt cheap, but the site makes up for it in quality equipment. The site is easy to access and navigate. It also displays few ads, which makes the buying experience less cluttered, faster on slower internet connections and more enjoyable.
The variety and genuine discounts on good products make this site a great option to check out if you're looking for your items at a discounted price but are still willing to spend money to reduce the risk of a low-quality product. They are also a US based company which is another plus.
8. Light in the Box
Light in the Box offers a variety of ways to save on their easily accessible website. There are several different categories, although the website is organized by sales and categories rather than being primarily organized by devices.
Still, there is a decent variety of devices. Light in the Box offers a lot of unique and hard-to-find devices like 3-D pens etc.
They also have a variety of devices that are on sale for under 10 dollars, which is a steal, even if most of the equipment that they offer are smaller devices.
Overall, this isn't the first website you would go to if you were looking for a new TV, but if you needed a gift for a child, teen or even an electronics-oriented adult, it would be the perfect place to look.
9. Ebay
Last but not least is the famous Ebay marketplace. Although you can buy anything under the sun from Ebay, they also have some of the best electronic deals available in the market.
They offer a wide variety of small devices for very cheap or even higher-end electronics such as TVs, gaming consoles, smart home devices etc.
Ebay definitely has deals available and with a lot of sellers on the market, it creates stiff competition which is a good thing for buyers.
10. TigerDirect
Although TigerDirect has many ads featured on their page that slows down browsing, they seem to offer good deals for high-quality products.
They offer a wide variety of devices. Most are accessories to computers. Generally, big-ticket items are about half-off. In addition, the ratings are overwhelmingly positive on all of their products.
Although browsing speeds might be off or frustrating, it is certainly not too big a price to pay for good quality tech products at such a discounted price.
If you're looking to buy a computer out of pocket, this is the first place you should stop.
While not every computer is greatly discounted on this site, the wide majority are. If you want a good discount, it seems, the trade-off is not getting the exact computer you want, which is reasonable.
Source: Tech21century.com