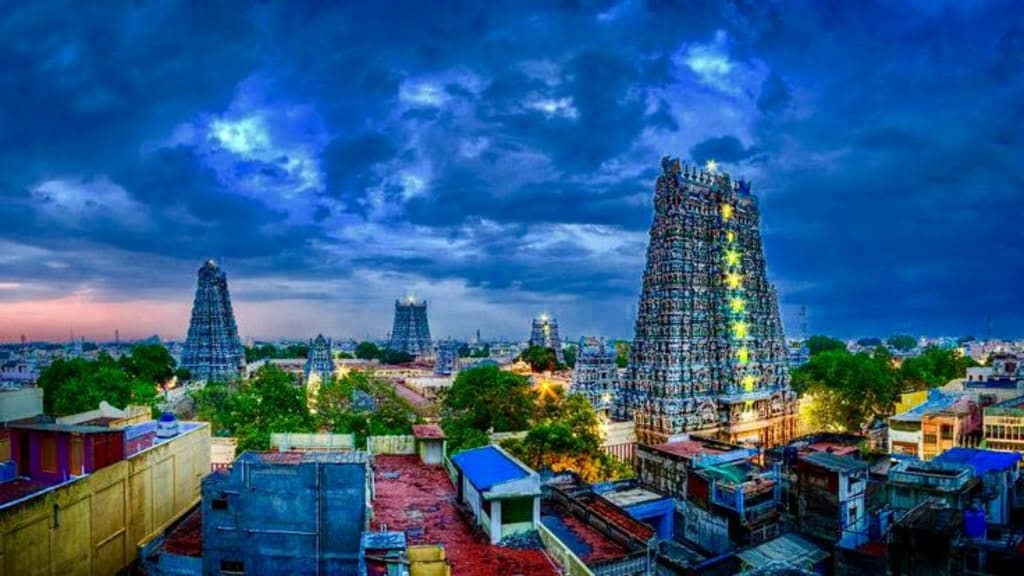 Madurai is a city located in the southern part of India, in the state of Tamil Nadu. Known as the "Temple City" of India, Madurai is one of the oldest continuously inhabited cities in the world, with a history that dates back over 2,500 years. The city has played an important role in the development of South Indian culture, language, and literature, and continues to be a center of learning and spirituality.
Madurai is perhaps best known for the Meenakshi Temple, which is one of the most famous Hindu temples in the world. The temple is dedicated to Meenakshi, a form of the Hindu goddess Parvati, and is believed to have been built in the 6th century BC. The temple complex is spread over an area of 14 acres and features 14 gopurams (towering gateways) that are adorned with intricate carvings and sculptures.
Apart from the Meenakshi Temple, there are several other important temples and landmarks in Madurai that are worth visiting. The Thirumalai Nayakkar Mahal, for instance, is a palace built in the 17th century that features a unique blend of Dravidian and Islamic architectural styles. The Gandhi Memorial Museum, on the other hand, is a tribute to Mahatma Gandhi and his struggle for Indian independence.
Madurai Theppakulam is a popular temple tank located in the heart of Madurai city in the state of Tamil Nadu, India. The tank is located near the Meenakshi Amman Temple and is considered to be one of the largest temple tanks in the state. The tank is also known as "Mariamman Teppakulam" and is dedicated to the goddess Mariamman.
The tank is surrounded by steps on all sides and has a mandapam (pavilion) at the center, which houses an idol of Lord Vinayaka (Ganesha). The tank is used for the floating festival called "Teppam" or "Theppotsavam" that takes place during the Tamil month of Thai (January-February) and is one of the major attractions in Madurai.
During the festival, the deities of the Meenakshi Amman Temple are taken in a procession to the tank, where they are placed on a decorated raft and taken around the tank. The festival attracts a large number of devotees and tourists from all over the country.
Tamil Sangams are literary associations that originated in ancient Tamil Nadu, India, to promote Tamil literature and language. Madurai is a historically and culturally rich city in Tamil Nadu and is home to several Tamil Sangams.
The Madurai Tamil Sangam is one of the oldest and most prominent Tamil Sangams in the region. It was established in the early 20th century by a group of Tamil scholars and enthusiasts with the aim of preserving and promoting Tamil literature, culture, and language. The Madurai Tamil Sangam played a vital role in the Tamil Nadu independence movement and was instrumental in promoting the use of Tamil in government, education, and the media.
The Madurai Tamil Sangam organizes various events, including literary seminars, cultural festivals, and conferences, to promote Tamil language and culture. It also publishes books, magazines, and journals in Tamil, which are widely read by Tamil enthusiasts across the world.
Today, the Madurai Tamil Sangam continues to thrive, and its activities are supported by a large number of Tamil enthusiasts, scholars, and cultural organizations. If you are interested in learning more about Tamil literature, language, and culture, visiting the Madurai Tamil Sangam can be an excellent way to start your journey.
Madurai is also famous for its cuisine, which is a unique blend of South Indian and Sri Lankan flavors. Some of the popular dishes include idlis, dosas, sambar, and rasam, as well as a variety of seafood dishes. The city's street food culture is also worth experiencing, with numerous stalls and eateries serving a variety of snacks and sweets.Here are some popular Madurai foods:
Idli: A steamed rice cake made from fermented batter of rice and black gram, commonly served with coconut chutney and sambar.
Dosai: A crispy crepe made from a batter of rice and urad dal (black gram), usually served with sambar and coconut chutney.
Pongal: A savory rice and lentil dish cooked with ghee, cashews, and spices, often served with coconut chutney and sambar.
Jigarthanda: A popular cold beverage made with milk, almond gum, sarsaparilla syrup, and ice cream.
Kothu Parotta: A popular street food made by mixing shredded parotta (a layered flatbread) with vegetables, spices, and meat (optional).
Meen Kuzhambu: A spicy fish curry made with tamarind, coconut, and a blend of spices.
Chettinad Chicken: A spicy chicken dish made with a unique blend of spices, including star anise, kalpasi, and fennel seeds.
Appam: A soft and spongy pancake made with fermented rice batter and coconut milk, usually served with vegetable or meat curry.
Atho: A Burmese-inspired street food dish made with flat rice noodles, vegetables, and a tangy sauce.
Kari Dosai: A dosa stuffed with spicy mutton curry
In addition to its cultural and culinary attractions, Madurai is also an important economic hub in Tamil Nadu. The city is home to several industries, including automobile manufacturing, textile production, and software development. The presence of several prestigious educational institutions also makes Madurai a center of learning and research.
Overall, Madurai is a city that offers a unique blend of ancient heritage and modern development. Its rich history, cultural diversity, and vibrant cuisine make it a must-visit destination for anyone traveling to South India.
Reader insights
Be the first to share your insights about this piece.
Add your insights