Spark 7 T - 5 Reasons to Buy Tecno Spark Series
Reasons to Buy Tecno Spark Series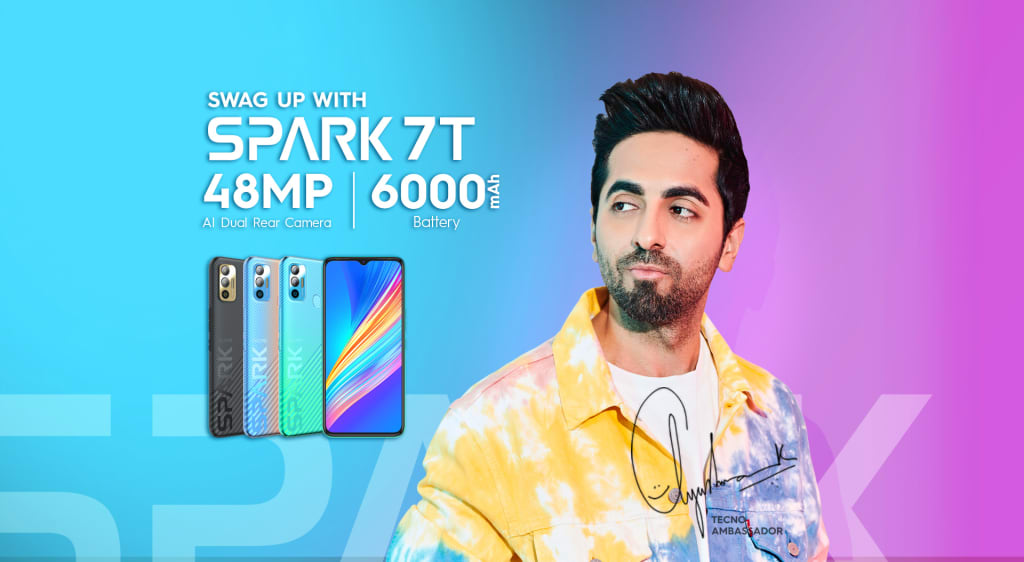 Spark 7T
Since storming into the Indian mobile industry, Tecno Mobile, the first mobile phone brand of Transsion Holdings, has rocked the smartphone scene with the launch of a series of high-spec mobiles new models. The Hongkong established tech company is huge across countries like North Africa, South America, Southeast Asia, and the Middle East. And the brand is now expanding in popularity and reputation in India due to its trail-blazing pricing strategy that makes flagship-class smartphones available within easy reach.
Among the various series under which the brand offers its devices is the Tecno Spark series that guarantees to deliver what it promises and gives tough competition to Indian company mobiles. The brand recently launched Tecno Spark 7T, which brings perfectly proportioned forms and best-in-class functions together under one playful roof.
Spark 7T is an affordable smartphone that rises above and beyond its price tag, offering a fair share of exciting features. That's not only due to the power of the Helio G35 Gaming Processor chipset but also because of the other excellent specs it is furnished with. Offered at a highly affordable price, it undoubtedly dazzles most departments. One of the most striking aspects of Spark 7T is its front surface, almost entirely covered by the screen. This device is one of the most well-priced and the best Android phones in India that offers a 48MP AI dual-camera setup.
If you are hunting for a modern, nice-looking smartphone at a reasonable price but are sceptical about the brand or its offerings, we have outlined five solid reasons to consider this latest Tecno mobile.
Amazingly Affordable Price
Tecno has designed a range of high-performance devices that undercut rival smartphones by an impressive stretch. The Tecno Spark 7T is fitted with the best in class, small but mighty octa-core, Helio G35 Gaming chipset that powers some of the best devices. And instead of scrimping on specifications, this smartphone is packed with high-class features found in devices costing upwards of twice the price.
Dazzling, Ulta-Clear Display
This Tecno phone display takes your visual feast to a new and more delicate realm with bright, vibrant, and rich colours popping off the screen. The brand follows the trend for large, thin displays and even a cheaper Spark model like the Spark 5 Pro is fitted with a jumbo 6.5-inch Dot-in display with a 720*1600 resolution. The Spark 7T features Dot Notch screen technology, so you'll enjoy the exceptional contrast and ultimate black levels that these kinds of screens deliver without the price tag that they usually command.
Powerful Battery Unit
The device comes with a flagship-rivalling performance and a long-lasting battery life. With the massive 6000 mAh battery, the device can run for impressive hours in most battery tests and stand by for 30 days. With such a battery module, you do not have to worry about looking for portable charges and sockets every other while.
Classy Camera Module
In the era of quad and triple-camera setups, the Tecno Spark 7T comes with a dual AI camera, which might sound not so promising to most users, but come to think of the use case and price point, you'll end up appreciating the high camera quality. The 8MP front camera comes with a quad-flash and has a smile snapshot feature to capture pictures with just a smile. The 48MP dual AI rear camera allows you to blur backgrounds like a pro, sharpen edges, and there's a video bokeh feature that gives a cinematic view to your videos. The cameras perform exceptionally well in low-light conditions as the newly-added AI feature enhances and brightens the dark background.
A Storehouse of Remarkable Features
Apart from the hardware and the software, Spark 7T has some outstanding features like:
Kids mode to track and monitor your child's online activities
Vault 2.0 to hide away your apps and gallery from prying eyes
Peek proof design to guard your privacy and security against shoulder surfing and snooping eyes
These and many other excellent attributes and features make the Tecno Spark 7T a device worth buying!
gadgets
About the author
I'm Isshu. I'm a blogger who love to share informative content. I am a fan of music and design.
Reader insights
Be the first to share your insights about this piece.
Add your insights