Smart Construction: Build Smarter With Artificial Intelligence
Build Smarter With Artificial Intelligence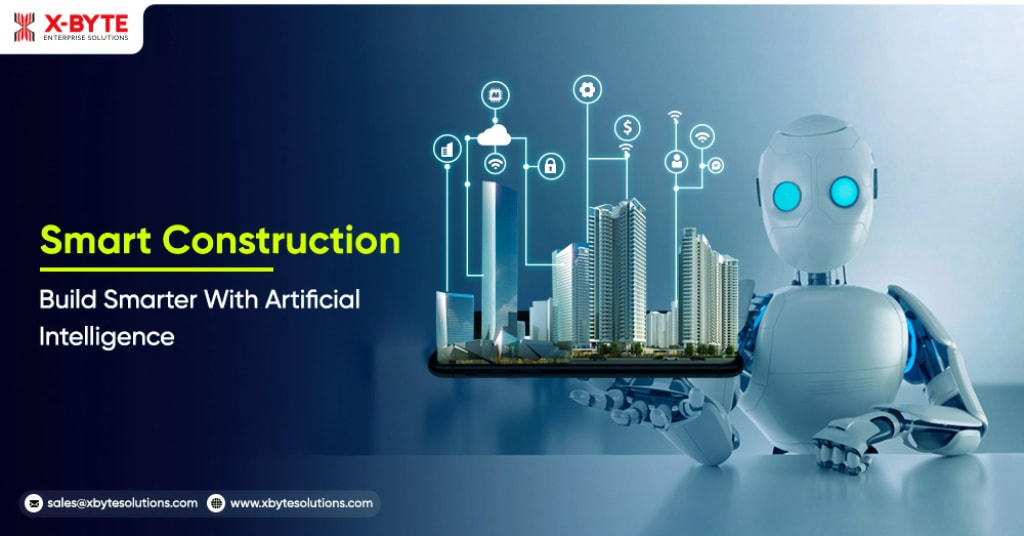 AI or Artificial Intelligence has been contributing a lot to make our lives easier. Today AI can be seen in different spheres like digital assistants Alexa, Google, Siri, etc Now, users are enjoying using AI technology through their smart devices.
Just like other sectors, AI has also entered the construction sector transforming the construction process significantly. It helps the construction industry to gain more profits and offer security and quality projects.
Construction industries need to streamline their workflow to meet the challenges like funding issues, low profitability, time constraints, safety concerns, etc. To overcome these challenges digitization is the only solution.
Construction firms that adopt this technology would enjoy more benefits than the others in competition. AI in construction industry can be utilized to identify the issues and prevent past mistakes. Artificial intelligence in construction industry can help the industry in multiple ways.
Smart construction needs integration of AI in construction industry. Let us understand how AI can assist the construction industry to gain maximum profits
Contribution Of AI To Construction Industry To Enable Smart Construction
1. AI-enabled Insights Improve Project Design task
Today, the construction design process is not up to date. This slows down the construction process. So, contractors and builders can use AI in building design to extract more data from current material data, building data and information gathered from surroundings for instance to identify the best possible method for project design and development.
2. AI Helps Reduce Time-Consuming Tasks When Integrated During The Project Management Process
The construction process is filled with time-consuming and complex tasks. The project manager controls the project, assigns work, and maintains records. All these tasks are done manually which consumes a lot of time and money.
With Artificial intelligence solutions, you can carry out these regular tasks with perfection. Yet another AI benefit is the automation of task allocation. With an AI system, the tasks allocation is automated. It helps allocate the tasks to employees according to their availability, expertise, and efficiency based on the information collected from them. This makes the process organized and helps workers focus on their respective expertise.
3. Enhanced Data Collection And Analysis From The Work Site
AI construction equipment helps take 3D pictures of the building sites for organized work processes. The information gathered along with 3D images can be entered into a neural network that categorizes the different aspects of the project.
It helps the management team to find out the smaller issues before they could result in bigger issues. In the coming years, algorithms will evaluate countless alternatives for similar projects by implementing an amazing AI technique -"reinforcement learning," that enables algorithms to understand through trial and error.
4. AI-Supported Vehicles Boost Productivity
Not many but a few companies are introducing machines that are self-driven and can perform repetitive tasks efficiently like concrete pouring, excavation, bricklaying, demolition, and welding.
With the help of a human programmer, bulldozers can create accurate worksite dimensions. This helps the workers spare time which can be invested in other construction tasks. It helps finish the project on time.
5. Geospatial AI and Drones For Effective Land Surveying And Mapping
Geospatial AI (GeoAI), Drones, and GIS (geospatial information systems) assist in reducing the time taken to collect survey maps as well as aerial photos of the construction site.
Drones help track the project issues and updates on the site. It helps get more details for making informed decisions and better project management.
6. Improved Safety Of Construction Site
Accidents and danger is always the concern on the construction site. Often there is a risk at the construction site for people who collectively work on the site.
Artificial intelligence industrial applications and machine learning tools can be utilized to monitor and prioritize the possible risk on a construction site. It becomes easy to categorize contractors and subcontractors according to the risk levels and prioritize certain things in safety management. It enables the project manager to work with high-risk workers closely to reduce any kind of issues.
Also, construction site automation offers higher security. For example, wearable sensors help monitor employees and send warnings in case they meet an accident.
7. Improved Offsite Construction To Speed Up Project Completion
Construction is relying on offsite factories run by autonomous machines. When it comes to the production line, autonomous robots are efficient enough to build different structures like slabs, columns, etc much faster than humans do.
When autonomous machinery takes of these jobs workers can focus on other important tasks.
8. Machine Learning & Data Analytics Handle Huge Database
Machine learning techniques learn from huge volumes of data they come across daily. Machine learning creates data analytics applications reliable with time and more data is available in the long run.
Machine learning & data analytics applications are utilized to perform data analysis based on the data generated by drones, smart apps, and security sensors to maximize construction workflow.
9. Of Site Operations Tracking Is Automated
Hard data can help construction companies to make smart decisions which are possible if they automate the tracking process. Artificial Intelligence can be used to capture, track and find anything that enters and goes out of the construction site. It includes equipment, individuals and vehicles, etc.
Automated tracking can help monitor the construction sites well. It helps send out updates and warnings for prompt actions.
It helps prevent safety risks, monitor expenses, and supplies and maintain employee productivity.
10. Optimized Construction Business Structure
Today, it becomes easy for Artificial intelligence services to know the clients' requirements better. Hence, AI is used in different sectors to know customer needs and behavior to offer personalized brand experiences. The same idea is applicable for smart construction. The new techniques of construction will be based on data-driven results to understand clients' needs.
Smart construction will foresee consumer patterns helping companies to modify their business structure to real-time demands. Construction companies relying on AI technology will be in a better position to forecast the exact combination of services that works for their clients.
Final Thoughts
AI is becoming the backbone of any construction project right from design to completion. The technology has offered multiple benefits to the construction sector to make it smart construction. So, it is important to understand how AI can help construction take care of the challenges, ensure safety and deliver quality projects.
If you are into the construction business then choose artificial intelligence solutions to simplify the construction process. Without any doubt the future of AI in construction is bright and soon it is going to become a must-have technology to complete construction projects efficiently.
So, do not wait to integrate AI into your building process. Hire an expert AI app development company to help you get started and embrace AI benefits soon. If you are still shortlisting artificial intelligence development companies then look no further to get in touch with X-Byte Enterprise Solutionsa reliable AI app development company that can offer the best AI solutions for smart construction. Connect with us to know AI app development costs for your construction project.
| Read Original Blog Here: Artificial intelligence development company usa
| Contact us: +18322517311
| Email us: [email protected]
tech news
About the author
X-Byte Enterprise Solutions is a progressive technology company aiming to enrich businesses, startups, and enterprises with cutting-edge development and technology services.
Reader insights
Be the first to share your insights about this piece.
Add your insights