Smart Bathroom TV in Mirror with WiFi to Enjoy Every Moment
What can be better than taking a relaxing bath? Only to take a relaxing bath, while enjoying your favorite show! It is now possible thanks to a smart bathroom TV with WiFi options!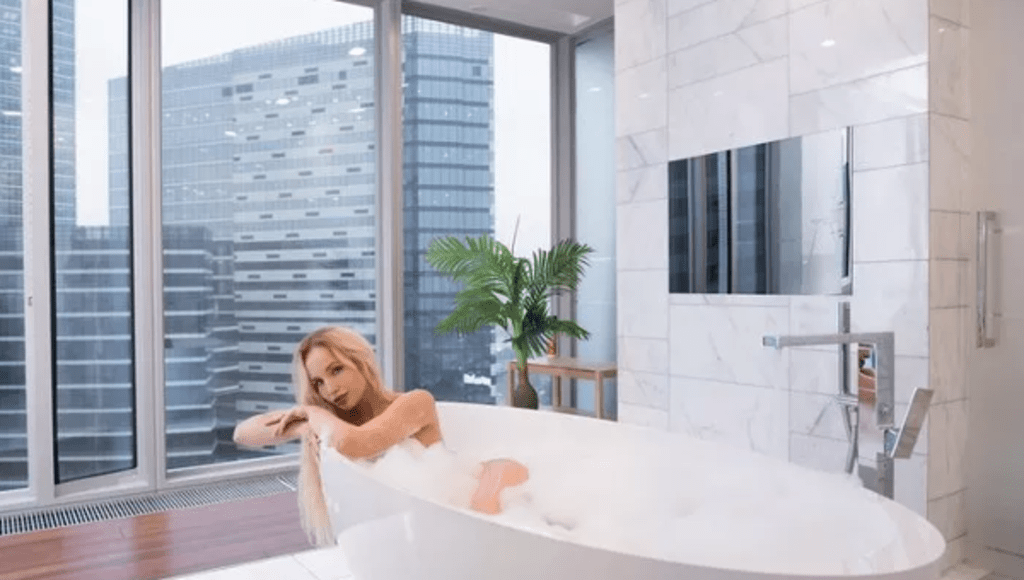 Waterproof Mirror TV
You can relax, and enjoy every moment of life with one of the beautifully designed waterproof TVs incorporated with advanced technology, including integrated Digital Tuner, and high-tech LED screen with great viewing angles. These cutting-age bathroom TVs with WiFi, and stereo sound options represent the newest generation of smart television.
AVIS Electronicsoffer a full range of high-quality TVs with stunning HD picture, and great sound under a beautiful mirrored surface to satisfy every taste and budget.
AVEL models include the following screen size: 23.8" / 27" / 32" / 43" / 47" / 55" and 75".
Television looks like a plain mirror when it is off, and turns to a TV when it is on. Magic Mirror effect is provided by semi-transparent mirror glass that reflects the light when the screen is off, but transmits the light of the screen when it's on. For good mirror TV performance, there should be the right balance of reflective and transmitting rates. Contrast and colors are distorted by the mirror. That is why it's not easy technically to find the right combination (magic mirror + LCD/LED panel), and it's also more expansive than regular TV models.
AVIS Electronics know a lot about this "balance," and use different mirror types, and different LCD/LED panels for each size for better real performance.
Of course it's real glass, and not acrylic used for this Mirror's TV. So you can be sure it will keep perfect appearance for years.
The TV set in a bathroom should be absolutely waterproof, no matter whether you hang it above your bath tub, or replace your mirror with a Magic Mirror TV set. The reason for this is simple—your life and safety. Under the conditions of constantly high humidity, there is a danger of getting a non-waterproof TV set quickly corrupted, and even the best-quality TVs will break quite soon, let alone the danger of short circuit. All AVEL bathroom TVs are completely waterproof and safe, with the protection grade IPX4—which guarantees their total insulation, and immunity to moisture in the bathroom—the certificate was issued accordingly. The front of this TV is absolutely water-resistant, and can be installed in a shower, spa, or swimming pool where the water can be sprayed on the screen directly. Also TV can be installed in a wall (recess), and sealed properly. For your convenience AVEL equips TVs with waterproof IR remote control (IP66 grade) by default.
All the TVs can be optionally equipped with a built-in screen mirroring board. The board can be connected to a home WiFi router, or directly to a smartphone or tablet with iOS, or Android OS. With this feature users can easily share videos, pictures, and other content, and watch it on a big TV screen. Phone or tablet screens will be mirrored on the TV screen with sound, and it's a great wireless way to show pictures or videos to friends, enjoy your favorite APPs, or watch YouTube, and control it with the gadget you are used to mostly.
Like any other TV, AVIS Electronics TVs have HDMI inputs, and can work well with Apple TV, Amazon Fire TV, Xiaomi Mi Box, or any other Smart, or Android, device with HDMI out.
AVIS Electronics TVs have vibration invisible speakers. This speaker type makes the front glass of a TV shake and generate the sound.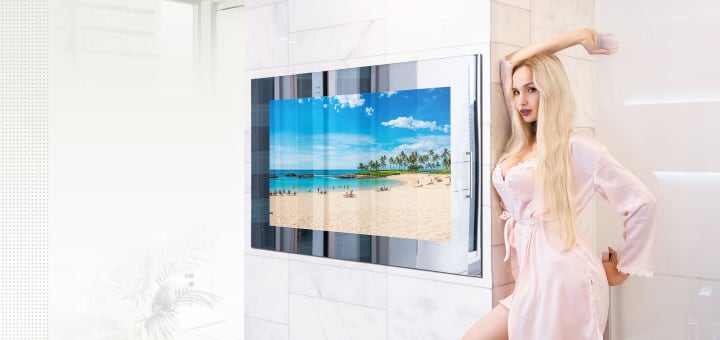 With such a choice of only the best AVEL models, you are sure to find the exceptional bathroom TV with WiFi you have always dreamed of. Television has never looked or sounded better!
So what are you waiting for? Bring a world of unlimited entertainment into your home now!