Ron Navarreta on Cybersecurity Threats of 2022
Based in Anaheim, CA, Ron Navarreta shares his insights on the cybersecurity threats on 2022. As an experienced security operations manager, Ron Navarreta is able to provide expert advice.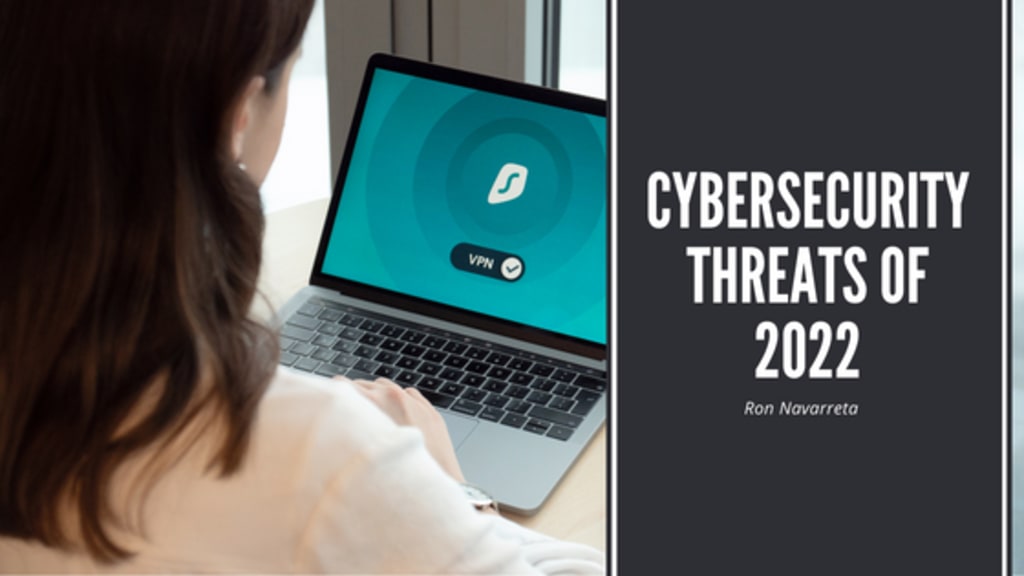 https://ronnavarreta.net/cybersecurity-threats-of-2022/
The rapid emergence and evolution of digital business models and the increasing complexity of cybersecurity threats have created a critical juncture for risk and security executives. They need to manage the changes in their organization's digital footprint and ensure they have the necessary skills and resources to protect themselves.
One of the most important factors that businesses and individuals can consider when protecting themselves from cybersecurity threats is proactive protection. This report explores the top 10 cybersecurity threats expected to affect the world in 2022.
Stealing Data for Ransom
There are various types of ransomware, but the basic concept is the same: You must pay a ransom to access your data. Usually, attackers will follow up with a second ransom to prevent the stolen data from being sold online.
The final step in a cyberattack is ransomware, typically the payload that an attacker deploys after gaining access to a victim's network. The first step in this process usually involves phishing or social engineering attacks. Once they have a foothold in a network, they can then start to deploy ransomware on all the devices they can reach.
Phishing and Email Impersonation
One of the most dangerous techniques that cybercriminals use is social engineering, mainly because it relies on human error. This makes it easier to trick a person than it is to break a security system.
In 2022, social engineering attacks such as email impersonation and phishing are expected to continue to evolve due to the increasing number of new tactics and technologies. For instance, the rise of cryptocurrency-related attacks is expected to remain a significant threat.
More Identity Theft
The increasing number of attacks on identity systems is expected to continue to make this a primary target for attackers. They are also likely to use misuse credentials to access their targets. A term that describes a collection of processes and tools designed to defend identity systems is called IDR. In the long run, more consolidated solutions will emerge.
Third-Party Exposure
Through third-party exposure, cybercriminals can easily access a victim's security system by hacking networks that are not protected by security measures. As more companies rely on third-party contractors to complete their work, this type of exposure is expected to become a growing concern in 2022.
ABOUT RON NAVARRETA
Ron Navarreta is an experienced security operations manager based out of Orange County, California. He has amassed nearly 30 years of experience within the law enforcement and private security industries, honing his emergency management, leadership, and operational skills. Ron specializes in comprehensive security programs, workplace violence and threats, sports and special management, and emergency preparedness, among others.
After an extensive and successful career in law enforcement, Ron Navarreta went back to school in 2015 to earn a Bachelor's in Criminal Justice. During the same time, he entered the corporate security industry and began working for a small security consulting firm based in Los Angeles. Several years later, he transitioned into the specialized area of healthcare security. Ron Navarreta, who had always loved the ability law enforcement gave him to work with others, relished in the new position. Here, he was able to help coach and instruct not only his personnel, but the employees at the businesses he worked with.
Ron's love for the field only increased, leading him to pursue and obtain a Master's degree in Security Management. Ron Navarreta has also earned numerous certifications from recognized government organizations and industry leaders that cover a range of security and safety issues. His long career has given him strong leadership attributes and emotional intelligence skills that help him better instruct and perform his duties.
About the Creator
Ron Navarreta is a security operations specialist in the critical infrastructure space and an ASIS International board-certified security expert (CPP®) with experience law enforcement and private sector safety and security experience.
Reader insights
Be the first to share your insights about this piece.
Add your insights