Quick fixes for Media Creation Tool Error 0x80042405-0xa001a
Media Creation Tool Error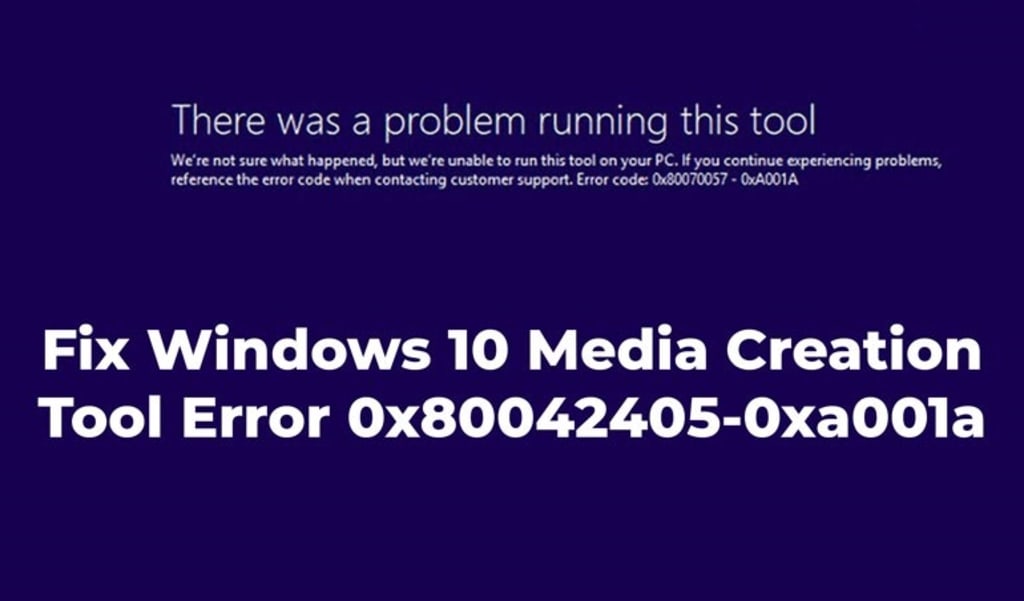 Quick fixes for Media Creation Tool Error 0x80042405-0xa001a
Sometimes, you might have encountered an error code 0x80042405-0xa001a while using Windows Media Creation Tool, which is mainly used for creating bootable USB devices for installing Windows in your system. This error message generally appears at the time of making a bootable media, and the issue is mostly related to disk settings. You need to apply some troubleshooting methods to fix this issue.
Common causes for Windows 10 Media Creation Tool error
There are multiple reasons which may cause Windows 10 MCT error code 0x80042405 - 0xa001a to appear on your screen. Given below are some possible scenarios that might encounter this error code.
You didn't run the MCT from your USB drive in which you want to create an installation media.
There might be some shortage of disk space on the USB drive that you need to create installation media.
This issue can also occur if the USB is not formatted as an NTFS file system.
Some third-party antivirus application running on your system might cause issue while running Windows 10 Media Creation Tool.
Apply some troubleshooting methods to get the issue resolved irrespective of the actual cause of this problem.
Workarounds for Windows 10 MCT 0x80042405 - 0xa001a
You can apply any of the following methods to know how to resolve Windows 10 setup error 0x80042405 - 0xa001a.
Use a different USB port: Sometimes the issue might be because of front USB ports of your system. In such a case, you need to move the USB disk to another USB port. It is recommended to use port(s) at the back I/O panel to keep the Media Creation Tool executable in it. Many users have also advised that using the USB 3.0 port might resolve such issues.
Disable your anti-virus program: You can also disable the anti-virus program present in your system. Temporarily disabling the real-time scanning option can help you to re-run the MCT without any issue.
Format the USB Drive to NTFS: In some cases, formatting the USB drive to NTFS can help you to resolve the issue flawlessly. You can also use the USB drive to boot the problematic system. Using a FAT32 USB drive to create an installation media with Windows 10 Media Creation Tool can also help you to resolve 0x80042405 0xa001a error code.
Use Rufus to create Installation Media: You can also use Rufus utility tool to format and create a bootable USB flash drives. Rufus is considered as a popular alternative to Windows Media Creation Tool. It is known because of its speed and many other aspects such as flashing BIOS or working on a system without any OS. But, you must have an ISO file downloaded locally on your system to apply this method.
If none of the above methods help you to resolve the issue, copy the Media Creation Tool to the USB drive and run it from that drive instead of from your hard drive. For this, you need to download or copy the tool in the same USB drive that you are choosing to use as an installation media. If you already have the MCT on your system's hard disk, copy it to your USB.
how to
I am content writer & writing content since 10 years. I am writing the content on Tech issues and providing the readers to resolve the windows issue.
https://promptresolve.com/