Proper Management of the E-Commerce
Cyberspace allows people to create electronic stores and engage in virtual commercial activities. Such activities also require certain control and regulation, both by means of legislation and moral norms. It is necessary to find out what and how an organization should do in order to carry out its activities effectively.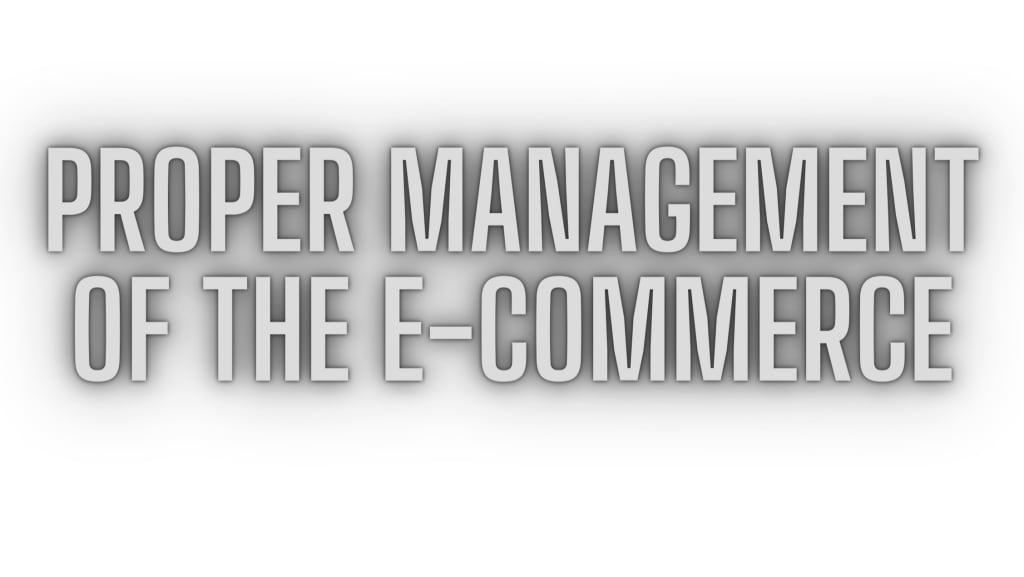 Controlling e-commerce
The Internet is used in today's society in all areas, including business and services. As a result, creating an electronic store and other types of virtual commerce are made possible by cyberspace. However, these actions also need to be subject to some control and regulation, through both legal and moral standards. To carry out its activities successfully while abiding by rules, an organization must learn what and how to accomplish it.
Property Protection
Prior to that, it needs to be made clear that an example will be regarded as a website resource for the delivery of legal services. Plagiarism, theft, and, in the worst circumstances, the seizure of electronic assets by force or hackers, are issues that affect every successful IT or Internet enterprise at some point or another. Criminals target both simple internet stores and the most sophisticated technological platforms. Different criminal kinds exist:
Software code theft by developers, website and domain name squatting, unauthorized product duplication, website plagiarism, and unauthorized trademark usage;
theft of proprietary commercial elements (Min Chung & Youjeong, 2017).
Materials get copyrights as soon as they are created. It is illegal to utilize someone else's photographs, text, or video for personal or commercial advantage, and to claim authorship over them. The material's creator invested both time and money in producing it. For instance, if someone is creating an online store and hasn't gathered images from the "Internet," hired a photographer, paid for his services, and considered how to improve the pictures, they want to preserve their assets (Min Chung & Youjeong, 2017). The individual does not require registration of items, such as with the firm name, to protect copyrights. The material is not protected by the copyright mark. Knowing who to pay money to for commercial use or knowing how to cite the copyright holder in a citation both help.
The best course of action is to concentrate on gathering evidence for a trial because it is challenging to prevent these kinds of crimes. A unique aspect of protecting electronic intellectual property is the requirement for the owner's title documents because without them, there would be no object of the violation, and it would be clear that the thief did not break the law by stealing program code that belonged to no one. The worldwide nature of Internet crime, as well as the flaws and variations in the legal systems of many nations, make it difficult to safeguard intellectual property on the Internet. There are remedies, though. For instance, in the European Union, the protection of intellectual property on the Internet can be based on the European Commission's recommendations, which are binding on all EU members and function as a sort of "superlaw" in disputes involving foreign courts. Although the law in the US is more convoluted, it is the same in all 50 states.
However, the company needs to register legally and secure patents for all of its future electronic assets. This will have the effect of making all activities carried out by this group legal and legitimate. Therefore, any engagement with such an organization will be bound by the same laws and obligations as regular interactions with physical organizations. Despite all of this, the organization still needs to be ready for regular changes in tax legislation.
Additional Professionals
The fact is that this issue can be resolved pretty quickly, but it needs to be permanently under control. It makes sense to establish a distinct, full-fledged role or department in charge of the activity's legal component. Because tax legislation is frequently computerized, changes occur "by default." In other words, changes to an organization's activities will be made without the managers' knowledge if they are inactive and lack initiative. These can hurt the company's finances, and automated systems like this are prone to mistakes. The organization's legal department should conduct routine monitoring and document-filing to report to the appropriate authorities in order to prevent mishaps in this area. Additionally, it will be the responsibility of lawyers to continuously monitor changes to the law. Such control will eliminate errors, possibly reclassify the organization, and provide timely warning of changes.
Work on Privacy
It makes sense to emphasize the privacy of client information and business transactions when choosing an organization to provide legal services. In addition to having its own charter, such a company must be officially registered, as was already mentioned above. The scope of personal data protection should be specified in this legally binding document. The Privacy Policy states that the management of the online store is required to keep the personal information of users who register on the website or place an order to buy items strictly confidential. Such a document will both impose more obligations on the company and increase the degree of trust of clients who might be apprehensive or have reservations. It is significant to remember that such information should be accessible to the general public, for instance on the organization's website. This will enable the client to become familiar with all pertinent concerns and decide in the business' favor before cooperating.
There is a purpose for interacting with the databases that the organization will use. Because e-commerce involves the purchase and payment of goods, the availability of personal accounts, and consequently information, databases are actually essential. All data should be kept in secure databases that can only be accessed by those with the proper authorization and a representative of the organization in issue. Since the business offers legal services, a lot of sensitive data may be kept there that, if disclosed, could cause issues for the customer. This calls for a designated entity, primarily programmers, who should supervise the database in order to safeguard, alter, and delete superfluous information. The company must function quickly and flawlessly otherwise it will not be competitive (Matzat & Snijders, 2020). This can be explained by the fact that the customer does not consider how many programs are required to fulfill his request, but instead chooses to use a competitor if there are delays or disruptions.
The elimination of errors is a further key factor justifying the need for a separate, fully-fledged corps of programmers within an organization. The fact is that since business activities involve money and mistakes can result in financial loss, any errors pose a risk to the corporation. Customers may perceive it as a deception, which carries the risk of legal action and diminished credibility. Finally, the success of such a firm can be aided by biblical ideas. For instance, diligence and integrity are Christian qualities that apply to managerial actions in this field.
Biblical guidelines
Analyzing this element leads to the conclusion that the manager bears accountability in addition to the departments as a whole as members of the organization. Customers can still be duped more easily online than in actual stores, that is a reality. And in this situation, it makes sense to follow and be guided by the fairness principles (Henry, 2020). After all, they will support the manager and the project manager in maintaining a thriving, ethical firm by preventing them from taking advantage of the possibility for illegal acts.
About the Creator
hello world
my name is indika sampath so I'm a article writer. you also can learn by reading somethings that important things.
thank you so much for visiting my profile
Reader insights
Be the first to share your insights about this piece.
Add your insights