Pick a Bike, Give a Bike, with the Story Electric Bike
The Story Electric Bike is an environmentally friendly bicycle on a philanthropic mission.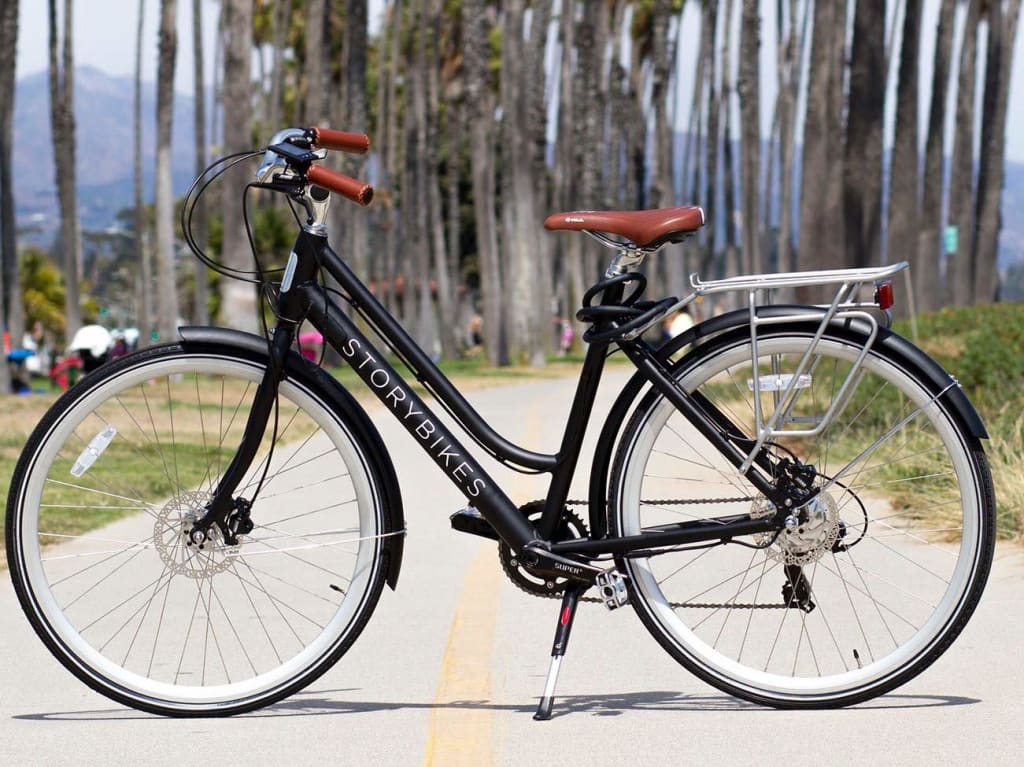 It is very rare you come across an item on the market that is not only technologically modern and sleek looking, but that is also environmentally friendly and gives back to those in need. However, at least one such item exists, and it is that has become a true dream for city living, those looking for ways to make the most of their commute, or anyone who loves to ride. Introducing the fast, quiet, and powerful Story Electric Bike, the perfect unisex bike, made with high performance and efficiency in mind. Not only does it have a lightweight and classic design that puts the modern bicycle to shame, their mission is one that should be enviable for most companies today. You see, for EVERY Story Electric Bike sold, one Buffalo Bike is donated to those in need globally; hence their motto: "Pick some wheels, give some wheels."
The Story E-Bike Founders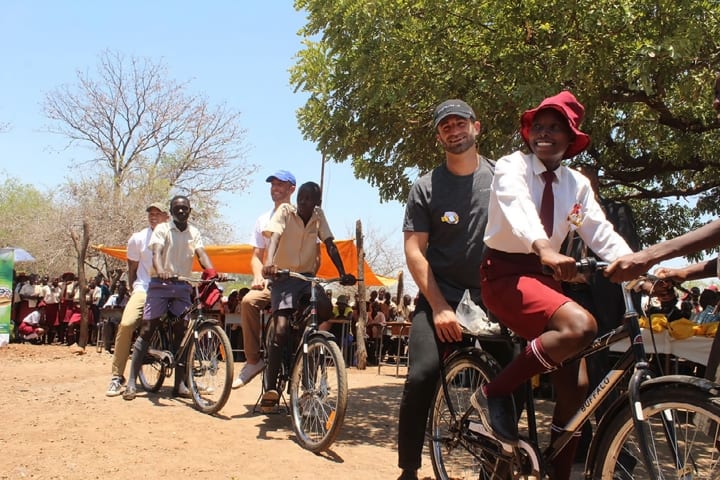 When it comes to purchasing a bicycle, consumers usually solely focus on the product. What tires are used? How heavy it is? What do actual customers have to say about it already? However, that's where the inquiry usually ends. What about the start of the company and the inventors and investors who stand behind it? I mean, this isn't an ordinary bike purchase from Cycle World, this a bike with a story.
Matt, Mark, and Jason founded The Story E-Bike in early 2016 and possess the perfect trio of backgrounds to create this successful, meaningful, and lasting company they now have. With Jason working in the technology industry, Matt's retail and product management experience, and Mark's passion to invent, all three of these men have played a crucial role in the development and execution of the Story Bike. Of course, all three have something else in common, and that is their love to ride and their aspirations to give back. They used their own personal experiences with cycling, from street riding to competitive racing, and set out to create a bike that was perfect for an on-the-go lifestyle made with premium parts. Lucky for them, they were able to do just that.
After pairing up with World Bicycle Relief and Greenline Africa Trust, the three men visited the small village of Jambezi, Zimbabwe where they were able to meet the families and visit the local school. They even got to take part in a ceremony where 120 students received bicycles as long as they were committed to giving children and parents a sense of hope, responsibility, and motivation by allowing them to attend class regularly and help improve household liveliness with the use of the bike.
The Story Bike Design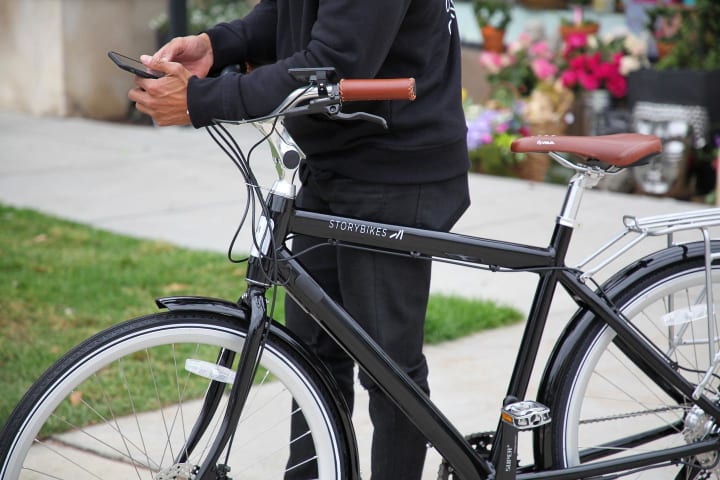 While this may look like any other ordinary bike, that it is not. With a powerful, 350 watt rear-hub electric motor, it allows riders to cruise up to 20 mph with seven levels of pedal assist guaranteed, lessening commute times substantially. There is also an LCD screen conveniently positioned between the handlebars to control the pedal assist, as well as giving the rider the means to track and monitor distance, speed, and battery level.
The 36v 7 AH Samsung rechargeable battery, which is hidden within the lightweight aluminum frame, allows riders to travel 45 miles with one charge. Speaking of chargers, the Electric Story Bike has its own USB, so you can power up any device needed as you ride. Then simply plug your bike into any outlet once you reach your destination, which takes about 3 hours for a full charge, and you'll be set to ride for the next day. How convenient is that?
The tires are from the well-trusted and well-known brand, ThickSlick, which are made with twice the durability than a conventional bicycle. This ensures safety, smoothness, and a longer lifespan of tires (as well as the rider).
Lastly, the Story E-Bike is designed with Shimano gears, which are the best in the business when it comes to fast shifting and improved chain control. Hydraulic disc brakes providing premium stopping power in all weather conditions and a genuine leather Velo saddle seat for comfort and style are also included as a standard feature, making your philanthropic riding experience all the more comfortable.
The bike itself weighs between 33 and 39 pounds, and can comfortably (and safely) carry riders who weigh up to 245 pounds.
The Story Bike Mission
As mentioned, the Story Electric Bike has partnered up with World Bicycle Relief and Greenline Africa Trust, having Buffalo bicycles donated to entrepreneurs, farmers, healthcare workers, students, and more after a bike is purchased. This brings major relief and assistance to communities in the form of shorter commutes, easier travel, and greater carrying capacity, enabling people from all walks of life the same opportunity to succeed as others who have more modern means to do so.
For students, the donation of bicycles can have an incredible impact on a child's education; and since studies have shown that keeping girls in school has a major impact on breaking the cycle of poverty, this is a huge benefit to the world as a whole: It increases attendance and the amount of time they are actually able to stay in school, which in turn improves overall academic performance. It is said students in rural developing countries, more specifically girls (who are given many more domestic duties than boys) often do not have time to travel to school after their daily chores are done. If they do attend, they are often late and tired from the travel. With a bicycle providing a faster and easier commute, there will be higher female attendance in schools, helping students reduce travel time down by as many as a few hours per day.
Those who work in healthcare for the poor can also have a weight lifted off their shoulders as well. For healthcare works in poverty stricken areas, having a bicycle allows more medical visits each day due to a reduced travel time from home to healthcare facility. With more medical attention, there will be less illness and improved health throughout entire communities across the globe.
When it comes to farming and transporting, the availability of a bicycle will allow more goods to be carried to and from markets in less time than ever before, resulting in higher productivity and more resources being traded.
So far, more than 125,000 bicycles have been donated through this philanthropic mission, and they show no signs of stopping.
The Story Electric Bike has three different models you can ride; the Step Through, Road, and Commuter, which are all offered in blue, black, or white. The Step Through, like a cruiser, is made for enjoyable riding, and is intended for flat to slightly hilly terrain, offering single or seven-speed options. The Commuter is built for daily riding with comfort, and comes in single speed or seven-speed with disc brakes, front and back fenders, and an optional rear-mounted rack. Lastly, the Story Road edition can be used for daily commuting or leisurely riding sold in single or nine-speed. It offers all the coolest gadgets, like an integrated USB port so you can charge your phone, a 35 watt battery, an LCD screen, a torque sensing crankset, a 36v battery, and is accented with genuine leather on the saddle and grips. No matter which bike you choose, all are built with the same premium parts and sleek-design, making it a perfect fit for any rider.
The Story Electric Bike, made of trustworthy materials and the latest technology, doesn't come without cost. Listed at $1,800 on both Story Bike's website and Amazon, it seems to be fairly priced in the market of e-bikes. The cost of an electric bicycle ranges widely, with some starting at $600 going all the way up to $6,000. However, if you consider the money saved when one chooses two wheels over four wheels, a way to effectively reduce your carbon footprint with electric over gas technology, and the greater good these bikes are doing for the world at large, the money seems well worth it. Happy riding!