Parler 101: How to Use the Free-Speech Social Media Platform
An unofficial guide for everyone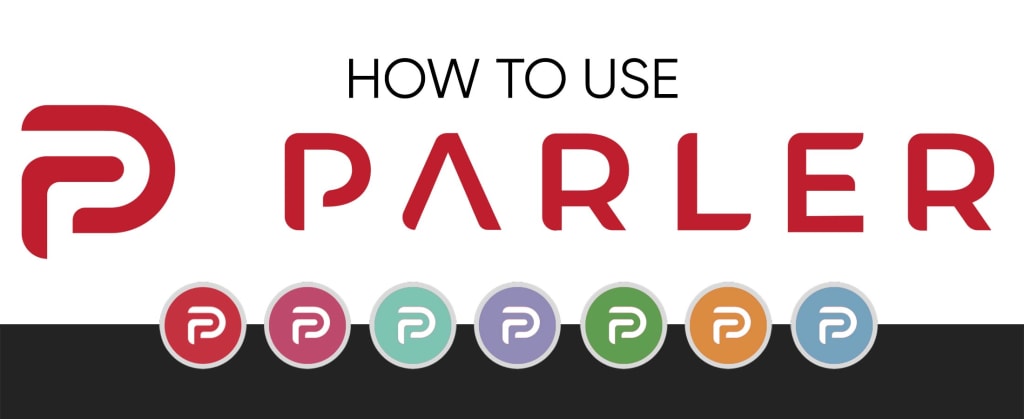 So, you're new to Parler. You're not alone. The bulk of active users are new, a good portion of them having entered the world of Parler during the #twexit movement.
Here, I'll walk you through all the Parler features, and provide tips on getting the most out of your experience.
A little history
Parler launched in August 2018 as a non-partisan free-speech social media platform. A slow-growing network, it took about a year to cross the 200,000 user threshold. In late June 2020, when Twitter banned Carple Donktum and Raheem Kassam, #parler started trending. By July 2nd, Parler had 2 million users. Parler reportedly processed 1.5 million user accounts in the second week of July.
Contrary to popular belief, Parler never sought to become a platform for conservatives. As of July 18th, a "progressive bounty" of $20,000 offered to liberal pundits with at least 50,000 followers on Twitter or Facebook has not been claimed.
Politics not required
Despite thousands of conservatives flocking to Parler, plenty of non-political folks also use the platform. These include creators, business owners, athletes, and others who simply want less noise and fewer rules.
It is entirely possible to use Parler as a social media network without getting involved with political debates.
Note for Twitter converts
While touted as a Twitter alternative, Parler acts differently on many levels. So expect a learning curve.

This guide uses screenshots primarily from the desktop browser version, using dark mode. Layouts in the Parler app may differ, but I've notated differences between navigating the two versions of Parler's platform.
All information here is based on Parler as of July 18, 2020, when this guide was completed.
Parleys, echos, comments and votes
A parley is a post. An echo is a re-post (like a retweet). Comments are responses to parleys. Votes are indicative of approval or disapproval.
Parleys can only be upvoted, while comments can be upvoted or downvoted.
What you can post
Parler has a user agreement and community guidelines. Together, these outline what you can and cannot do on the platform. Parler doesn't tolerate spam, trolling, or terroristic threats. You may also get strikes for:
unsolicited ads.
slander.
libel.
threats.
fighting words (statements made to inflict injury or to incite an immediate breach of peace).
blackmail.
obscenity.
impersonation.
plagiarism.
trademark infringement.
copyright infringement.
bribery.
doxing.
Parler requires you use the Not Safe For Work (NSFW) filter when posting adult content. Before clicking the Parley button, check the box next to Sensitive Content.
Note that Parler's user agreement holds you personally liable for what you post, and provides no user protection should the network be hacked. I mention this so all users clearly understand that Parler poses itself merely as a publisher, and users should govern themselves accordingly.
Verified users
Verification on Parler means you're a "real user," even if you don't use your real name. Verified users get a red badge on their profile picture, and these can later be upgraded to other badge types.
Navigation
Parler's desktop version uses simplified navigation. In the app, footer navigation includes links to Home, Discovery, Notifications, and Search.

We'll be going through all these sections throughout the guide.

Before delving in, you'll want to configure a few things. If you're already using Parler, take a look at your settings anyway in case you missed a few steps.
To get to your settings:
On desktop, click the menu icon. Then click Settings.
In the app, tap your profile picture (if you don't have one yet, tap the circular user icon in the top left). Then tap Settings and Privacy.
Privacy
Here's where you tell Parler if your account is public or private. If you set it to private, only approved followers can see what you post.
Notifications in this section refer to emails Parler sends. You can set this so you'll only receive emails about critical updates.
Security
Here you can change your password or turn on two-factor authentication.
Notifications
Parler lets you decide what winds up in your email inbox. You'll probably want to make a few changes here.
If you're using the app, accepting all the defaults will make your phone's battery drain more quickly.
I recommend you at least turn off these notifications listed under Related to Your Profile:
Influence Network
Parler is designed to allow for the tipping of influential accounts. Here you can choose whether or not you want to be able to tip people or receive tips.
Note that the Influence Program is still in beta.
Edit Profile
Here you can upload or change your profile picture, cover photo, display name, and description.
Theme
You can select the primary color for your profile. This affects the colors used for navigation, buttons, and links. What you choose here is for your profile only. It will not impact how others' profiles appear.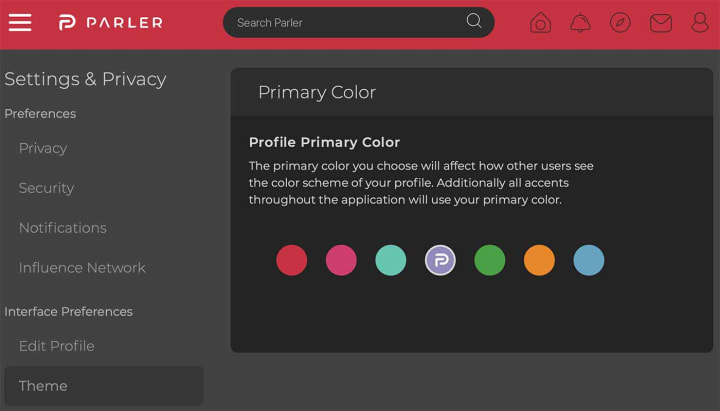 Dark mode
Ideally, dark mode is easier on the eyes and can prolong the life of a device's screen. Parler's dark mode does pose a problem because it only turns the background dark. It doesn't update the overall color scheme.
If you chose a red theme, it might be difficult to read your parleys using dark mode.

Whichever mode you choose, of course, is up to you. To switch on desktop, click the menu icon and then click the moon or sun in the bottom left. In the app, tap your profile picture and then tap the sun or moon icon.
Language
The settings area supports Danish, German, English, Spanish, and Farsi. This does not change the language throughout the website. Once you leave the settings area, everything reverts to English.
In the app, Language is selected in the bottom left after tapping your profile picture. Additional languages are supported in the app, and they affect all buttons and labels.
Badge Selector
If you have earned multiple badges, you can select which one displays on your profile picture.
Getting verified
Anyone can be verified on Parler. It requires showing the front and back of your state-issued ID and snapping a selfie. It's recommended you complete the application through the app, as many users have said it doesn't work through the desktop browser.
Since users have the option to only allow comments from verified users, you'll want to get verified to communicate with everyone.
In the app, tap your profile picture. Then tap User Verification.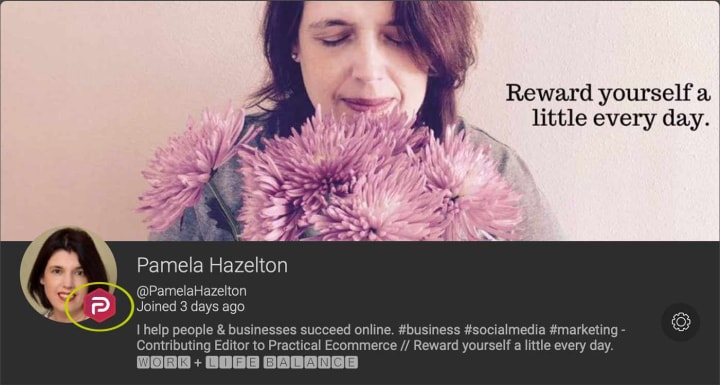 Tapping or clicking any user's badge tells you the type of user (verified, early adopter, influencer, etc.).
If you qualify for more badges, they'll appear under Settings & Privacy > Interface Preferences.

Parler relies heavily on hashtags. If you want to connect with interesting people or be found, you need to use relevant hashtags in your parleys. Unlike Facebook and Twitter, Parler searches users and hashtags only.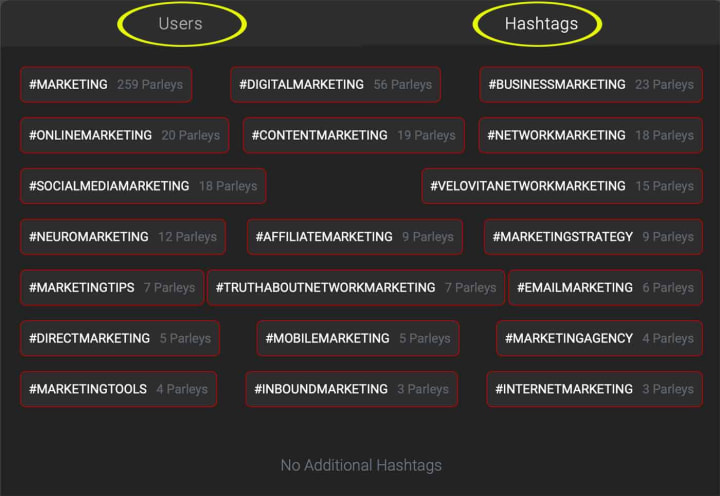 In the example below, Twitter and Facebook would search the entire content of the post. On Parler, it would only come up in results for #parler #howto #help #support #parlersupport. So the only way to locate me via search is with those hashtags or by searching for me specifically.

Hashtags can really be anything, but it helps if you use ones others also use. And the more specific, the better chance of connecting with like-minded people.
I work in marketing. If I find that #marketing is too flooded with content that's irrelevant to me, I can instead select #socialmediamarketing or #emailmarketing. Of course, I'd still include #marketing in my parleys because more generic hashtags have the most activity.

There are a few ways to create a parley.
Two ways on desktop:
Click the + icon in the lower right of the screen.
Visit the main feed page (click the Parler logo at the top of the window) and start typing in the What's New box.
In the app:
Click the + circle icon in the lower right of the screen.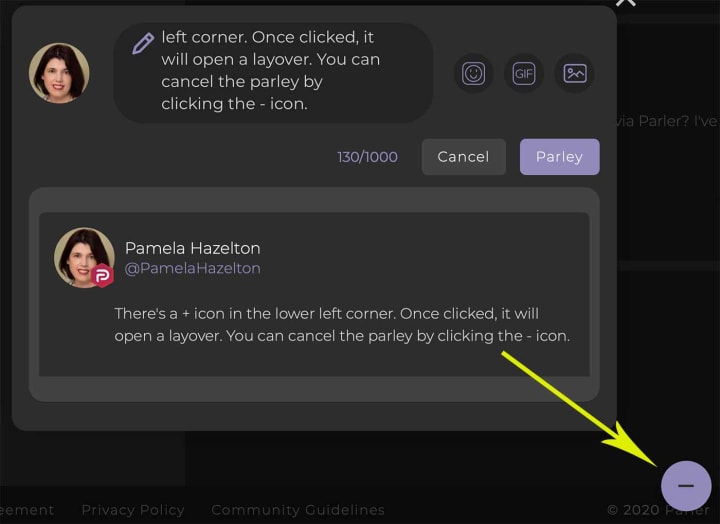 Parler will not alert you if you are about to navigate away from writing a parley. It will not save a draft, either.
Parler gives you 1,000 characters to speak your mind. This doesn't mean you should use them all. As with any other platform, you should talk simply and efficiently.
When formatting parleys, I've found it best to type your message followed by hashtags, rather than incorporating hashtags into the message itself. I have noticed (but can't replicate at the time of writing this) some parleys, whereas hashtags pushed the remainder of the text to the next line.
To tag another user follow the format of @username. In the app, a list of relevant names will appear; on desktop, you'll need to know the username by heart.
To include a link to a website or story, simply copy and paste the link into the parley. I recommend putting this on its own line. Parler will automatically transform the link for you.
Parleys cannot be edited. Review what you wrote carefully before posting.
Composing parleys is slicker on desktop than within the app. The desktop browser version of Parler shows you a real-time preview of your post, making it easier to catch mistakes.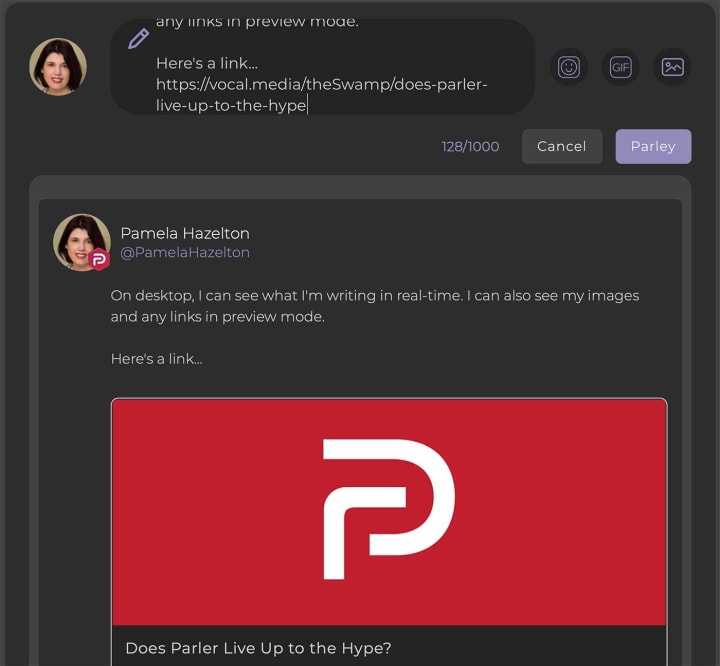 Attaching images
You can upload graphics to your parley. Just click or tap the photo icon.
I've found a good size is 1920 pixels wide x 1080 pixels high (landscape). Portrait images are trimmed (from the bottom on desktop; top and bottom in the app).
Creating a slideshow
Slideshows can be created out of images. While you'll need to upload images one at a time, Parler supports multiple graphics in the same post. It will create a slideshow automatically.
Attaching video
You can upload video to your parley. You can also link to external content, like YouTube videos.
Parler seems to hiccup at times, producing only the video title or link. If this happens, leave the compose window for a few minutes and try to create a new parley.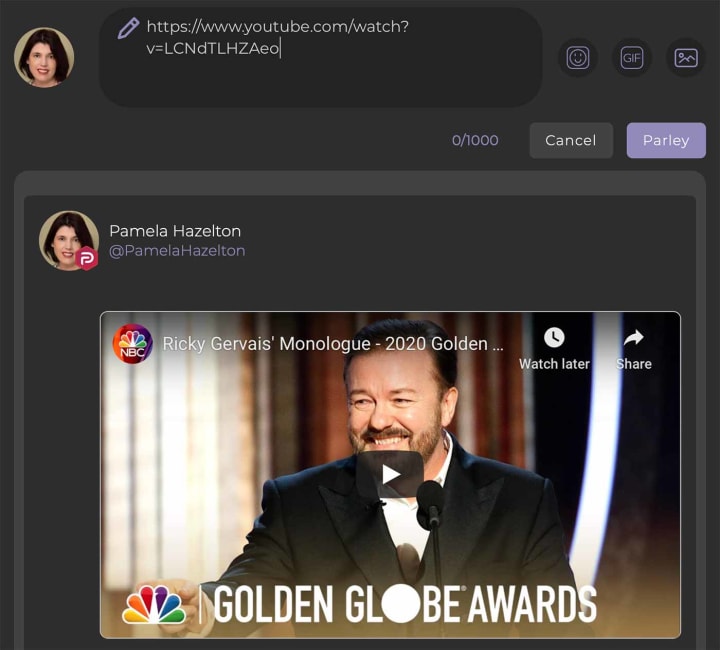 Using emoji
Parler's keyboard doesn't pick up on the iPhone's native emoji suggestion. Instead, you'll need to use the tap the emoji icon to insert them. On desktop, you can click the emoji icon to display the library of supported emojis.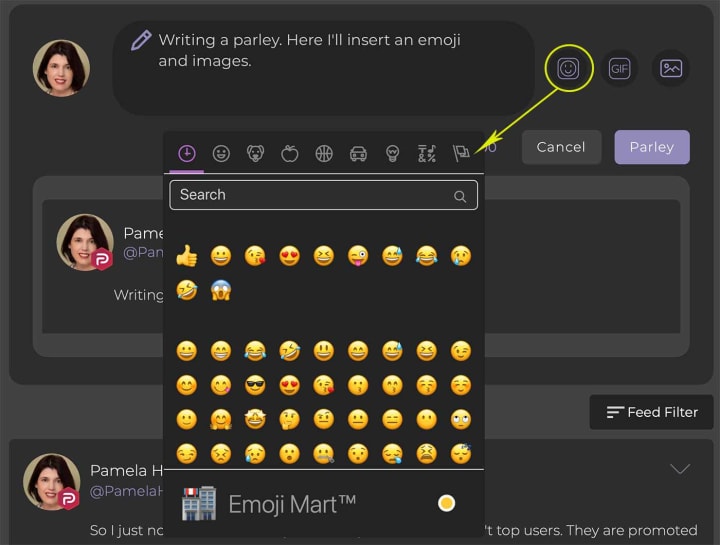 Inserting animated gifs
Parler uses Giphy for gif support. Just tap the Giphy icon to search for your favorite gif to include.

Creating meme-style images (app only)
You can create meme-style graphics on-the-fly. These are based on a photo (you can take one through the app or pull one from your phone's library). Meme creation is one of Parler's more clunky features; it's limited and the text style it uses doesn't align with meme standards.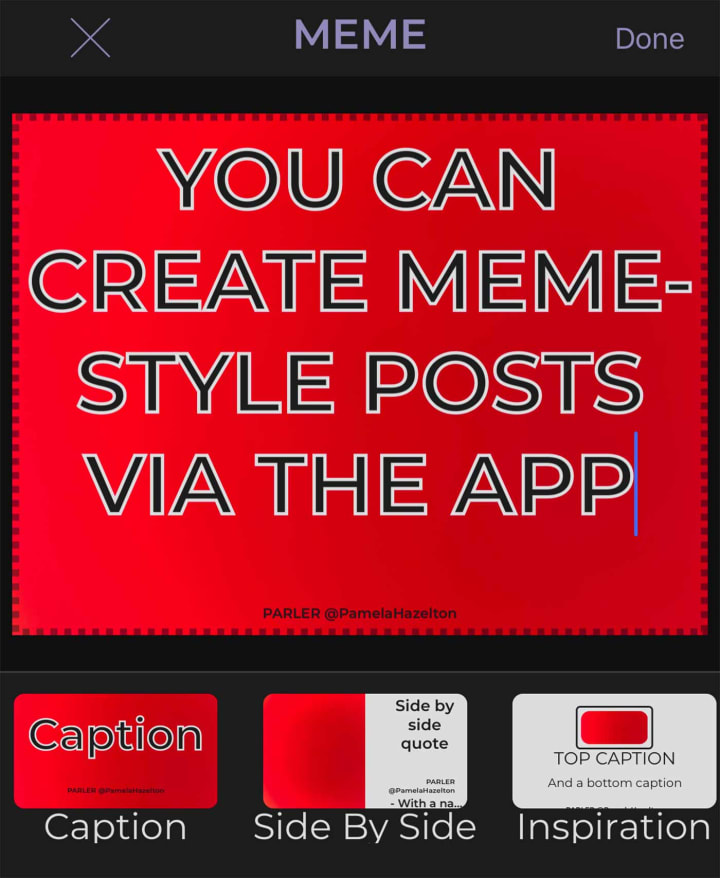 Labeling content as NSFW
When posting content that's not safe for work - such as nudity - be sure to check the box next to "Sensitive Content." Failing to do so can earn your account strikes.

The footer of each parley and comment area includes interaction tools.

Making comments
Comments can be written in long-form. While they can include links and hashtags, comments are not searchable. But you can add hashtags to link to other parleys.
If you're not able to comment on a parley, it may be because the original poster restricted commenting to verified users.
Navigating comments
You can view comments as threaded or flat discussions. Threaded discussions display replies to specific comments using indents, making them easier to read.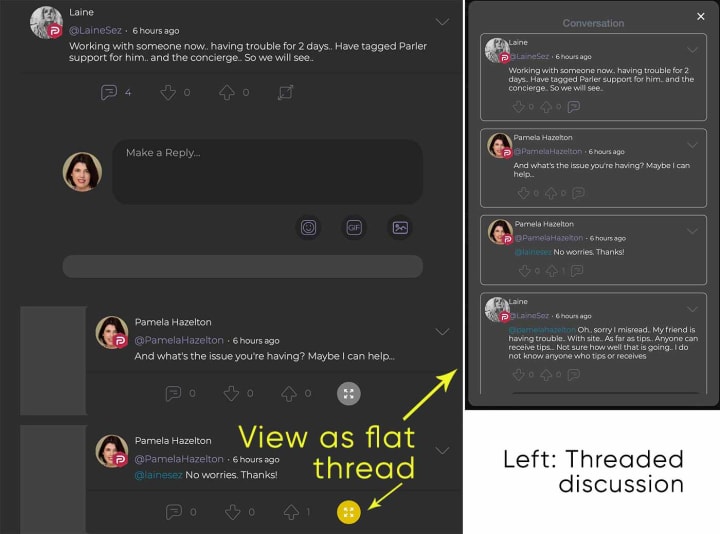 Comment notifications
Whether or not you told Parler to notify you of new comments (including replies to your comments), the notification center shows you all the latest.
Via the app:

Tap the alarm bell (bottom of the screen).

Tap the comment you want to read.

If necessary, tap Show Conversation.
On desktop:
Click the alarm bell (top right corner).
If the entire comment doesn't display, click it to expand the text.
If it's not apparent which parley the comment references, click the comment or magnifying glass icon (next to the trash can). From there, you can click parley to read your original content.
To collapse the comment, click the magnifying glass or comment.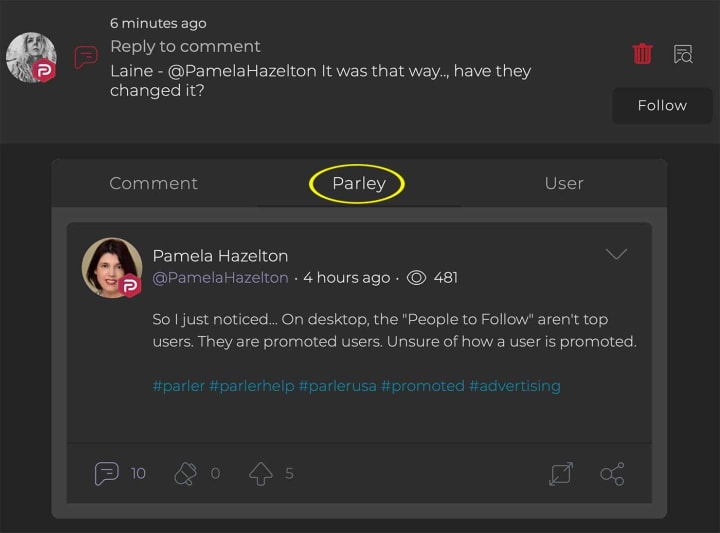 Bonus for desktop: You can delete the comment here, also.
Note: On desktop, notifications tend to lag, so you may need to refresh the page.
Sharing parleys (echo)
Parler calls the sharing of original posts echoing. Click or tap the megaphone to echo a parley. You'll be able to preface the original content with your own words and hashtags.
An echo is a parley itself, so any hashtags you use when echoing are searchable.
Private messaging
You can initiate direct, non-public messages with other users.
To review your direct messages, click or tap the envelope icon in the top-right corner.
On desktop, you can alternatively click the menu icon and click Messaging.
To review new requests:
On desktop, click the + next to Message Requests.
In the app, tap Conversation Requests.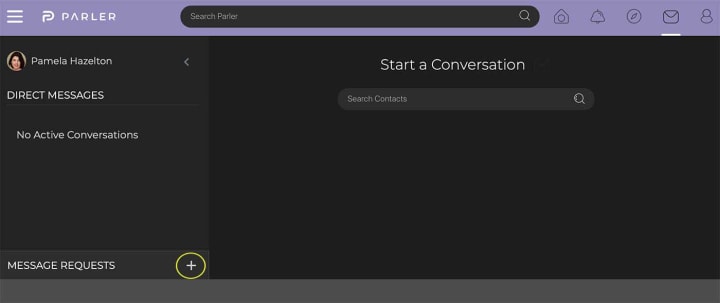 Quick-action features
Throughout the website or app, you can take quick actions on parleys and comments.
Clicking or tapping the arrow in the upper right corner of a parley gives you options. Some options seen in the app aren't available on desktop.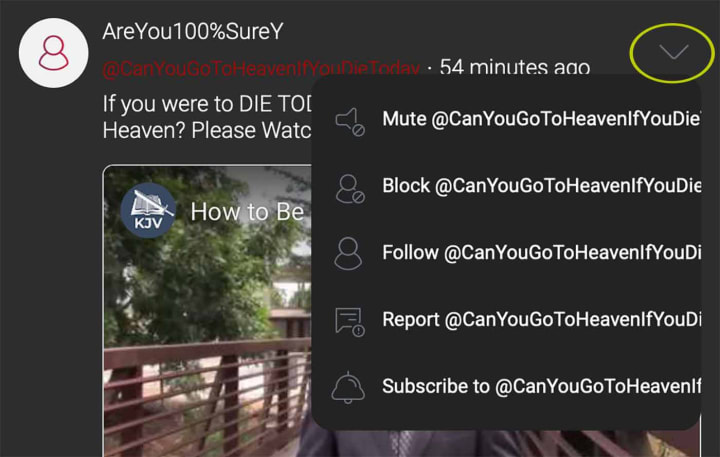 On desktop, these options automatically appear. In the app, you'll need to tap the arrow and then tap @UserName - User Options.
Mute @UserName - Stop seeing parleys and comments from the user, even if you follow them.
Block @UserName - Block the user. You won't see any content from them, and they can't see you.
Follow @UserName - Follow the user. Unless muted, you'll see their parleys and comments.
Report @UserName - Report the user for violating Parler's guidelines.
Subscribe to @UserName - You'll receive a notification when this user posts a parley (unless overridden in your notifications settings).
Private Messages (app only) - Send the user a private message.
Share (app only) - Share the parley via your phone's additional options, like SMS and Messenger.
Additional app options include:
Copy Text - Copies the textual content of the parley, including hashtags.
Translate - As of July 18th, 2020, this simply refreshes the screen.
Each parley's footer includes options to comment, echo, and upvote, as well as isolate the parley (bring it forward as a popover) and copy the parley's link for sharing.
When someone opens a direct link to a parley, it's displayed without all the navigation (isolated).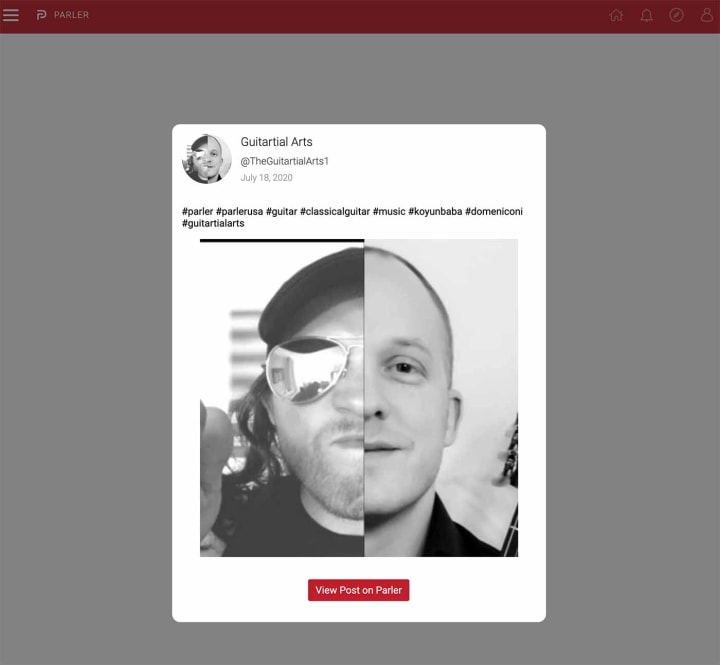 Each user has control over who can see their parleys, who can comment, and whether those comments automatically appear. You can also filter bad words and mute and block others.
Configuring moderating settings
In the app:
Tap your profile picture.
On desktop:
Click Moderation Settings.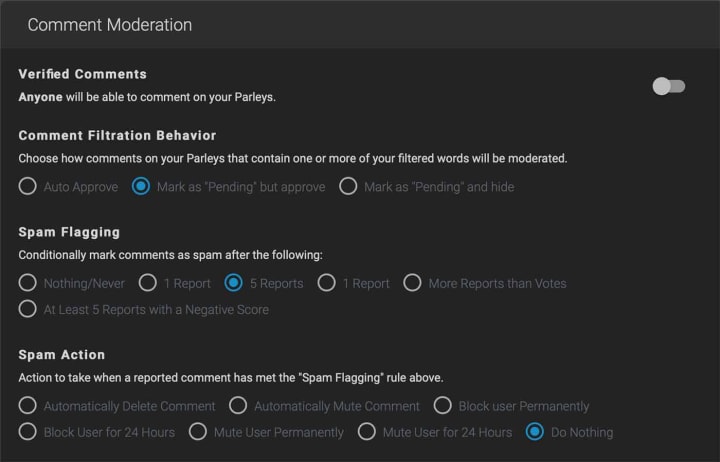 Verified Comments: When off, anyone can comment on your parleys. When on, only verified users can comment.
Comment Filtration Behavior: You can opt to auto-approve all comments, approve but mark as pending (so you can still review them) or mark as pending and hide (they won't appear until you approve them).
Spam Flagging: These settings rely on other user activity. You can tell Parler to mark comments as spam if it receives 1 or 5 reports from other Parler users. More reports than votes means the comment received more reports than user votes. Five reports with a negative score would require the comment also be downvoted.
Spam Action: You control what happens once a comment is marked as spam. Options include deleting or muting the comment, and muting or blocking the user.
Moderating comments
Comment Moderation (named Review Comments in the app) shows you any pending comments.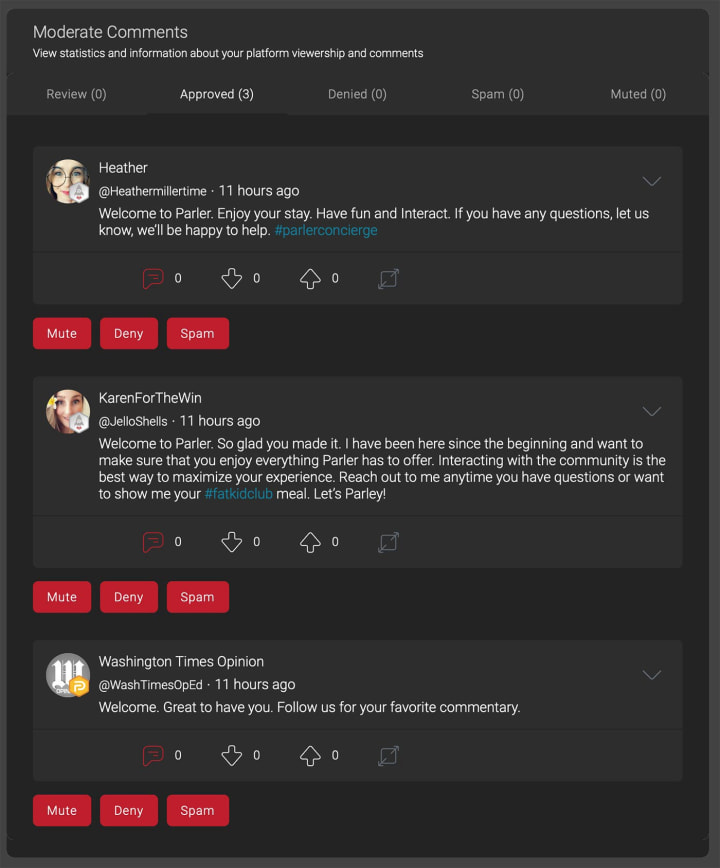 Note that if you told Parler to mark all comments as pending but still approve them, clicking Approve here doesn't do anything. However, you can opt to delete the comment by clicking Deny. Clicking Mute will silence that comment.
Banning specific words
Under Word Filters you can set certain words to trigger comments to be approved or denied. You can also use this function to ban users and user notifications.
Reviewing blocked and muted users
If these sections you can review who you've muted (whether you follow them or not) and blocked.
Reviewing violations
Here's where you can see if you have any violations. Parler uses a points system to score violations. Last word was 20 points results in a ban from the platform.

Here's where things can get tricky, especially if you're not using Parler to discuss politics.
According to Matze, Parler doesn't list trending hashtags. Based on activity, though, it appears the Suggested Hashtags are the most popular. Most of these are loaded with political discussion. If that's not your bag, think about hashtags that better define your interests.
If you like original artwork, search 'artwork,' and you'll see a list of relevant tags.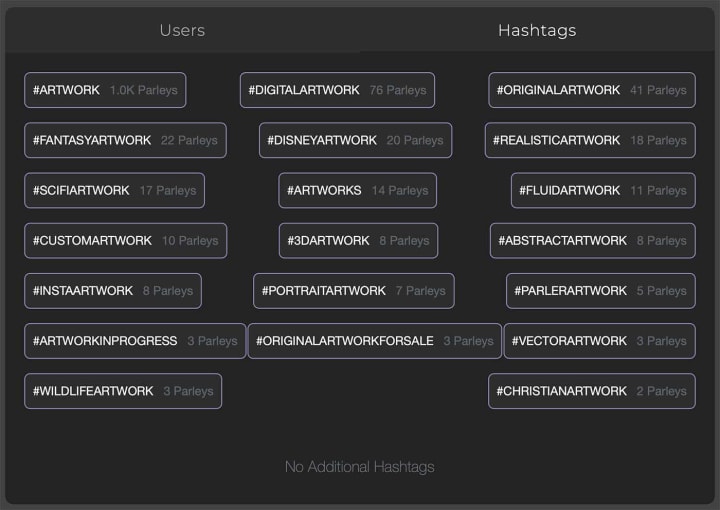 Discovering people, trending hashtags and content varies if you are accessing Parler from the desktop or app.
Discovering via desktop (browser)
A right-hand column lists suggested hashtags and people to follow. The people to follow tends to periodically change between random users (possibly some of whom you may already follow), popular users, and promoted users.
Clicking the compass icon (top right) will take you to a discovery area. It lists featured parleys from partners, news from affiliates, and Parler's top users.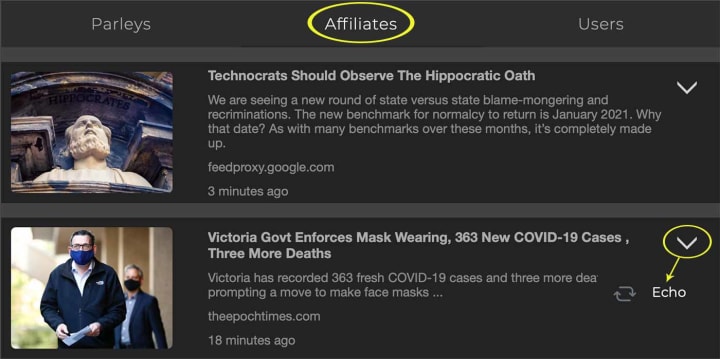 Discovering via the app
Tap the compass icon to reach the discovery area. Parleys from partners appear, and you can navigate top users and promoted users. Tap the Affiliates tab to read news.

While the following does not entirely pertain to how Parler functions, I provide it to help you understand Parler's predominant user base. Since Parler is a free-speech network, there will be things that annoy you. Some areas of Parler are riddled with politics, negativity, or both.
Here are some tips on getting the most of Parler without getting sucked into places you may not want to be.
There will be hate
Free-speech does not mean hate-free. Many of the top hashtags contain heated debates and incredible imagery. While the #parler tag is the catch-all for most new users, many right-wing conservatives call it home. So if you don't want to get involved with political arguments, search for hashtags that genuinely interest you.
You'll also find that Parler has not yet banned some questionable words. While the n-word has recently been removed as a hashtag, it's still in use on some user handles and in profiles. The term "faggot" is accepted in usernames, profiles, and hashtags.
The biggest problem, as is on many networks, is knee-jerk reactions to opposing views. So if you want to have a healthy debate, take time to read the room.
Check profiles before engaging
If you want to steer clear of politics entirely, check a user's profile before commenting or echoing a parley. It's the only way to avoid becoming aligned with the topics you want to avoid.
Expect hiccups
Parler is still relatively new and is dealing with an unexpected spike in new accounts and traffic. If something does not appear, wait a few moments and refresh the page or screen.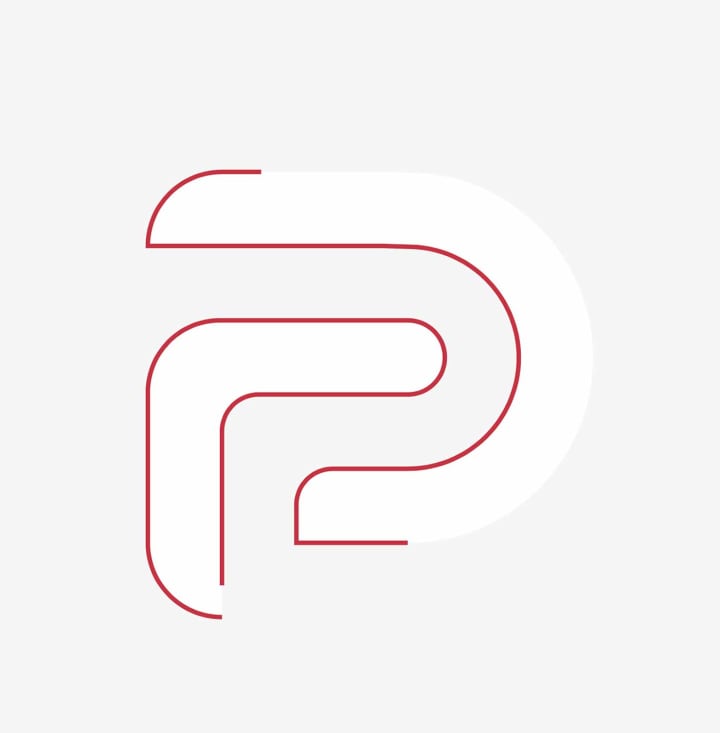 I've fielded many requests about how Parler works. Here are answers to the most common questions.
You cannot edit a parley. Your only option is to delete it and re-post with the proper information. This is a plus because it prevents agenda-driven people and scammers from harnessing engagement and then changing the narrative.
You cannot schedule parleys. Parler doesn't include the option to schedule content. Hopefully this will change. I'm not aware of any mainstream service that taps into Parler's API to do this. If you know of one, let me know.
The desktop version tends to lag. The app typically loads content and update notifications more quickly. However, the browser version offers features the app does not, and vice versa. For this reason, I use both.
Parler has not yet been very vocal about how to advertise (promote parleys). The goal is for advertisers to bank on influencers, rather than the platform. Once I learn about how smaller businesses can promote content, I'll post it on my Parler account.
If the verification process pukes, try it again later. The desktop method did not work for me or many others, so try it through the app. Also, some foreign users have reported not being able to get verified. I don't know of any way around this.
If your notifications don't load on desktop, try refreshing the page. If this doesn't work, wait a few minutes or hop on the app.
If your profile photo appears sideways, try uploading a square photo. Square pics are the best for most platforms.
To delete your Parler account, email [email protected].

While great effort was made to provide a thorough primer on using Parler, things can change rapidly. All information above is tested to be current as of July 18, 2020.
For additional support, use the #parlersupport and #parlerhelp hashtags on Parler. Many people are willing to answer questions. You can also tag Parler's official support account.
I hope this guide has helped you understand how Parler works. I welcome any and all feedback. Feel free to connect with me via Parler.
My Parler username is @pamelahazelton.
social media
About the author
Avid writer. Business marketing and ecommerce // Reward yourself a little every day. 🆆🅾🆁🅺 + 🅻🅸🅵🅴 🅱🅰🅻🅰🅽🅲🅴
Reader insights
Be the first to share your insights about this piece.
Add your insights