My 10 month journey of starting a Youtube Channel
What a newbie learnt after 10 months making videos
In December 2021, I started a channel on Cloud Security and Artificial Intelligence called "The Cloud Security Guy" with absolutely zero knowledge or prior experience
After 10 months; I sit here with no monetization or sponsorship deals with a measly 690 subscribers to tell you ..
It was one of the best decisions of my life
Starting a Youtube channel will change your life for the better
If you are a content creator then starting a Youtube Channel is quite possible the most creatively exhilarating thing you can do .. it literally FORCES you to adopt a content creation mindset.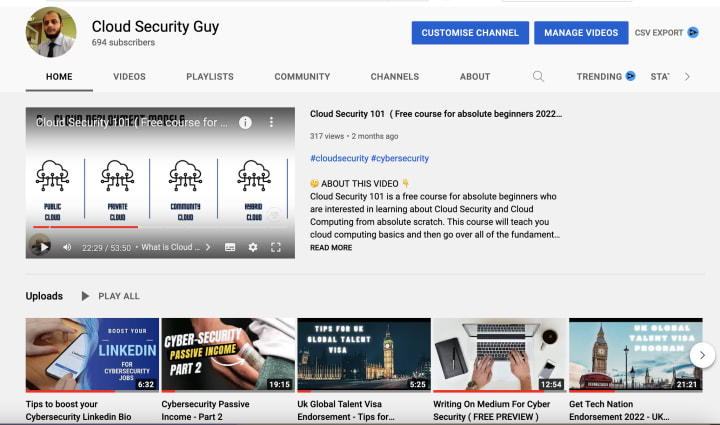 But a brief background about me first
My story
I have been working in cybersecurity for the past 20 years and recently moved to UK last year under a Global Talent Visa
One of the key promises I made to myself as I turned 40 was to start giving back to the Tech community and stop revolving my life around the 9 to 5 job grind
I wracked my brains on how to do it
Speak at conferences ? Write Books ? Create courses ?
Then the 💡 Eureka moment happened when I realized that I was unnecessarily making things complicated for myself
The world knows and loves Youtube and it is the most friction-less place to start making learning content
I took the plunge, created my Youtube Channel, named it "The Cloud Security Guy" and started creating my first video which is below in all its cringey glory.
Baby steps
I was not kidding when I said I did not know anything about making videos
I literally had to learn all those skills on the fly and here Canva was a Godsend
It is possibly the best software to use for newbies like me .. completely free PLUS has amazing templates which you can freely use
I started recording videos on Canva and uploading them on Youtube
I gave myself a weekly schedule so at least one video a week HAS to be uploaded even if it is the worst video every made in human history
I learnt how videos flow, how keywords rank and how to make thumbnails ( all on Canva ! )
One of my videos on "Artificial Intelligence vs Cyber security" started ranking as the number one video on this topic and got me got 1000s of views which was awesome
Did i make money ?
Yes and No
I do not have enough subs or watch time to get into the Youtube Partnership Program and yet Youtube has netted me a nice little income
How is that ? Through using it as a traffic generation medium
Youtube is an absolute BEAST when it comes to sending traffic to your other products like Ebooks, Courses, Blogs etc.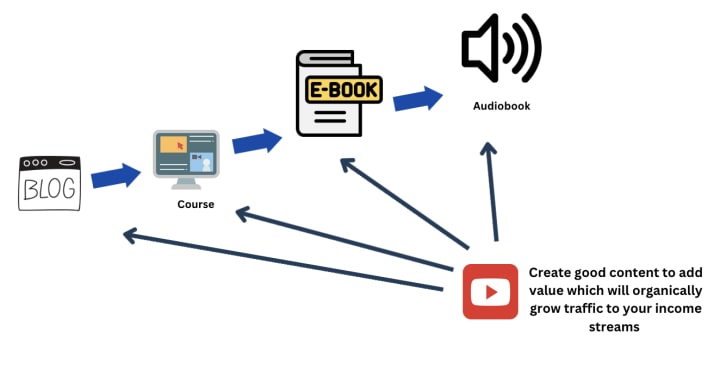 I made sales on Gumroad, Thinkific and Amazon all though Youtube sending traffic to my other products. People also reached out to me for advice and it was a great way to increase my network.
The trick is not to be spammy about it.
Make good content which interests viewers and provides value and then let them choose if they want to buy your other products or not
Key things I learnt
After ten months of making videos, the top lessons I would give to newbies is:
🚀 START ! ... Do not let negativity hold you back. You will see x amount of people telling you Youtube is dead and its time has passed and yet every year new people succeed on this platform and you could be one of them.
🚀 Consistency is the key success factor. You will get better incrementally with each video so do not waste time torturing yourself on making the perfect video and just hit Publish !
🚀 Youtube is the long game. Treat Youtube like a long term investment in your future and you will see payoffs and not get frustrated easily with the lows that come. Give it at least 18 months before you start thinking about channel monetization
🚀 DO NOT start Youtube with the goal of getting monetized .. that will suck the enjoyment right out the whole creative process and you will waste time staring at the Analytics screen the whole day
Good luck on your Youtube journey !
And of course lastly it would not be an article about Youtube if did not ask you to subscribe to my channel HERE. I am trying to reach a thousand subscribers by the end of the year. Help out your fellow creators always😃
Reader insights
Be the first to share your insights about this piece.
Add your insights