Must Have Essentials for an Athlete's Gym Bag
Must Have Essentials for an Athlete's Gym Bag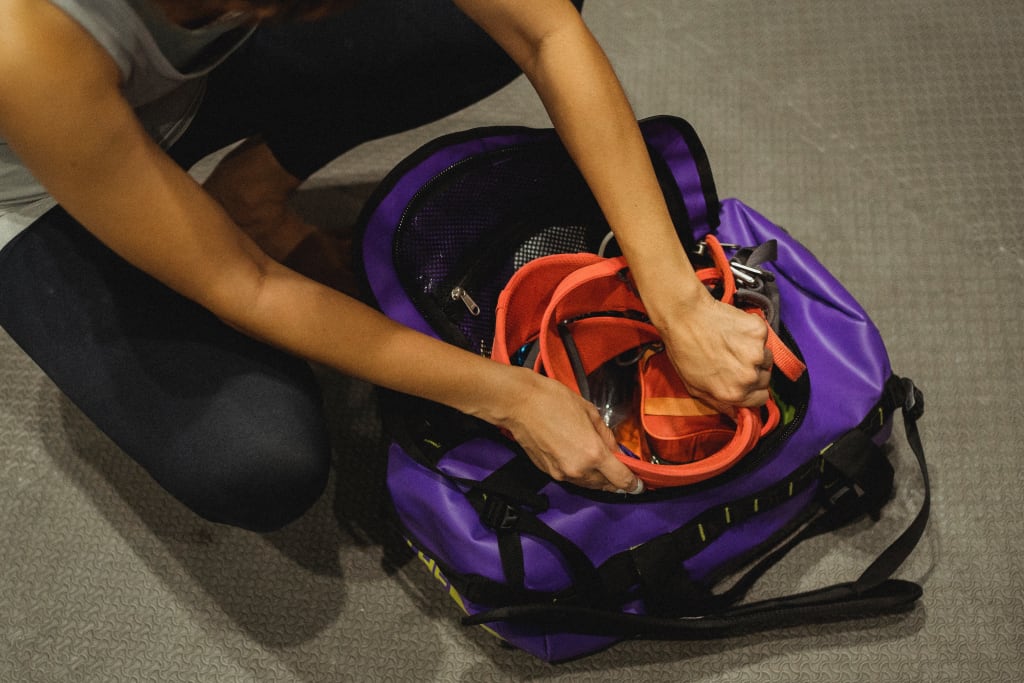 Must Have Essentials for an Athlete's Gym Bag
Packing a gym bag is a very common task for anyone who goes to the gym on a daily basis. You may have a pre-packed gym bag in your car or bedroom so you can grab and go. Some gym-goers even have multiple bags ready for various types of exercise.
It is typical to forget a vital piece of gym equipment when travelling or visiting a gym other than your own. Also, many goods given for free at your gym (such as towels or locks) may not be available elsewhere.
To avoid catastrophes, here's a list of "must-haves" for any gym bag, as well as a few luxury goods to keep on hand just in case.
Bag for the Gym
When you begin packing your gym bag, determine whether it will meet your demands. It makes no sense to carry a bag that is too large or to attempt to pack everything into a bag that is too tiny. The right-sized workout bag will hold everything you need and be portable enough to take on public transit if necessary.
Consider purchasing a bag with separate wet and dry sections if you want to shower at the gym. The strap should be adjustable and should sit gently on your shoulder without digging in.
Shoes for the Gym
Your gym shoes may appear to be an obvious thing, but it's crucial to remember the precise sort of shoe you will need for each session. You don't want to show up to a spinning class wearing cumbersome running shoes.
There are excellent all-purpose sports shoes for wearing to the gym, but you will benefit from matching the correct shoe to a specific activity. Weightlifting, cross-training, indoor rock climbing, and indoor running shoes are all reasonably priced.
Having many pairs of sports shoes to rotate will also give you plenty of time to properly dry each pair out between exercises, which will help you prevent unpleasant foot smells.
Workout Clothes
Nothing is more infuriating than forgetting a vital piece of training equipment. A sockless exercise may transform an otherwise effective session into a recipe for blisters and chafing.
Some necessary items to carry for your exercise may include:
• A new pair of exercise socks
• Headgear
• Swimming outfit, swim hat, and goggles
• Tops and bottoms for working out
Gym Towel
For good reason, several gyms ask you to carry a towel on the gym floor. Even if you don't sweat much, any moisture left behind may be felt by the next person who uses the equipment. Wearing a gym towel is not only sanitary, but also courteous.
Cotton towels are typically preferred at the gym since the fibres are incredibly absorbent and dry quickly. Microfiber towels are also useful since they dry quickly. Most gyms give clean towels for members to use, saving you room in your suitcase. Other folks, however, prefer to use their own towels.
Bring hand sanitizer if you are worried about the perspiration and germs left behind by your fellow gym-goers. Most gyms also provide antibacterial sprays and towels to clean equipment before and after usage.
Water Bottle
Nobody enjoys queuing at the water fountain, especially after a strenuous spinning class or HIIT exercise. Staying hydrated is made simpler with a reusable water bottle. Some bottles can keep drinks chilled for up to 24 hours. Choose a reusable plastic bottle that is composed of non-toxic bisphenol A (BPA) plastic. Condensation should be avoided in newer, vacuum-sealed water bottles.
Earbuds and Music
Some people use music to help them "get in the zone" and pace their workout. Bring your mobile phone or music player if you don't like the piped music at your gym. Remember to bring your headphones, and make sure your gadget has enough battery life to go through your exercise. You will also want to make sure you have a secure way to transport your gadget and keep it dry while exercising.
There are a plenty of fitness and yoga equipment available here at TrueGether, the best eBay alternative. So, if you want to buy any of these, just visit TrueGether and you will get all your necessary items at quite affordable rates. Go and get one for yourself now.
Reader insights
Be the first to share your insights about this piece.
Add your insights