Most Popular Single Page Application Examples and How They Work
Find out the top Single Page Applications (SPAs) and how the SPA tool helps them drive to glory, bring more traffic and engage users.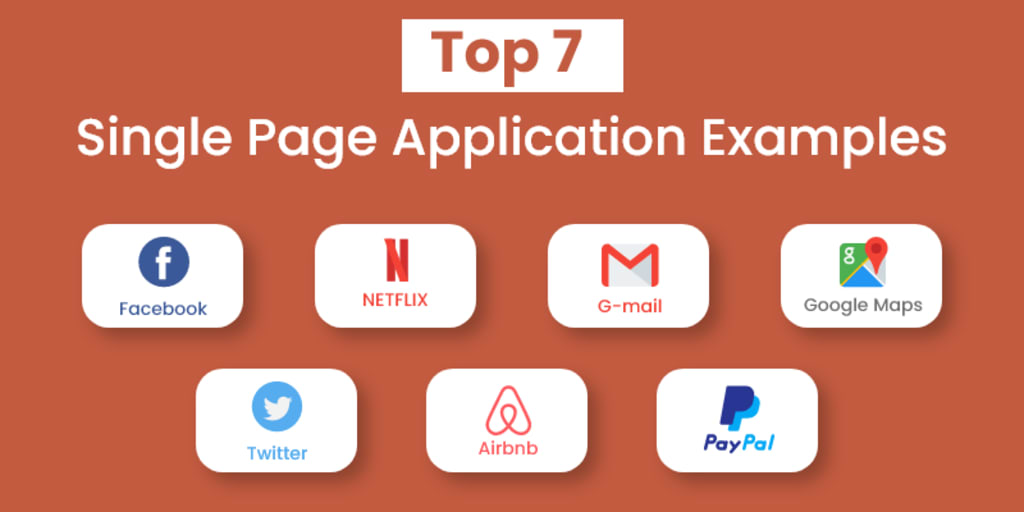 Examples of Single Page App
Everyone loves the thing that interacts. SPAs or Single Page Applications are the straightforward concepts of it. When you use Facebook or Twitter, it interacts with you dynamically by bringing new data from the web server. This way, you do not need to reload the entire page to get the new data or content.
Creating a single page application is a great way to provide your users a unique and engaging experience. SPA is a growing trend. If you want to get good traffic on your website, you have this SPA with the right solution before you. This article will help you understand how SPA works by giving you some single page application examples and how it works for them. But first, let's start with the basic;
What is Single Page Application
A single page application is a specially programmed application that provides dynamically engaging content to users without letting them navigate another page or loading the entire page once again. For example, when you cricket match score using any website, you don't have to refresh the entire page to load the latest score; instead, a part of it gets refreshed automatically or manually to bring you the data. Similarly, there are plenty of popular websites like Netflix, Gmail, Google Maps, Airbnb, PayPal, Pinterest, and many others using SPA to provide seamline users experience to the users.
Some of the most popular Single Page Examples
In order to provide you with a better understanding of SPA, we have rounded up a list of top app and websites using the SPA tool to provide a unique user experience, and they are reaping the benefits remarkably. So, let's explore the most popular Single Page Application examples.
#1: Netflix
Netflix is empowered by the most popular technology, ReactJs, enabling the live video streaming site to turn into SPA. The single page application tool enables users to seamlessly access the desired content without facing any issues or lag. This is SPA that helps the OTT platform deliver such a massive quantity of data to lakhs of users worldwide. The SPA approach seems to be making the app even more famous by allowing users from diverse backgrounds.
#2: Facebook
Facebook is another example of SPA that allows users to navigate through buttons without leaving the pages. Besides, when you scroll down to past posts or videos, you will continue to get the newer ones without refreshing the page. In order to endure the experience, the Facebook app and website utilizes the benefits the single page application tool bestows.
#3: Gmail
Gmail uses a single page application tool to provide fast email access without losing the current page. For example, when you click on any mail from the inbox, you do not get navigated to another page. Besides, in Gmail, you get three main categories, such as "Primary," "Social," and "Promotions," the URL will be the same (you can check it yourself as you will have the same URL). Most importantly, some of the features of Gmail can work offline as well. That means the mail you have already accessed can be re-accessed even if you don't use the internet.
#4: Google Maps
Google maps is entirely based on SPA tools. Even though it takes a little longer to load, it responds to users faster and smoother once loaded. That means the page does not get reloaded if you navigate to another feature of Google Maps. Even if you search, find routes for destinations from other cities, you will remain on the same page. More than that, when you navigate to another page, the back button returns you to the page (that you have recently viewed) without letting you load the page from the start.
#5: Twitter
Twitter, one of the most popular social networking sites, is a single page application. The app provides a seamless user experience by fetching all the latest data into users' feeds without lag. When you navigate through any page, you can return the recently viewed page without reloading it. However, if you use the 'pic.twitter.com' URL, you may have to reload the page when returning to the previous page.
#6: Airbnb
Airbnb is another example of SPA. The app is used by millions of users worldwide. A brand like Airbnb faces an immense challenge to provide a seamless user experience to users who want to search rentals, connect with landlords, make payments, and more. SPA tools make their job easy.
#7: PayPal
Thousands of users, at a time, use this app for making and receiving payments. The app has millions of daily users, and it provides excellent service to users —thanks to a single page application tool that provides a unique experience to users. Even though PayPal is widely known as a payment processing site, it sells goods and services from a wide range of sectors.
Final Thoughts
As you have understood how single page applications differ from the traditional website, you can confidently think about using the tool to get an enhanced experience. With the advent of technology, SPA is also getting better day by day out. No doubt, the initial phase of the single application trend created a sense of doubt among users, vendors, and even developers. Managing content was the big issue, but now it has improved. SPA can be easily paired with CMS to provide the control that marketers and developers were looking for. So, if you want to provide the best user experience and engaging content to your users, then single page applications should be your choice.
About the Creator
Mayur is the CTO of Excellent Webworld and a Web & Mobile App development company. He is updated with all the latest trends in the mobile app technology field.
Reader insights
Be the first to share your insights about this piece.
Add your insights