Mobile App Development Process
A Step-by-Step Guide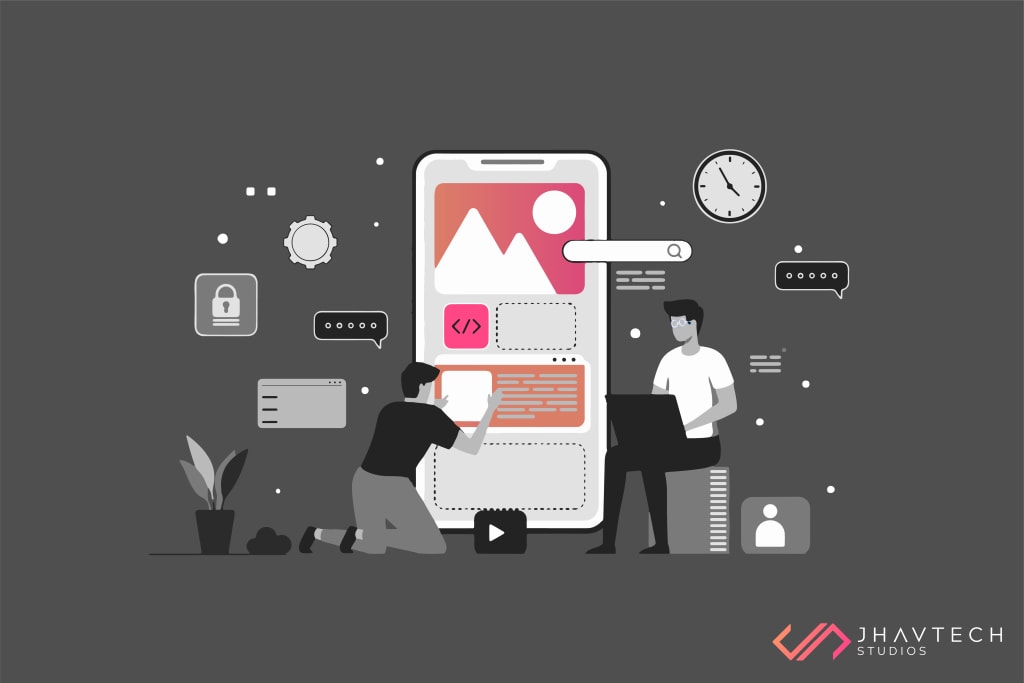 Mobile app development is one of the most lucrative ventures in the digital economy of 2022. In fact, mobile apps are expected to rake in a whopping $693 billion in revenue via in-app advertising and in-app purchases.
It has been more than a decade since app-based functionalities have hit it big and today the process has been simplified into a routine set of steps. Although there are different types of mobile applications, I have compiled a general outline of the stages that your mobile design and development should follow.
In this post, I would like to share my knowledge and expertise to help you understand the stages of mobile development and its specifics. It's imperative to know such stages to streamline the process, ensure product integrity, save on cost, and decrease time-to-market.
Regardless of the size and complexity of your project, following a precisely cultivated development process will make it a huge success.
Planning and Research
The planning stage should follow the conception of your app idea. It is meant to answer high-level questions relating to the feasibility of your idea in the current state of the market. Planning includes rigorous research and conducting a feasibility study.
Take a close look at the prevailing app ecosystem to determine whether your idea has already been developed. You may have a brilliant idea but it amounts to nothing if you will only be duplicating an existing app.
Your initial research should also focus on the audience for your app and if there is a need for it. Questions like "what is my app's value proposition?", "does a market exist for it", "will it appeal to a wide audience?" must be answered before you spend resources in developing the app and marketing it.
You also need to decide what platforms your mobile app will be available for (i.e. iOS, Android, Web). If you intend to build for two or more platforms, you must decide if you'll pursue native app development or hybrid app development for each platform.
Wireframe Your App Idea
Having a basic idea for your app isn't enough to start working on it. You must allot time and effort to determine the features and functions that your app needs, and how everything will work together. Think about the user interface (UI), the buttons, the layout, the screens, and how the end users will interact with them.
Remember that the main objective of your mobile app design is to provide an intuitive, seamless and meaningful user experience (UX) that will keep your target audience engaged.
This process is known as wireframing, and it's at this stage where you can make changes to your mobile app without rewriting huge sections of the code. You can even write test sections to determine how they work before integrating them in the final design.
Wireframes are basically conceptual layouts wherein the focus is on aesthetics and user experience. Creating wireframes is a fast and cost-effective way for designing app layouts and making iterations during the design review process.
It is important to use an iterative approach so you can present several mock-ups to your intended users. Don't mind spending time at this stage because you want to ensure that you're making a mobile app that will meet your audience's preferences and requirements. It is better to start in the right direction than to return to this stage when you are halfway through development.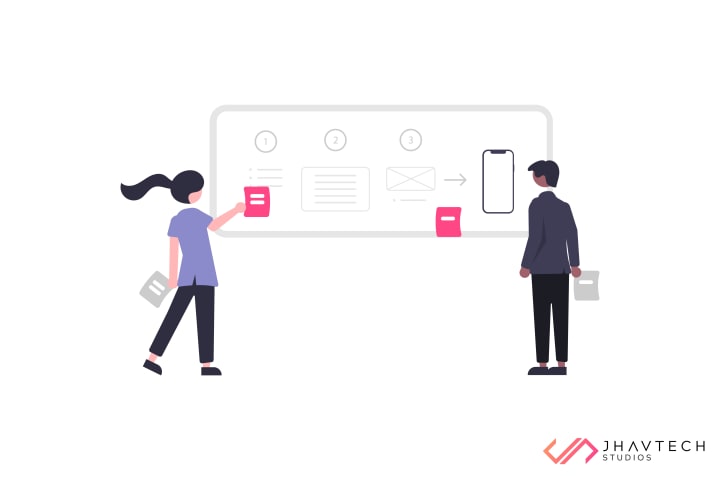 App Development
The development stage is where you start writing the code for the final version of your app. But before anything else, you need to plan and map out the entire process. This is where you will use the feedback you've received from the wireframes and make final decisions. You will also have to establish the technical architecture, choose the appropriate technology stack, and set the development milestones.
In addition, this is where methodologies like agile and waterfall can be implemented. In general, the agile approach is preferred for building a mobile application as it guarantees an efficient channel of communication that helps both the app developers and their clients execute the desired mobile application. Agile is results-driven, cost-effective, and allows for frequent and rapid delivery (i.e. faster time to market).
A typical mobile app project consists of three crucial components, namely back-end/server technology, application programming interface (API) and the front-end.
Back-End/Server Technology
Back end development involves any type of development that doesn't include coding that generates a user interface. This includes database and server-side elements needed for supporting the features and functionalities of your mobile app.
You can use any programming language and database for the back-end. If you are planning to build a mobile app, you must pick a tech stack required by each mobile operating system (OS). Android apps are mostly developed using Java or Kotlin, while their iOS counterparts are often built using Swift or Objective-C.
Application Programming Interface
An API is a means of communication between the mobile app and a back-end server/database. It can be purchased or custom-built to meet the requirements of a business or organization.
The frontend of a mobile app is the part that the users directly interact with. It is also known as the app's 'client side.' The frontend includes all elements that users see when interacting with the app, such as font colors and styles, buttons, images, graphs and tables, the navigation menu, among others.
The main focus points of frontend development are performance and responsiveness. The mobile app's performance must be stable at all times, regardless of the device used to access it.
Testing
Ideally, testing is done in parallel to the development stage. Conducting a rigorous and methodical quality assurance (QA) testing during development will make your app stable, usable, and secure. In order to ensure thorough QA testing, you need to prepare test cases that will address all aspects of mobile app testing. A good approach is involving the QA team during the planning and design stages. The familiarity with the objectives and functional requirements of your mobile app will help generate accurate test cases.
Aside from QA testing, your app must undergo the following:
This includes measuring users' emotions, preferences, and all key facets of behavior during and after using the application. See to it that your mobile app uses consistent fonts, color scheme, icon design, navigation, and padding between data.
The objective of functional testing is to make sure that your app's features are working without any issues. It can be further divided into unit testing (individual functions of the app working correctly) and system testing (the app working as a whole).
This is a crucial part of protecting users from hackers that exploit the vulnerabilities and technical flaws in mobile apps. This type of testing aims to prevent cyber attacks by anticipating the behaviors and moves of hackers.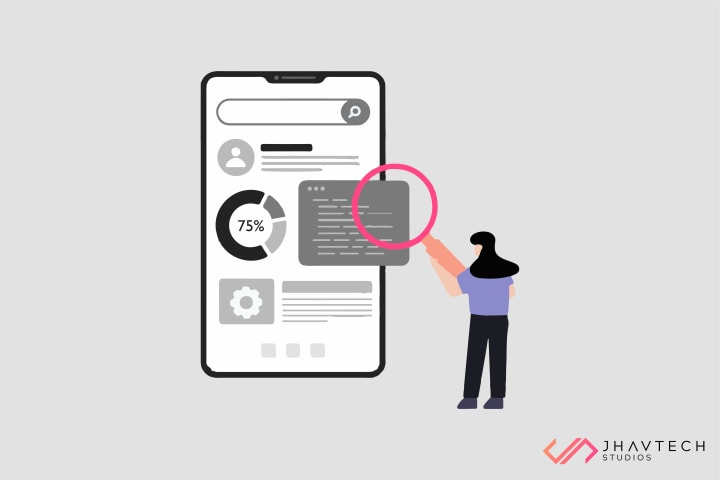 App Release and Support
The initial release typically includes the priority features of your mobile app and the extended functionality for the succeeding releases. Note that releasing the app requires submitting it to the app stores. You'll need a developer account with Google Play Store and Apple App Store before launching your app.
Keep in mind the app stores' policies for verifying and approving mobile apps. After submission to the Apple App Store, your app will be subjected to a review process that could take from a few days to months, depending on the quality of your app and how it follows Apple's development guidelines. On the other hand, app review on Google Play is different, but expect your app to be available in the market just a few hours after submission.
After your mobile app is approved and shows up in the app stores, keep track of its usage as well as Key Performance Indicators (KPIs) for gauging its success. Encourage users to provide feedback and suggestions for your app. Proving prompt support and frequently patching your app with upgrades will be crucial to keeping users engaged. Lastly, you must stay abreast with the latest trends and technology advancements so you can regularly update your app for new devices and operating system platforms.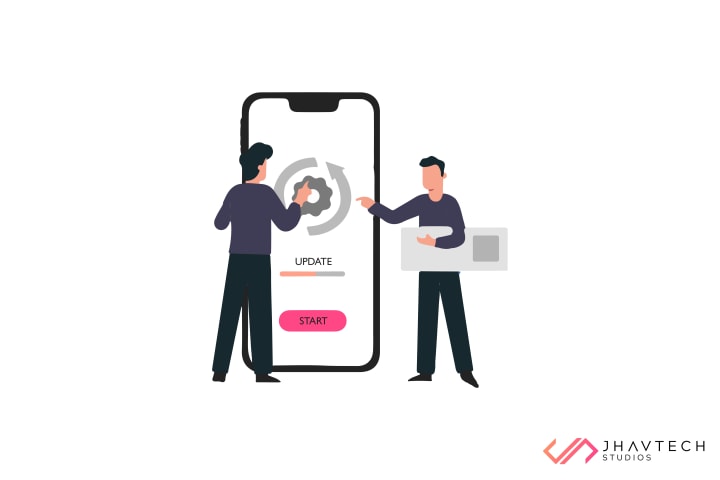 Parting Words
Mobile app design and development can be challenging and time consuming. It is an ongoing process that will continue following the initial release as you get user feedback and make the necessary adjustments. We hope this article helped you understand the stages in mobile app development – from planning to release and ongoing support. Follow the steps outlined in this article and you'll be able to develop an app with a perfect market fit!
apps
About the author
Rahul has been working in Australia's IT industry for more than 10 years. He is the director of JhavTech Studios, a Melbourne-based tech hub which offers top-notch and personalized services in the area of Web and Mobile Development.
Reader insights
Be the first to share your insights about this piece.
Add your insights