Michael Schumacher
The best Ferrari Driver EVER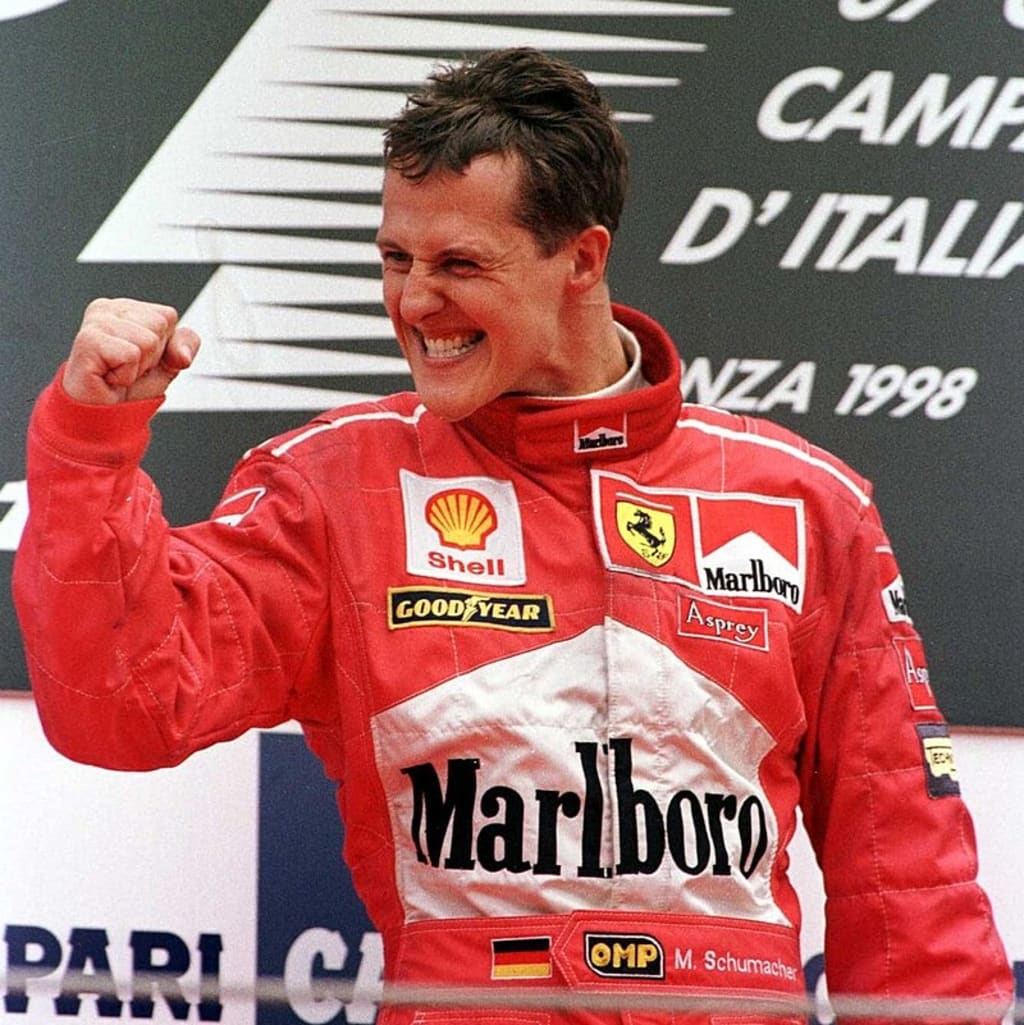 Michael Schumacher
Michael Schumacher is a retired German Formula One racing driver who is widely regarded as one of the greatest drivers in the history of the sport. Born on January 3, 1969, in Hürth, Germany, Schumacher began his racing career in karting at the age of four. He quickly showed a natural talent for the sport and began to work his way up through the ranks of motorsport.
Schumacher's big break came in 1991 when he was signed by the Benetton Formula One team. He quickly made an impact, winning his first Grand Prix in 1992 and finishing third in the championship that year. In 1994, Schumacher won his first Formula One championship, narrowly beating Damon Hill in a controversial season finale in Australia. He repeated the feat in 1995, winning the championship by a comfortable margin over Hill.
Schumacher's dominance continued in the years that followed. He won five consecutive championships with the Ferrari team between 2000 and 2004, becoming the most successful driver in the history of the sport. During this period, Schumacher won a total of 56 Grand Prix races, including a record-breaking 13 wins in the 2004 season.
Schumacher's success was built on a combination of raw talent, hard work, and a relentless drive to improve. He was known for his intense focus, meticulous preparation, and incredible work ethic, which helped him to stay at the top of his game for over a decade. Schumacher was also a master of racecraft, able to read a race and make split-second decisions that could be the difference between victory and defeat.
In addition to his success on the track, Schumacher was also known for his intense rivalry with other top drivers such as Damon Hill, Mika Häkkinen, and Jacques Villeneuve. Schumacher's aggressive driving style and willingness to take risks often put him at odds with his rivals, leading to some heated clashes on and off the track. However, Schumacher was also known for his respect for his fellow competitors and his dedication to fair play.
Schumacher's career was not without controversy, however. He was involved in a number of high-profile incidents during his career, including collisions with other drivers and allegations of unsportsmanlike behavior. Schumacher was also at the center of the infamous "Spygate" scandal in 2007, in which his Ferrari team was found to have illegally obtained technical information from their rivals at the McLaren team.
Despite these controversies, Schumacher remained one of the most popular drivers in the sport. He retired from Formula One in 2006 but returned to the sport with the Mercedes team in 2010. Although he was no longer at the peak of his powers, Schumacher was still able to compete at a high level and scored a podium finish at the 2012 European Grand Prix.
Schumacher's retirement in 2012 marked the end of an era in Formula One. He had won a total of seven championships, 91 Grand Prix races, and had set numerous records that still stand today. Schumacher's success had a profound impact on the sport, inspiring a new generation of drivers and helping to elevate Formula One to the status of a global phenomenon.
In 2013, Schumacher suffered a serious head injury while skiing in the French Alps. He was airlifted to a hospital in Grenoble, where he underwent multiple surgeries to treat his injuries. Schumacher remained in a medically induced coma for several months before eventually being transferred to a rehabilitation facility in Switzerland.
Since his accident, Schumacher's condition has been the subject of intense speculation and media attention. His family has maintained a strict policy of privacy,
Reader insights
Be the first to share your insights about this piece.
Add your insights