Machine Learning Might Replace Doctors: The Truth Behind It
Machine learning is changing the world in ways that people couldn't dream about a few decades back. It's amazing to realize...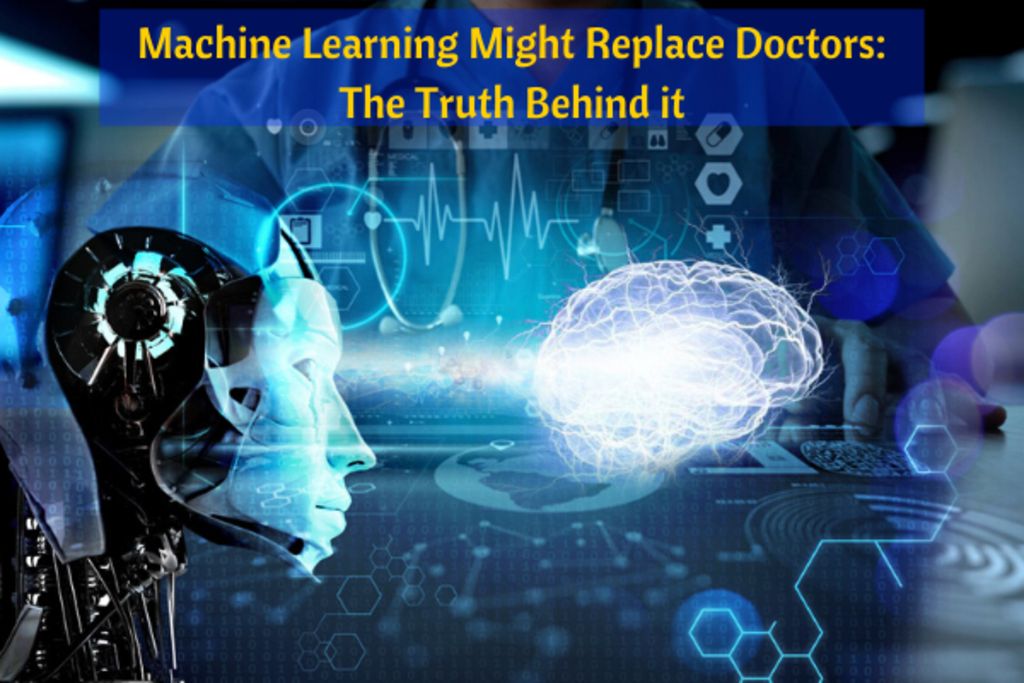 Machine learning is changing the world in ways that people couldn't dream about a few decades back. It's amazing to realize how researchers in the late 1990s and early 2000s spent most of their time studying physics and coming up with formulae that could be translated to solving a particular problem. It was all about coming up with the right bases to which a certain projection could be made. And that's how people took years to solve one particular problem, which was a great contribution to humanity, but a tiresome task at the core.
The entire process of looking at a problem was different. Data had to be refined and explicitly toned down to the exact parameters one was looking at. If modern practitioners of machine learning went back in time to tell those researchers to start looking at the solution of a problem right from raw data, they would surely be declared insane. And by this, you can understand the way machine learning has drastically changed the process of research and development. Today all you need are large amounts of raw data that you throw at a machine and watch the algorithm turn it into a magical outcome.
Machine Learning and Healthcare
Out of all other sectors, machine learning has had the greatest impact on healthcare. And because of its characteristics, the other walks of life are also nowhere shy in implementing the most cutting edge machine learning algorithms. Businesses are using it to predict customer behaviors and model their products according to it. Similarly, marketers are using prediction methods to anticipate customer demands and buying behaviors. On the other hand, machine learning algorithms are used to find the best route between two places or simplify an image from the satellite to discover the underlying factors present in them.
When it comes to Healthcare IT Services, machine learning is accomplishing more than a few tasks. On the one hand, it is assisting doctors and medical experts to make better decisions about a person's health. While on the other hand, it is assisting the general medical staff in reducing their manual work and manages resources effectively.
Machine learning is also helping the general medical staff understand a patient's concerns more effectively so that they can be sent to the right department or suggested the aptest course of treatment. This way not only the patients will received care in the shortest amount of time but the medical staff will also be able to manage the resources and availability of a doctor more effectively.
ML models also solve one of the biggest challenges for the medical staff. Most of the healthcare organizations and institutions like hospitals etc. find their staff running here and there and patients waiting in endless queues to be looked after. This not just creates a life-threatening situation for patients but also leads to burnout among doctors who have to stay up day and night unannounced, addressing them.
With machine learning in the picture, this problem can be sorted out to a great extent. While the prediction algorithms can utilize historic and current data to predict the footfall of patients on a particular day, it can assist in staff management and help the hospital stay prepared for the future. In another instance, the organization Ciox uses machine learning to enhance health information management along with exchange of health information.
The goal behind this lies in the modernization of workflows, facilitating access to clinical data and improving the accuracy and flow of health information. In a recent development, Ciox partnered with Northwestern Memorial healthcare to bring efficiency and transparency to the latter's release of information process.
Better than Doctors
However, most people are skeptical about the impact of machine learning in the healthcare industry. Some feel that it will remove the human touch that is fundamental to the field and replace it with a series of automated inhuman actions. Others feel that machine learning and artificial intelligence, in general, might replace doctors one day. But, this might not be a hundred percent true because artificial intelligence and machine learning are rehumanizing the healthcare industry and shifting its focus to value-based care.
It is helping medical experts and researchers see that the true standard of medical success lies in the amount of quality care that is disbursed to the patients instead of the number of patients that are seen. But, believe it or not, in some ways ML algorithms are much better than the actual staff. One such example is the case of breast cancer, where an algorithm developed by Google recently surpassed doctors in the identification of women who were likely to develop breast cancer.
Google's health and AI unit Deep mind partnered with Cancer Research U.K. Imperial Centre, Northwestern University, and Royal Surrey County Hospital to determine if a properly trained AI system could spot signs of breast cancer more accurately. The algorithm was trained on samples from 15000 women in the US and 76000 in the UK. Not only did it excel at detecting cancer but also reduced false negatives by 9.4 percent and false positive by 5.7 percent. It doesn't mean that technology is picture-perfect, but for this particular case, it has surely excelled the capabilities of radiologists and medical experts. One of the biggest breakthroughs of this research was that while the doctors had access to the patient's history, medical information and mammograms, the algorithm was able to predict efficiently only with X-ray images.
Conclusion
Artificial intelligence and machine learning are becoming one of the most desirable technologies in the world. Especially in the field of healthcare, while it might not be able to replace the doctors anytime soon, the first step to efficient and more precise diagnosis has just begun. Even though robots are performing surgery, but they can't be left alone or take the place of doctors, because of whom a treatment or course of action for a patient can be authenticated.