Mac vs. PC: Settling the Age-Old Debate
(Advantages and Disadvantages)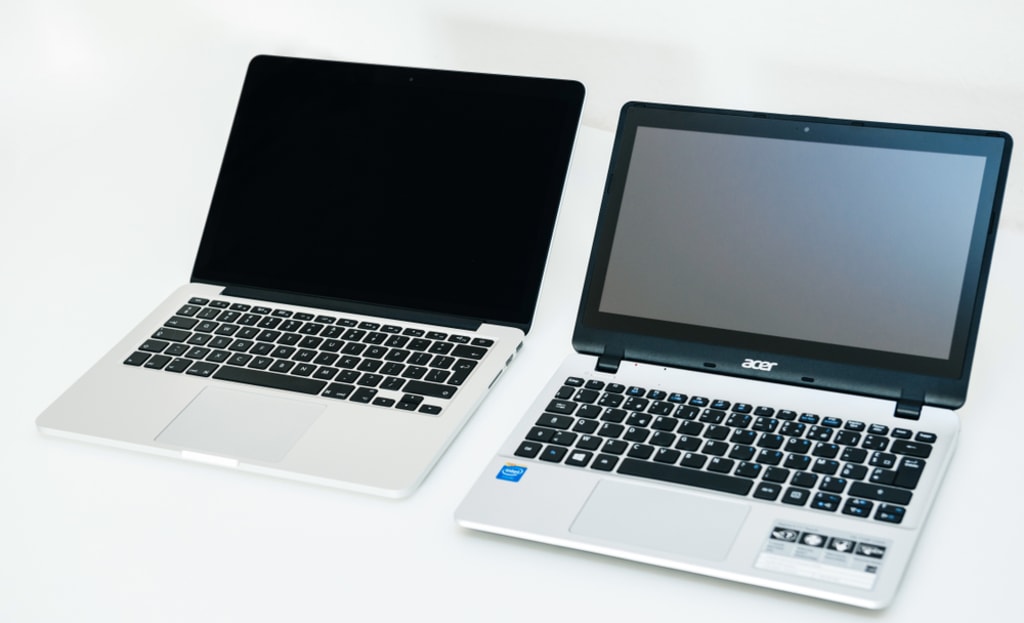 Are you planning to replace your laptop soon? Just like any other buyer, you're probably having a hard time deciding on whether you should go for Mac or Windows. There seems to be no end in sight when it comes to the debate on which one is more superior. To cut to the chase, you should know already know by now that there will never be an absolute answer to this question.
Just like any big purchase, choosing between the two options can be tough since both have clear-cut advantages over each other. Looking at the bigger picture, the success of your purchase will depend on several factors, such as your personal needs, work requirements, and the other gadgets you own.
To invest in the best unit possible, you'll need to do some research and take all the time you need to reflect. You can start with the guide below that discusses the pros and cons of a Mac and a PC.
PC
Pros:
The three biggest advantages of a Windows OS user is control, utility, and longevity. PCs can be easily customized, and users have a wide variety of component options to choose from.
Unlike Macs, wherein only the RAM and hard drive can be upgraded, PC users have the luxury of deciding their unit's motherboard, processors, and more. If making a custom build isn't your thing, no worries—manufacturers also have prepared laptops and desktops to suit different preferences and budgets.
In addition, Windows can run a lot more apps compared to Mac. Even though Mac developers have come up with equivalent programs for every Windows app, the alternatives produced often come with limitations. In the case of leisure and recreational use, PCs are the better option since they can handle spec-heavy programs and games.
PCs are also future-proof. If properly maintained, even the oldest of PCs will be able to run Windows 10 without experiencing major issues. When dealing with wear and tear on hardware, you can easily have your unit serviced to get it back at optimal performance levels.
Cons:
The biggest weakness of a PC is its interface and security. Macs are easier to use since they take on a minimalistic approach to their functional design elements. Things can get extremely complicated for PC beginners when repairing software, cleaning corrupt files, or troubleshooting performance issues.
PCs are more prone to cyberattacks, malware, and viruses. Since Windows is the most used operating system in the world, a lot more hackers are working within this spectrum. Hence, users need to take extra measures for maintenance and protection since they're dealing with a larger number of threats.
Even though you can get more support for PC, a virus attack at an unexpected time can instantly turn your world upside down. Windows is a lot cheaper, but without the right preventive measures, you may end up breaking the bank by frequently servicing or making changes to your unit.
MAC
Pros:
Beauty in simplicity defines the performance of Macs. Even though the upgrades you can make are limited, this really isn't a disadvantage because the pre-installed components in each MacBook or iMac unit won't usually require replacement since they perform at optimal levels throughout its lifespan.
Macs are generally more convenient and aesthetically appealing. The MacBook Pro and Air are sleek and lightweight, making them the perfect laptops for digital nomads.
At the same time, its display is easy on the eyes and paves the way for a pleasant viewing experience. If you work in a multimedia industry, setting up a Mac in your home or office will allow you to edit your pictures and videos to perfection.
Just like PCs, malware and other issues can still affect Macs. But compared to the threats to PC users, Macs are a lot more secured. In case you're facing any performance or hardware issues, Apple's excellent customer service won't leave you feeling worried about finding a reliable care provider.
If you're not really into gaming or too particular about Windows exclusive programs, go for Mac. Since they're simple and high-performing, Macs are arguably the best choice for general use.
Cons:
To start things off, Apple products are a lot more expensive. With the notion that they're paying for performance, it's no surprise why many aren't hesitant to spend their hard-earned money on Macs.
In case you decide to go for this option despite its expensive price tag, you should prepare to go over your budget since you need to buy the necessary accessories. Aside from the removal of USB ports and CD drives, OS X also has its limits.
The interface of Windows is more a lot more complex, but in return, it's more than capable of managing heavy tasks and running demanding software. In case a new Windows program that's heavily used in your work pops up, a Mac version won't likely be available immediately.
Which is better?
Both options come with strengths and weaknesses. Once again, the answer to this debate ultimately depends on both your personal and professional needs.
If you're into gaming or need to run spec-heavy programs for work, you should buy a PC or a high-performing laptop. If you're getting one for media work or casual use, a Mac can give you all you need and more.
Remember that there's no such thing as a perfect laptop. Good can come in many different forms, and at the end of the day, it all boils down to how the unit will satisfy your needs.
If you need to switch laptops soon, but your budget says otherwise, consider buying a refurbished unit. Refurbished models can operate just as good as a brand new laptop, and they all come at cost-efficient prices. To help you get started, here's a detailed guide to buying refurbished MacBooks.
Reader insights
Be the first to share your insights about this piece.
Add your insights