Keeping Your Phone Secure and Safe
How to protect your data and devices in modern times.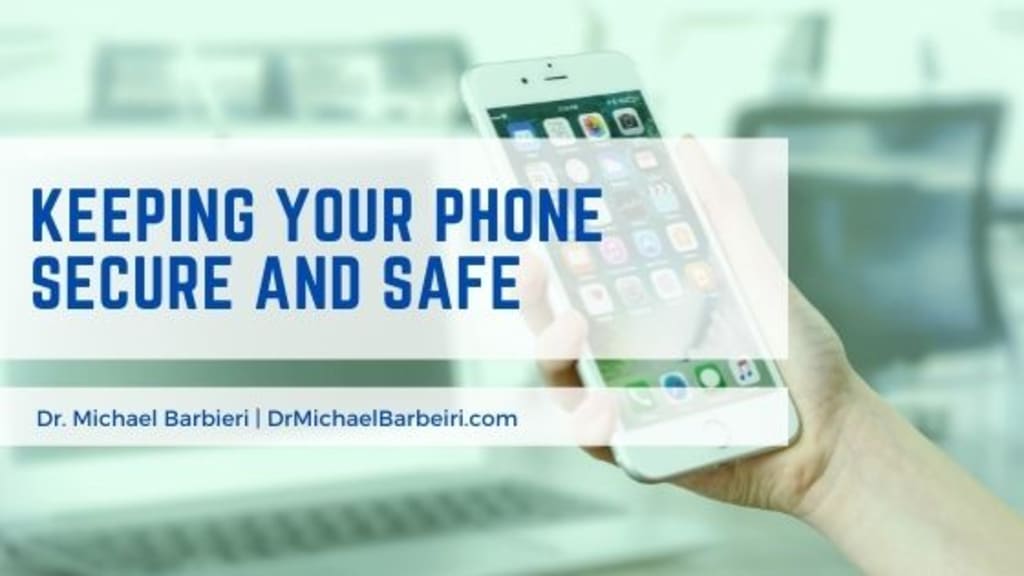 Without a doubt or contradiction, most people depend on their mobile phones for their daily activities. They use their phones to send messages, receive texts, make calls, check the time, research, entertainment, shopping, business, and alarm.
Once someone loses their phone, it interferes with their daily functioning. However, despite the dependence on mobile phones, most people misuse mobile devices, disclosing their personal information to unintended people. Here are five safety precautions phone users can adopt to make their device safe and secure:
Locking Your Phone Using a Pin, Pattern, or Password
Just the way people don't leave their houses without locking the door, they should also lock their phone's home screen. Locking the home screen keeps private information secure by preventing people from going through their phones without permission.
Using a password instead of a simple pin strengthens the phone's security. The password should be a combination of both numbers and letters. The longer the password's length, the more challenging it is to hack.
Keep Your Phone's Software Updated
Sometimes, frequent update notifications can be frustrating and annoying. However, most of these updates are essential because they are improved versions of your device's security. A Phones vulnerability increases anytime you fail to update your phone. So, once a user comes across an update notification, they should install it immediately.
Turn off Both Wifi and Bluetooth
Most hackers access a phones personal information via Bluetooth channels. They mask their malicious device and make it look legitimate so that the victim connects their phone to it. Therefore, phone users should always be keen on devices they connect to by double-checking, especially if it's your first time connecting to it.
Install a VPN on Your Phone
Although most smartphones come with security services, it would be best to download extra security software like Virtual Private Networks VPNs to tighten its security. The software enables the users to send and receive data on a public or shared network without revealing their identity to unauthorized users. It assigns a temporary IP address and hides the user's actual IP address.
Avoid Public Charging Points and Networks
Charging a phone in public places like airports, planes, transit stations, and shopping centers can make the phone prone to security breaches. Hackers can "juice jack" the phone if the outlet is compromised and access its contacts, texts, emails, and even photos.
About Michael Barbieri PhD
Dr. Michael Barbieri is a seasoned professional with more than three decades of experience working in law enforcement in the investigative field. Throughout his career, Dr. Barbieri has worked as a contract covert operative in over 20 countries for various government agencies, and he has successfully solved six Cold Case Murders, two of which took place internationally.
For the past 32 years, Dr. Michael Barbieri has been working as a Senior Consultant with Global Intelligence Consultants, Inc., operating out of St. Louis, Missouri. In his work, Michael has served in national and international investigations, working on cases including students jailed in foreign countries, corporate executive extractions, worldwide kidnap recovery, and more. FOr his outstanding achievements and noteworthy work, Dr. Michael Barbieri received a letter of recommendation from the United States Department of State as well as recognition from former President George H.W. Bush.
Dr. Michael Barbieri is ranked among the best Private Investigators in the world by the International Association of Private Investigators. He has received additional training from organizations like the U.S. Attorneys Office, the U.S. Department of State, the FBI, the U.S. Military, Brazillian Military Police, Mexican Military Police, and Nicaragua National Military police, and the U.S. Department of Defence, among others.
About the Creator
Michael Barbieri, PhD is an experienced private investigator who has led a significant number of successful missions, resulting in solving cold case murders, kidnappings, domestic investigations, and more.
Reader insights
Be the first to share your insights about this piece.
Add your insights