Jon Farzam on Philanthropy Tech in 2022
Technology has the power to shape every industry and philanthropy is no exception.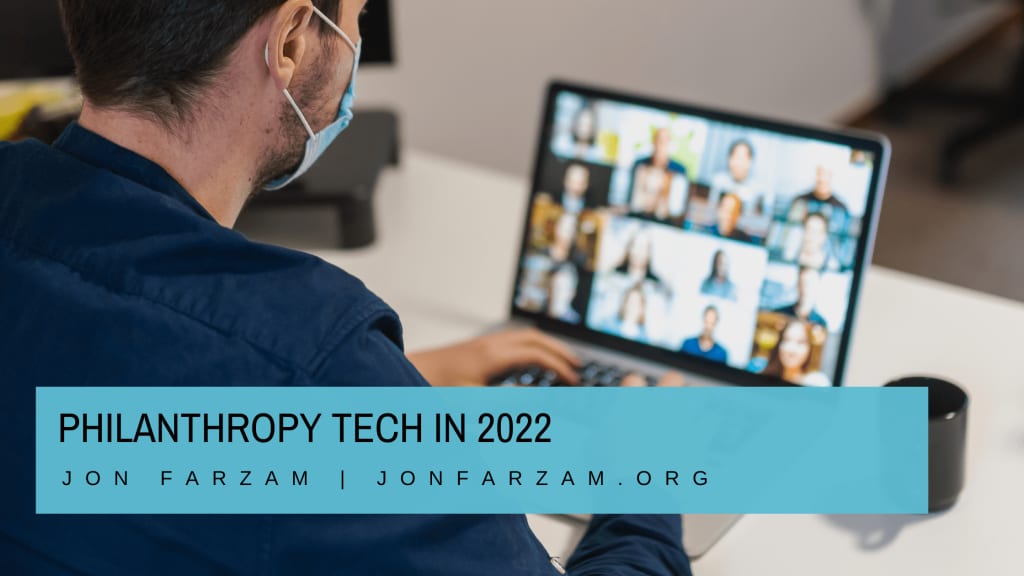 https://jonfarzam.com/ways-gen-z-is-changing-the-hotel-industry/
One of the main reasons why philanthropy will be driven by technology in the next few years is that it will allow organizations to make more informed decisions regarding giving.
This will allow them to improve the efficiency of their operations and make more informed decisions regarding their gifts. Here are a few ways technology and data will change philanthropy in 2022 and beyond.
Funding Networks
With the help of data and online platforms, philanthropy can move the dial forward and see the complete picture of its work. This will allow it to make more informed decisions and improve the efficiency of its operations. Moreover, using data and online platforms will allow organizations to connect with their communities and improve the effectiveness of their programs. Moving forward implementing these networks will prove to be very effective.
Centralized Platforms
With the help of centralized platforms, philanthropy can keep its beneficiaries and donors up-to-date with its programs' progress. The rise of technologies will allow various stakeholders in the community, such as donors and nonprofits, to instantly share information about their organizations' work. This eliminates the need for them to report to multiple funders simultaneously.
Lean Philanthropy
The end of the traditional process of reviewing foundation grant applications will be in sight in 2022. Instead of going through hundreds of interviews and checking thousands of documents, applicants can easily find a grant through a single online platform. The data collected during the process will be immediately available through cloud platforms and due diligence applications.
Online Accountability
Online accountability will require all donors to be more transparent about their giving. This will allow the public to track the grants they have made. As the rise of technologies continues to improve the transparency of philanthropy, more public records will be made available on cloud-based platforms in 2022.
Cryptocurrency
Large organizations will start using digital platforms to accept donations and convert them to cash. This trend will eventually reach smaller organizations as well. Due to the immense potential of cryptocurrency donations, more charities will realize the benefits of this kind of giving. In addition to avoiding capital gains, cryptocurrency donations can also give them tax advantages.
About Jon Farzam
Jon Farzam is the Vice President of The Shore Hotel, a family-operated and earth-friendly boutique hotel based in Santa Monica, California. While his family has been in the hospitality business for years, his decision to stay in the industry is based on his love for the team effort it takes to create an incredible guest experience. Jon possesses a Bachelors of Science in Hospitality Management, where he serves on the Alumni Board and is a member of the International Hospitality and Tourism Management Honor Society.
Jon Farzam is grateful to be part of a team. He often finds himself inspired by his employees and the lives they lead. As such, he is a big proponent of work/life balance, both in his own life and in the lives of those he employs. Jon understands that someone's professional and personal life are inextricably linked, no matter what you do. He encourages a healthy work and life balance as it ensures his employees bring their A-game both in and out of work.
When it comes to his personal life, Jon looks for ways to foster his calm demeanor. To find catharsis, he can often be found traveling, in a match on the tennis court, mountain biking in the stunning California hills, or racing cars. Jon Farzam is also a passionate philanthropist and is active within many causes including the Surf Bus Foundation, a local organization that hosts bus trips for inner city kids to visit the beach—many of which have never even seen the ocean.
About the Creator
Jon Farzam and his team at The Shore Hotel are committed to providing an eco-conscious yet luxury experience for every guest.
Reader insights
Be the first to share your insights about this piece.
Add your insights