iPhone, iMac and Now iLifestyle Brand—but Will It Be Successful?
The Apple doesn't fall far from the tree. Or does it?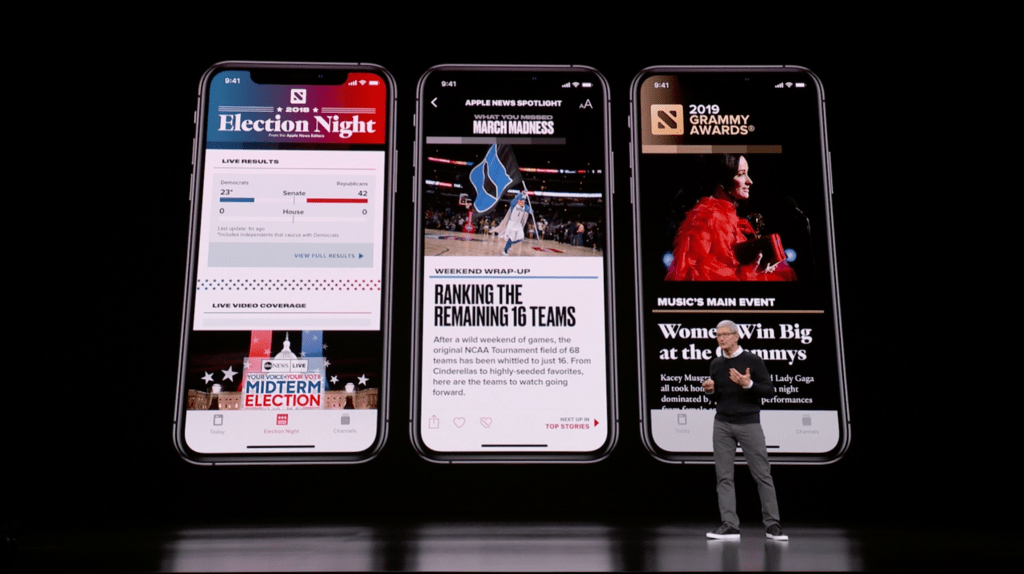 Has Apple rebranded itself as a media streaming service?
It seems Apple's cash-strapped grip on the world was tightened yesterday, following Apple's launch of the Apple TV+ streaming service, Apple Arcade gaming service, Apple News, as well as the Apple Card at its latest Keynote event in Cupertino, California.
Millions watched as the Apple announced its TV service is set to debut publicly in May 2019, on backed by entertainment industry titans such as Oprah Winfrey, Steven Spielberg, Jennifer Aniston, and more who are all lined up to be featured on exclusive original Apple TV+ shows. Its news service will feature over 300 publications, in what Apple calls an "immersive magazine and news reading experience."
Additionally, Apple will roll out its very own Apple Card credit card at an uncertain date this summer. It's an extension of the Apple Wallet, boasting a "Daily Cash" rewards program designed to help customers lead a "Healthier financial life."
But all of this comes off the back of an overall downward revenue trajectory in the fourth quarter of Apple's fiscal year, a drop in Apple share prices and a valuation lagging behind Amazon and Microsoft by the end of 2018.
Apple has built a reputation around its esteemed iPhone, which shot the companies revenue up to 216 million units sold worldwide in 2017, from just 1.4 million units sold in 2007, when the product was first sold.
Now, perhaps almost technologically outpaced by fellow tech behemoths Android, Samsung, Huawei and LG models offset by Samsung's unveiling of its ground-breaking Samsung Galaxy Fold set to release in April, iPhone XS sales are dwindling.
"Apple has been losing its customer Experience advantage over its competitors over the last few years and had made several missteps including the X series and software updates that slow down phones," says Morris Pentel, business transformation and customer experience consultant at CXFO.
"It seems that the next generation of mobile devices will be foldable phones as revealed at the World Mobile Congress from Apple's main competitors," he says.
"Apple has demonstrated its ability to turn content into revenue [as part of] their DNA. They technically already have a large share of the streaming market. But this move into the Netflix space is by no means a done deal. It will need a change of culture as well as the content," he says.
As it stands, Netflix is the titan of the streaming video market. Figures by Statista have shown annual revenue growth of 1.2 billion to over 11.6 billion in just one decade. Its subscriber base is forecast to hit the 9.5 million mark by 2020 in the U.K alone. Not surprising, given Netflix provides its UK users with 697 TV series and 2,023 movies, almost eclipsing the need for cable TV altogether.
Could Apple be the new Netflix?
Not necessarily. "Their plans seem to rely on Customer loyalty which they have been eroding a lot through poor customer experience," says Morris. In 2017, the company's reputation was tarnished by a scandal involving the deliberate slowdown of older models following new releases as an incentive to push customers to upgrade their hardware. Apple has concedingly issued an apology.
But Apple's mishaps haven't entirely dented customer sentiment.
Jintan Khieochaum, founder of the UK aromatherapy company Aequill and Apple customer says the launch has piqued her interest. "I would be drawn to the credit card model. Apple has a high customer service name that you can trust, that it seems like this is the natural next step. I think they've backed their range of physical services well with great customer service and the beautiful layout they have in their store as well – people are looking for those kinds of things," she says.
Of the Apple Card, she says: "I think banks aren't in an area right now where people can place trust in them. Apple is really about excellence and being the best. It makes people trust them."
"They're trying to integrate themselves into our lives, which is actually quite scary but it's an intelligent move."
Jennifer Bailey, vice president of Apply Pay internet services, introduced the Apple Card credit card and its main value proposition, the "cash-back" programme, which promises to offer its users 3 percent cash back on Apple-related purchases, 2 percent cash back on virtual Apple Card payments and 1 percent cash back on physical Apple Card payments.
As opposed to Apple Pay, a mobile payment service tied to other credit provides, Apple Card is the brand's own virtual credit service backed by a physical card to be used where Apple Pay is unavailable. As for the card itself, Apple's minimalism continues: a numberless, CVV and expiration date-free white titanium card was revealed.
Apple's primary competitive advantage: low credit rates and zero fees. Security and data protection will be backed by Face ID and touch ID and Apple's servers vowed not to store any data tracking of customer's spending habits. But with long-time runners HSBC, Barclaycard and NatWest holding a tough grip on the credit card market share, what's the point in adding yet another card to your wallet? Will Apple's card stand out?
"There's cash back, but there are so many services doing it. You need to be completely different," says Audrius from the UK based start-up project Fixedit, a platform for traders to advertise their services. In his opinion, the future of cash may move towards crypto-currency.
"The newest Samsung 10 has a crypto-currency wallet inside. There's a [crypto-currency] movement. Not now, but I think in around four years' time, new cash will come in. It's difficult, but if they could connect crypto-currency to their service—it could be a big boom," he says.
And with these promisingly low credit card rates, could there be bigger privacy or data issues?
"If a service is free, you are in a trap. They're using your data and selling it. If they're charging for a service, it's not a data trap," Audrius says.
Evidently, Apple has spread its net wide this time—but whether it will find the gold it's fishing for is unclear. Apple isn't planning on straying from its hardware hegemony—it's simply building on its technologically connected experience; it's storied dominant market feature.
The question is: will Apple mount the throne as a leading lifestyle brand?