Introducing The Country's First Ever StartUp Accelerator Program From X-Byte Enterprise Solutions
First Ever StartUp Accelerator Program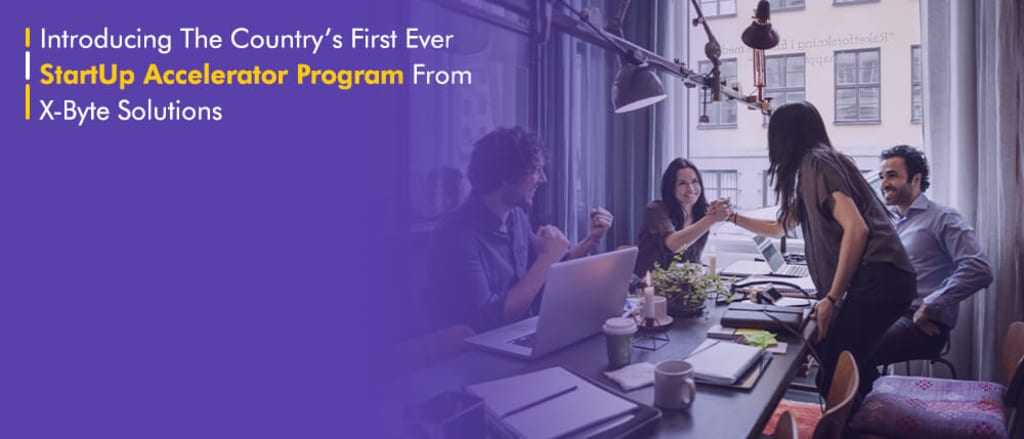 How Can Startups Make The Best Use Of The Changing Dynamics Of The Business Market After Pandemic?
So, the first takeaway from this year is to do away with all your obsolete technologies and bring in digital transformations that best suit your business niche and operations.
The tech advancements of today allow you to get insights on what's going wrong in your processes, workflows and operations and take corrective measures accordingly. So, if you're experiencing a dip in productivity, conversions, lead generations or more, that's because you don't have the right tools that empower you to achieve your goals.
From Big Data, artificial intelligence and machine learning to IoT and blockchain, companies are reinvesting in the most trending technologies to stand out and make way for revenues.
And as a business owner, you need to do that, too. You need the right tech stack to make informed decisions. You need a systematic approach to selecting your business model, the right way to conceptualize your business and product development and more.
So, if you're a business owner looking to surge your operations in 2021 or an aspiring business person looking to have all the right tools, mindset and wisdom on running a profitable business, you need to know how big companies do it, what needs to be done and how you can do it, too. And for that, you need something more specific and resourceful.
Introducing The Exclusive Tech Accelerator Program from X-Byte Enterprise Solutions
X-Byte Enterprise Solutions introducing the country's first-ever startup accelerator program that helps startups to take their business to a whole new level.
X-Byte is launching its super-exclusive Tech Accelerator program to help and guide all the aspiring business owners out there to scale their operations and grow their venture in 2021. We are here to set things right and offer you insights, best practices, tips, and tricks, and all the knowledge you will ever need to run a successful business.
Get all the insights, guidance, mentorship, and assistance required for you to make your business a success straight from the industry veterans.
What will you get from us?
Conceptualization and Consultation
Research and Learning
Wireframing and Design
Proof of Concept
MVP Development
Full-Fledge Development & Launch
Why X-Byte's Tech Accelerator Program?
They say that if you want to walk fast, you need to walk alone. But if you intend to walk a long way, you need the guidance and assistance of someone – someone accomplished and wise.
That's where we at X-Byte Enterprise Solutions come in.
From our years of experience running a successful tech business, we have seen some of the wildest escalations and hindrances that have helped us gain enormous insights on industry operations. On the other hand, we have also seen massive successes in the implementations of features and functionalities in our clients' products and services that have helped them scale their businesses within a short span of time.
As a business that intends to go further, you need the backing of an entity that has seen both. Our experience and collective expertise make us who we are. Our arsenal consists of over 125+ developers who we handpicked individually.
They have worked on over 625 projects across diverse niches – from healthcare to fintech – serving 370+ happy customers. The testimonials from our clients make us equally happy as do the awards and recognitions we have received.
All this combined makes us the right team to help your business grow in testing times and even otherwise.
What do you think? Do you have it in you to take your business to where it deserves? Do you think your business idea is a game-changer the market has been waiting for?
Waste no time and immediately reach out to us with your pitch and let everything else go on autopilot with our StartUp Accelerator Program.