How To Set a Timer In A Google Form?
A step-by-step process to set a timer in a Google form. I have added screenshots of each process so this will help you set a timer in Google form.
What are Google forms?
Google Forms is a web-based software used for data collection purposes to generate forms. Google Forms could be used by students and teachers to make assessments, quizzes, or registration sheets for activities. The form is web-based and can be exchanged by sending a connection, emailing a message, or embedding it in a webpage or blog post with respondents. The data which is obtained using the google form is usually stored in a spreadsheet.
With Forms, you can gather RSVPs, begin surveys, or create quizzes for students using a basic online google form. You can share your form via email, a direct connection, or social media, and invite others to join.
And though Forms is an online tool, you can communicate and collaborate in real-time with multiple users in the same form.
Timer In Google Form
Do you want to know how to apply a timer to Google Forms? With Google Forms, we can only create a form but to add the timer feature you need the help of add-ons.
By using Add-ons, we will expand Google Forms to help create new surveys, link to third-party platforms, and combine data forms with other Google apps, such as Google Sheets.
Add a Timer on Google Forms
Google form by default does not provide this facility, but we can use the extended form 'Add-ons' to add this feature. Extended Forms is the perfect one-stop option for creating a timed test for google forms. You can make any type of forms and even not limited to the Employee Feedback, Quizzes, Event Planning, Surveys, Parents Feedback form, Student Feedback Forms, and more.
1. Simply search In Google " Google Forms" and click on first results. You will see Google Docs, Sheets, Slides, and Forms. Then Scroll Down or on the corner Click on the blue button "Go to Google Forms"

2. After clicking on Google form it will take you to the home page which has a blank form and you can make whatever your need also Google has a lot of amazing customize templates. That can be only edited with only one click. And this page here is a process to begin your forms. You can download the template from or customize the blank form, as to your need from here.

For example, you have created a Maths quiz for students and want to add the add-ons to this form.
Here are Some Steps you should follow to add a timer on Google form with extended forms Add-on.
Goto Extended Forms at G Suite Marketplace.
You Must Sign-In with your Google account
Click on three Dot Icon.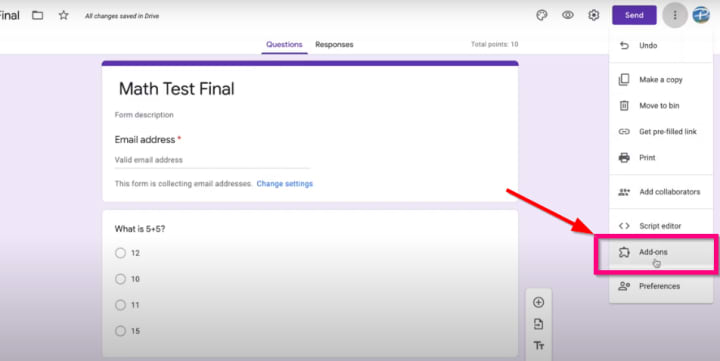 4. After clicking on the Add-ons, some add-ons marketplace will appear on the new window, but for the timer, you have to type "Extended Form" in the search bar, and the extended form will appear.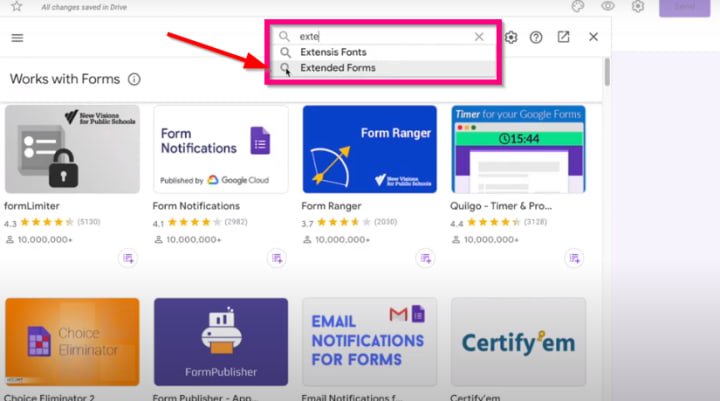 5. As the Add-on extended form is displayed on your screen, click on it and then click on the "Install" button. It will ask you for some permissions before further proceed after install, in order to access your form. Click on the "Allow" to provide all the permission.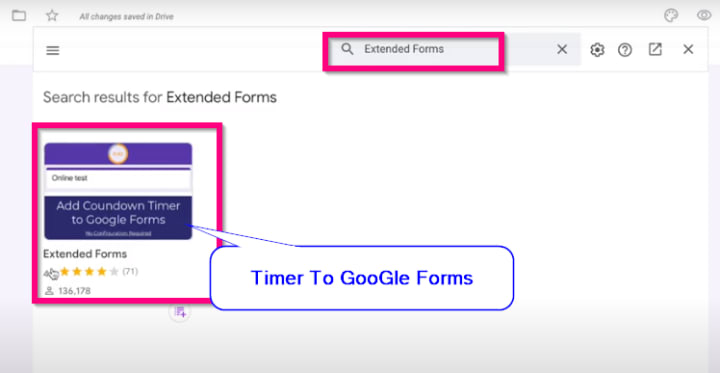 6. Once you have installed the add-on the new icon will appear on the top menu, click on the Add-On Icon > Extended Form and then you will see the tinny Pop-Up menu and simply click on "Configure".
7. Then you will see the tinny Pop-Up menu and simply click on "Configure".
8. Once you click on the "Configure" a small Pop-Up window will show on the right side of your computer screen. And in this window, you can connect the form with extended foam.
9. As you on this button you will see a couple of things that change in form. You can see the new field that is introduced at the end of the form.
After this, you click on setting and make sure that all the checkboxes are unchecked in the general screen. Save it and then click on Sync.
If you want to share this form with someone you can click on the "Share" icon to share it with anyone or Invite Only. You can also copy the link of this form, to share on email, WhatsApp, and other social media sites depending on your users.
There is a time limit that you can set according to your requirement. I set it here 5 min and the restriction for users to attempt questions is 1 and then click on Save > preview. It will show you a welcome page of your form. Click on the button "Get Started"
After clicking on the button "Get Started" you will see a Timer on Top of your Google form. As you can see here.
As you scroll down the users can submit it. This quiz will not even be edited if time finished.
I hope this helps.
Reader insights
Be the first to share your insights about this piece.
Add your insights