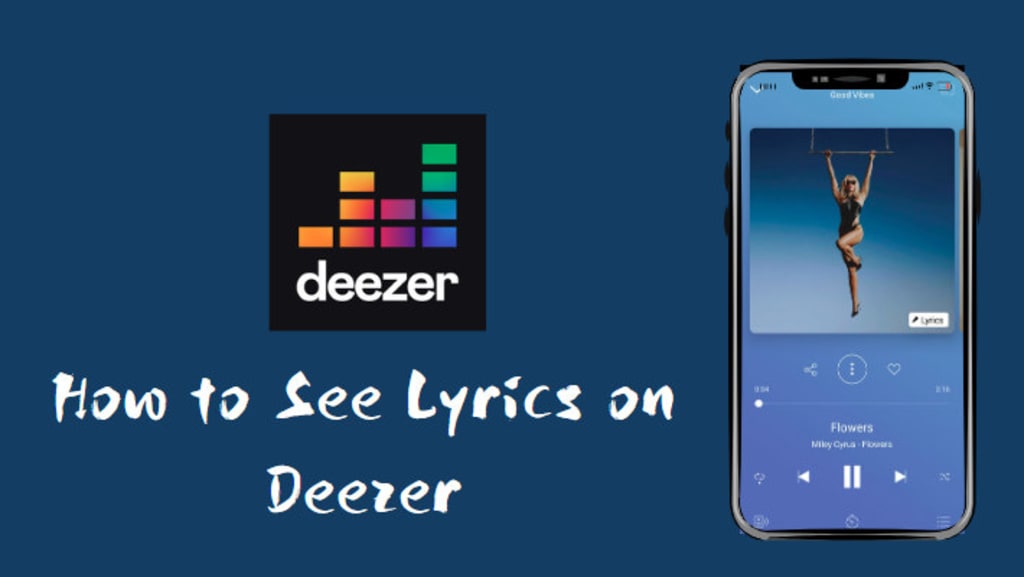 Deezer Lyrics is a feature introduced by Deezer, a popular music streaming platform. This innovative feature allows users to access synchronized lyrics while listening to their favorite songs. Whether exploring new songs or revisiting old favorites, Deezer Lyrics adds an interactive and immersive element to the listening experience. In this article, we will introduce how to see Deezer music lyrics in desktop and mobile applications, and also share how to download your favorite Deezer music lyrics.
Part 1. How to See Lyrics on Deezer
Part 1. How to See Lyrics on Deezer
📖See Lyrics on Deezer Mobile App
Step 1.Launch the Deezer app on your phone and click to play your Deezer song.
Step 2.Click Lyrics in the lower right corner of the artwork.
Step 3.You'll jump to the song's lyrics page, where you can see the lyrics scrolling as the song plays. The currently playing lyrics will appear enlarged in white, and other lyrics will appear in darker colors.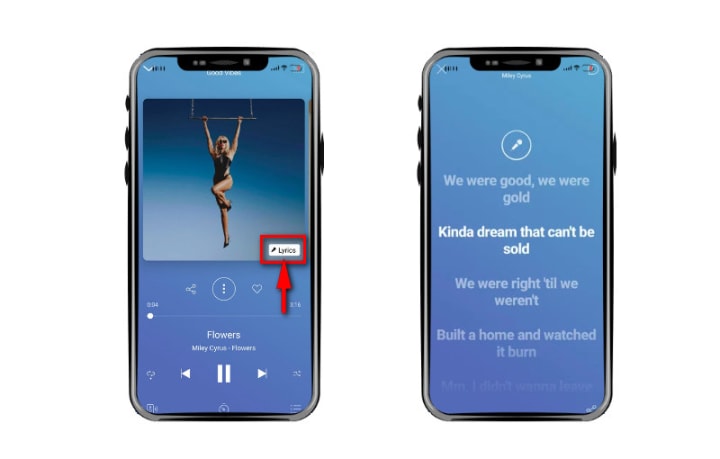 📖See Lyrics on Deezer Desktop App or Web Player
Step 1.Launch the Deezer app on your computer or go to Deezer.com to log in to your Deezer account.
Step 2.Choose a Deezer song you want and play it.
Step 3.Tap the microphone icon on the playback progress bar at the bottom and you'll see the song's lyrics scrolling as the music plays.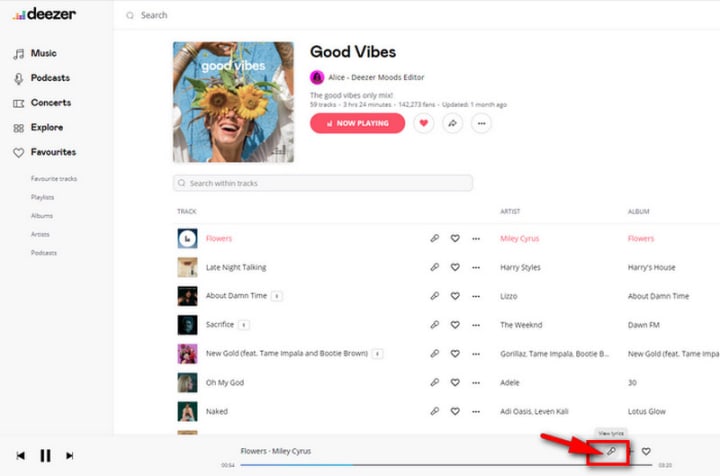 Part 2. How to Download Deezer Music Lyrics
Deezer has a special storage format for downloaded music, even if you download it, it cannot be played on other players. At this point, a third-party tool can perfectly solve your troubles. This tool is DeeKeep Deezer Music Converter. It can help users download and convert Deezer music into a variety of formats that are compatible with most devices, including MP3, WAV, ALAC, FLAC, etc. At the same time, it can also save lyrics in LRC format, which is definitely a boon for users who want to view lyrics on other devices. Next, we will specifically guide you on how to use DeeKeep to download Deezer music and lyrics.
Step 1.Run DeeKeep on Your Computer
Download DeeKeep on your computer. After the download is successful, double-click to open the program. At this point, you can see that DeeKeep and Deezer web player will start simultaneously. Follow the instructions to log in to your Deezer account on the Deezer web player.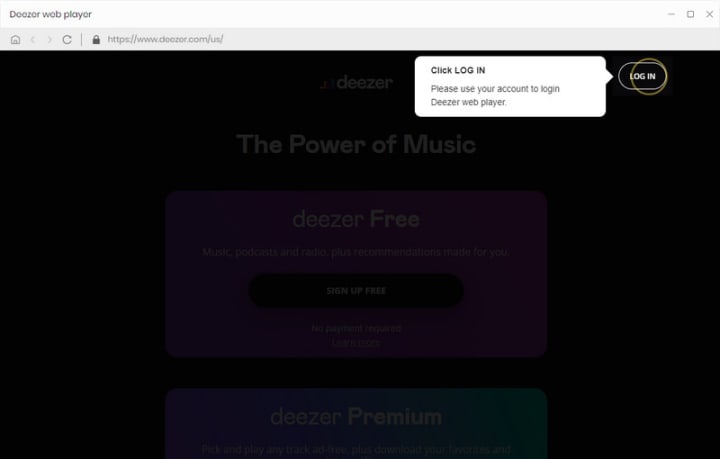 Step 2.Complete Output Settings
Go to the Settings tab in the lower left corner of DeeKeep, where you can set the output format, output folder, output sound quality, output file name, etc. In the output settings, you can see that there is an option called Save lyrics(if provided). After checking, the lyrics will be saved in the output folder together with the song file. In addition, if you want to output Deezer songs in the original format and sound quality, just select Auto in the output format.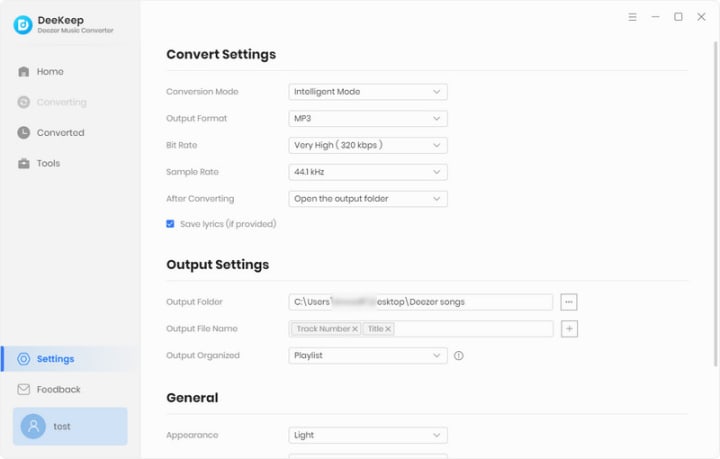 Step 3.Select Deezer Music You Want
Go to Deezer web player and browse to choose one playlist/album/song/artist you want to download. Then click to open it. There is a blue "Click to add" button in the lower right corner. Tap on it and DeeKeep will list all the songs in a new window. Select the songs you want and click "Add".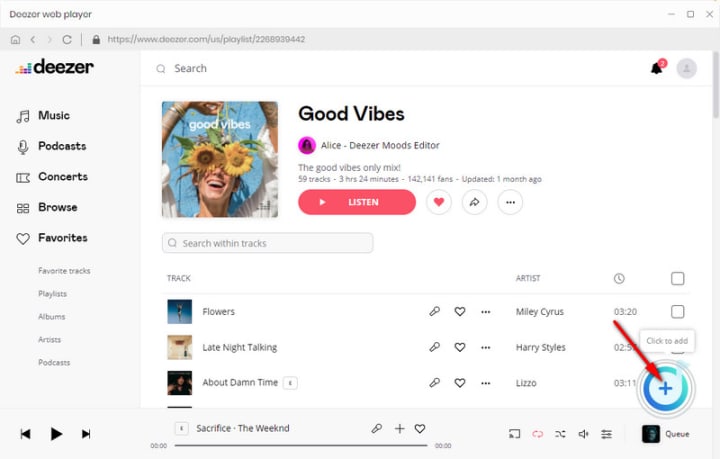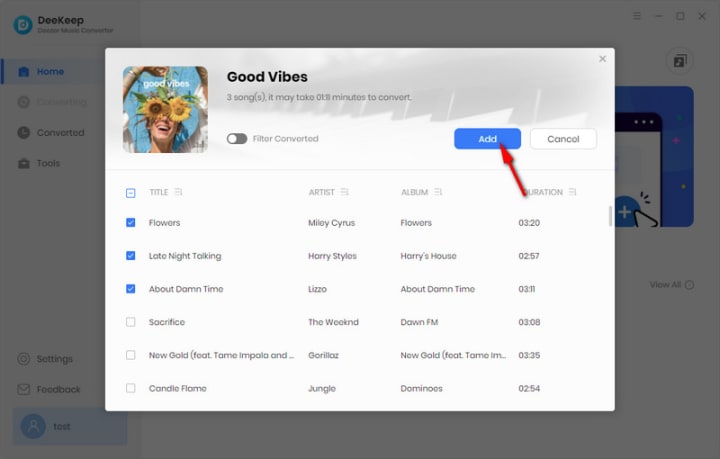 Step 4.Start to Convert Deezer Music
In this step, you just need to click "Convert" to convert all the songs at once.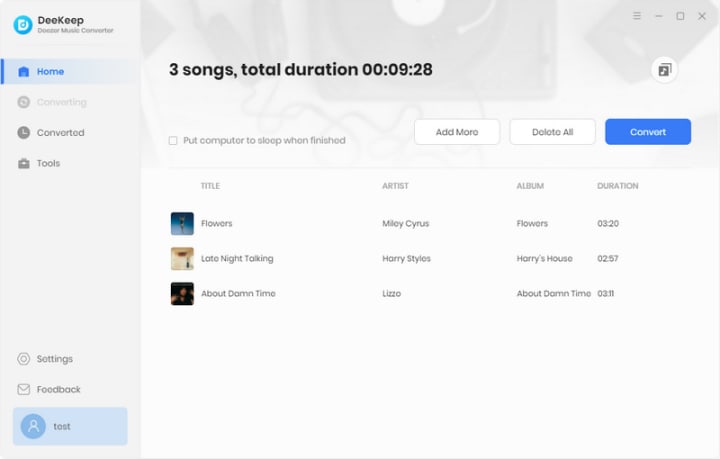 Step 5.Check Downloaded Songs and Lyrics
When the conversion is finished, the output folder will pop up automatically. You can also go to the Converted module to view the downloaded songs and click the folder icon after the song to open the output folder. At this time, all downloaded Deezer music and lyrics are retained here.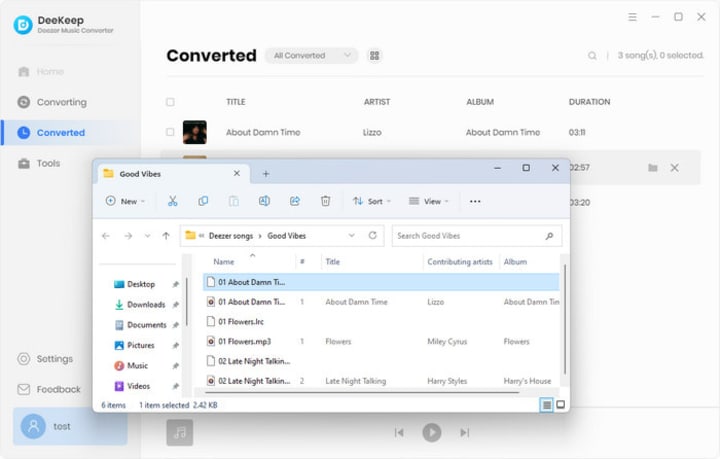 Reader insights
Be the first to share your insights about this piece.
Add your insights