How to Reduce the Cost of a Mobile App Without Losing its Quality?
In this blog, we have shared tips that will help you reduce the cost of mobile app development while retaining its quality.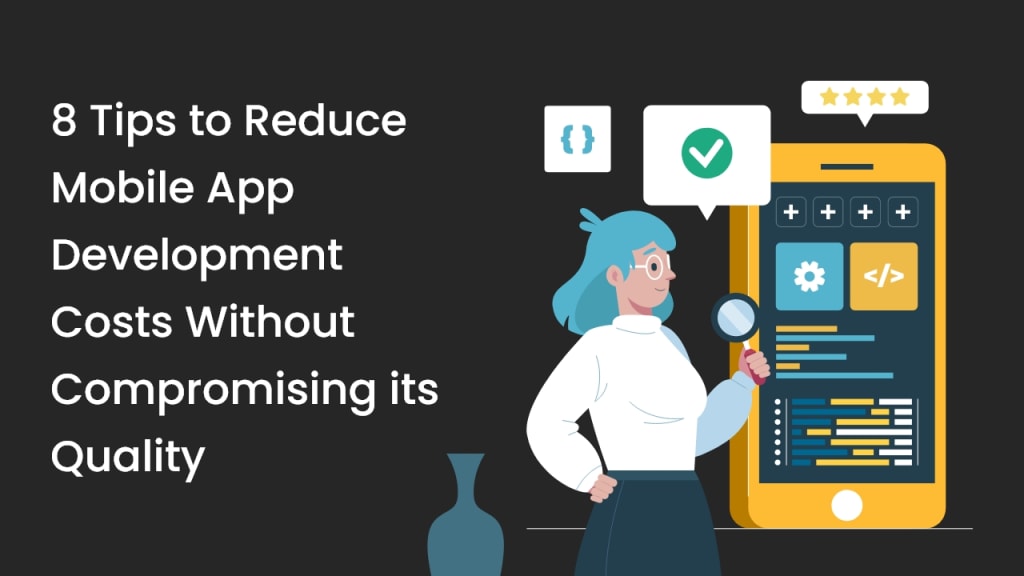 Mobile apps are critical for businesses nowadays, given the competitiveness of the current market. Businesses across the globe are getting a mobile app developed for their venture. Since a startup or a small-scale business has limited resources, they face many challenges during their journey. In addition to the technology and functionality, they must deal with high mobile app development costs.
To tackle the increased costs, small-scale businesses outsource mobile app development and focus on short-term goals. But, reduction of app development costs doesn't mean you can compromise on its quality. With the help of some effective tips, you can easily manage to reduce the app development cost. Without further ado, let's learn how to do that.
Anything executable requires careful planning. When it comes to planning for the mobile app, it involves research on the target audience, their dislikes, likes, etc. You should also research your competitors who own a similar app to yours. You need to ensure that your idea is unique and that your app sets you apart from your competitors. Then you can go ahead with the development of your mobile app.
Well-planned mobile app projects have less trial and error costs. It also enables the prevention of all useless expenditures you have to otherwise incur during the app development phase.
The major reason behind the failure of an app is that it doesn't meet the expectations of its users. To prevent the costs spent on making an app that will ultimately fail, hire dedicated mobile app developers to establish a prototype of the app. This is done before they start the app development process to evaluate the effectiveness of an app.
The prototype is more like a blueprint for the clients as well as the developers. The client then reviews the prototype and suggests required changes to make it up to the mark. Though prototype development has its own cost, it will help save time and money otherwise spent to develop an ineffective app. With no prototype, the client may ask for changes at the last moment after spending considerable resources and time developing that one.
Choose Your Cooperative Model Wisely
While planning the budget for your mobile app development, the cooperative model is another issue that needs to be addressed. No model can eliminate the risk involved when you completely outsource mobile app development; however, you can choose one based on your project type.
There are two major outsourcing approaches:
1. Fixed Price Model
It refers to a type of agreement between the client and mobile app developer. This agreement states that the client will pay a fixed price after getting the final result. We recommend you hire a dedicated mobile app developer so that they can provide you with proper timelines and estimates. The major advantage of going with this budget is that the project will be within your budget.
2. Time and Materials Model
As the name suggests, this model is based on the time and materials required to develop an app. If the requirements are not certain, the app development cost will be flexible too. The payment done is based on the time spent by the development team on your task and the material used, such as licenses, software subscriptions, etc. The major drawback of this model is that you may have to incur some unforeseen costs.
Use Credible Technologies
Stack of technology refers to the set of frameworks, programming languages, and the digital tools developers use to craft an application. Tech stack greatly influences the overall cost of the software. It also helps determine the style, workflow, complexity involved in maintaining an app, and the enhanced costs and level of commercial risks.
Generally, using an all-in-solution is highly recommended for startups and MVP, as they have a vast knowledge base. Also, you will have numerous experts at your disposal from whom you can seek the help of any kind. Such tech stacks are flexible and integrative. Using a tech stack already popular in the market is that it is difficult to establish custom features using the existing tech stacks.
You may have users from different platforms, and you don't want to miss them. However, developing different applications for different platforms is a costly affair. The best way to tackle this issue is to develop a cross-platform app that works well both in Android and iOS. Though a few developers say that developing a cross-platform app is costly, the costs incurred are less than developing two different apps for different platforms.
If your app fails in the market, you will have a significant loss of time and resources that you have spent behind it. Hence, businesses are launching a basic app first. The major objective behind launching a minimum viable product is to test users' responses without spending a considerable amount of money on developing a complex app. The best part about an MVP is that you can work on the updates by integrating custom features.
The launch of MVP is a crucial decision, as you will have to shortlist the useful features that will help engage more users. Since the MVP is tested in the market, you are certain that the time and money spent updating the app will be worthwhile.
It is advisable to hire dedicated mobile app developers since they are well-versed in tackling the increased cost of mobile app development. That said if you don't have the expertise to develop a mobile app, make a wise decision to outsource it. Outsourcing is a great way of delegating tasks that are difficult for you.
It enables you to focus on the core competencies while experts will manage what they do best. Outsourcing has several advantages, and it is a cost-effective solution. Developers of the app development company have the required functional and technical expertise to develop an app according to your preferences.
Wrapping Up
Hire the best mobile app development company so that they do things right for you. They help reduce the cost of mobile app development without compromising on quality. Outsourcing is the best way to avoid the high costs involved in mobile app development.