Summer is the time of the year when people suddenly find out they have more money than they ever imagined they did. It's the time for relaxation, zen, partying… anything goes!
A clever marketer knows how to party along. Indeed, the only issue may be - choosing a single approach to email marketing campaigns.
Because summer means so many things at once for different people, it is difficult to concentrate on one motive (and we all know how important being consistent is). Luckily, there are some general guidelines that will help set you on the right track. The rest is up to your creativity, brand identity and communication style. Combinations are many, so you can get as creative as you want!
Summer Themes
We all know how important first impressions are, so design ideas rightfully deserve to be discussed first. As mentioned above, summer is associated with so many activities that there is room for experimenting, especially if you target multiple audiences.
I.e., younger people may be tempted with sports, while families may be more inclined to relax. Let's see which motives may come in handy.
1. Water - obviously summer holidays and water are closely connected. Gearing towards the sea, oceans, rivers, lakes, beaches and pools only naturally fits in.
2. Sunshine - bright colors are a trademark of summer design. Summer is just the time to use your boldest color schemes - reds, yellows and oranges, as well as pinks and greens.
3. Fruit - do you know anyone who doesn't link watermelons to summer? There are also other fruits to draw inspiration from, notably citrus and tropical fruits.
4. Vacations - summer is vacation time for everyone. Parents don't have to bother about school, students can relax and forget about exams for the time being, singles can enjoy traveling, and so on and so forth. Still, not everyone has enough money to afford expensive vacations, so bear that in mind. Pools might be a suitable option for them, as well as summer activities.
5. Hot weather - closely linked to bright colors, but there are other associations, too. For example, bikinis, swimsuits, crops and tanks are typical for summer design, and so are brimmed hats.
These ideas are only the most typical ones, of course. Other motives may come to mind, but at least color palettes are universally bold during the season. Here's an example from Boots.com: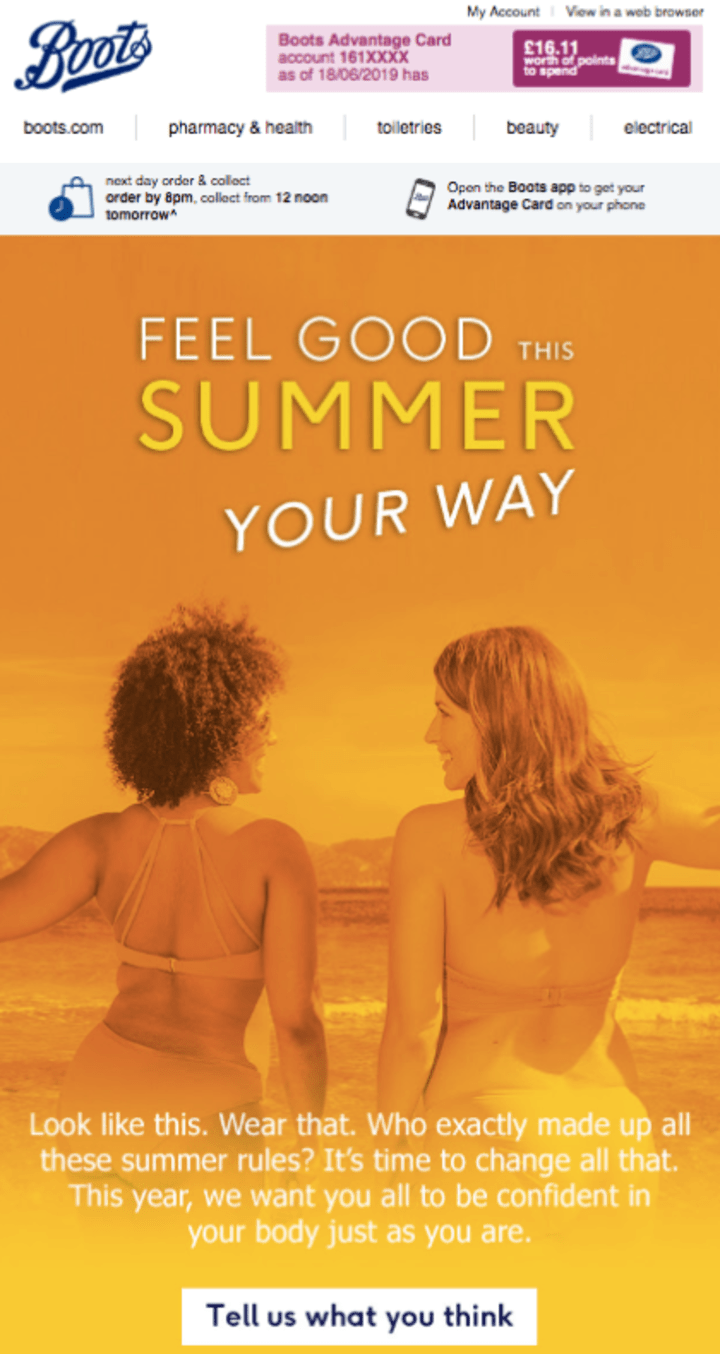 Family Reunions and Summer Holidays
On top of swimming, partying and playing seasonal sports, summer is notable for family reunions and a couple of large holidays. Brands offering party equipment, food and catering may do well to offer special deals ahead of time. E.g., grilling is one of the most popular activities during family reunions.
As regards summer holidays, everyone knows about the biggies - July the 4th, Father's Day and Memorial Day, to name a few, but the good news is there is a plethora of choices for smaller-scale sales. We've picked up a couple of ideas, but by all means, find your favorites:
· June 22nd – Take Your Dog to Work Day
· June 27th – Sunglasses Day
· July 7th – Chocolate Day
· July 26th – Aunt and Uncle Day
· August 1st – Girlfriends Day
· August 3rd – International Beer Day
Basically, there is a mini-holiday every couple of days in summer, so the only choice is – which ones to pick. It goes without saying that you should pick only a couple of them, not by all means all of them. In that way, your brand will come across as creative, and you'll also get more chances to stage various promotions and thus increase your sales.
Subject Lines That Rise and Shine
Subject lines are always a tempting task because the fate of your email depends solely on them. Even though summer offers a myriad of obvious associations, that doesn't mean that they can be simply glued to the title field without any context or meaning.
Many marketers use the motives related to warm weather and vacations to promote their offer, and we've collected a couple of inspiring ones:
· Rise and Shine, It's Beach Time (Yelp)
· Soak up the sun & savings – up to 50% off (Hotels.com)
· HOT OFF THE GRILL 60% off summer styles (J.Crew Factory)
· Beer Cocktails and Grilled Pizza? Hello, Summer! (Whole Foods Market)
Don't Miss Out on Holding a Summer Sale or Two
There are so many things to do in summer, and vacationing is not the only one. Think in terms of renovations, wall painting, remodeling, garden decorating, etc… Finally, when September comes, school will be back, so if your offer has anything to do with school, prepare a pompous sale for August.
If you want to re-stock ahead of the school season, use some of the less common holidays (see our examples above) to offer a mini-sale for an unusual special occasion.
Conclusion
Summer is just perfect for email marketing campaigns because people have more time before school starts to do whatever they want. Simply put, whatever your offer is, if you're thinking big enough, you'll find an occasion to market it to your target audiences.
The UK's number one car park company NCP has brought it to the next level: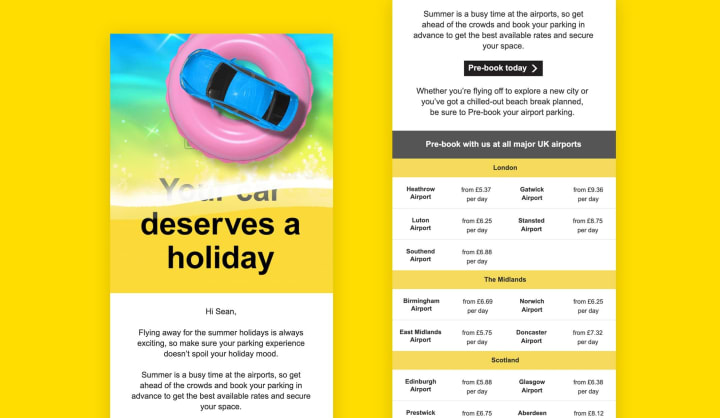 After all, everyone deserves a holiday: pets, neighbors, cars and motorcycles, teddy bears and so on… you get the drift?